There's only one place to host the ultimate bachelor party, downtown Las Vegas!
Whether you're the Best Man or guest of honor (there's still time to flee, by the way), we've got everything you need to make your bachelor party unforgettable. Oh, let's face it, there's a chance you won't remember it. You saw "The Hangover," right?
Having a bachelor party in downtown Las Vegas isn't just a unique experience, it's a value The Strip simply can't beat.
Here's a step-by-step guide to hosting the ultimate bachelor party downtown.
Step 1: Pack Up – We're Going to Vegas
So, you've settled on Las Vegas as the bachelor party destination. The first thing to do is decide where your group will be staying. Luckily, downtown Las Vegas offers several hotel options sure to satisfy your bachelor party checklist.
Here are the most popular places to stay downtown.
Golden Nugget Hotel & Casino
The Golden Nugget Hotel & Casino is conveniently located in the heart of the Fremont Street Experience.
If your bachelor party is looking for luxurious accommodations, you can book the two-story Spa Tower Suites. Don't miss the unique and possibly best pool in Downtown Las Vegas, featuring a 200,000-gallon shark tank, slide and a "secret" hideout for your party.
The D Las Vegas
The D Las Vegas offers up plenty of exciting activities to keep your party entertained for hours including vintage slots, dancing dealers and bartenders, and even the only coin-operated Sigma Derby game in Las Vegas.
Also, The D Las Vegas has special bachelor party packages you should check out to make planning quick and easy.
The California Hotel & Casino
The California, or "The Cal,"  brings the hospitality and aloha spirit of the Hawaiian Islands to Las Vegas. If you're looking for a more tropical atmosphere and comfortable island accommodations, this is the place to be. Kick your feet up for a delicious bowl of oxtail soup or spam musubi before grabbing a cocktail at Holo Holo. It's the perfect destination to start the night, but an even better place to end it!
The Fremont Hotel & Casino
If you want to be right in the middle of all the action, the Fremont Hotel & Casino delivers all the energy and excitement with Downtown Las Vegas right outside its doors. It's as easy as jumping on the elevator from your room or deluxe suite, and you're there, with all the gambling, drinking, dining and entertainment you can handle.
Golden Gate Hotel & Casino
There's a reason Golden Gate is known as the "Las Vegas Original."
First opened in 1906, this iconic Sin City destination has withstood the test of time by always evolving but continuing to deliver the vintage charm of Vegas' golden era. The stunning remodeled rooms, dancing dealers, bikini-clad bartenders and generously poured drinks make for the perfect bachelor party combination.
Four Queens Hotel & Casino
Four Queens has been a favorite in Las Vegas since opening its doors on Fremont Street.
Offering several luxury accommodation options, including large standard rooms, Royal Suites and Regal Suites, they have just the right room for you and your bachelor party squad (without having to break the bank). Request a room with a view for a scenic look at the downtown Las Vegas skyline.
Main Street Station Casino, Brewery & Hotel
Looking for something a little different? Main Street Station is not your typical casino. Find yourself surrounded by rare Vegas antiques, unique pieces of art and historic collectibles (even a slab of the Berlin Wall) in a Victorian setting that will refresh any stereotypical expectations you may have of Vegas. If that sounds amazing, you'll love their Victorian-themed rooms.
Downtown Las Vegas hotels are the perfect go-to destinations if you're looking to stay away from the Strip madness, but still want the all the fun and excitement Vegas has to offer. Click here to find more information about the hotels.
Step 2: Suit Up – It's Dinner Time
Fremont Street is home to surprising and eateries, from grab-and-go to fine dining.
Nothing screams bachelor party like grabbing some steaks with all the mouth-watering fixings to keep you fueled for the long night ahead. Luckily, downtown has some of the best steakhouses in Las Vegas.
Some options to dine include:
Saltgrass Steak House
There's nothing quite like digging into a juicy, perfectly cooked Angus Beef® brand steak. Saltgrass Steak House at Golden Nugget is not only an award-winning restaurant, but also an inviting and energetic place (with a killer view of The Tank pool) to set the tone for the rest of the evening.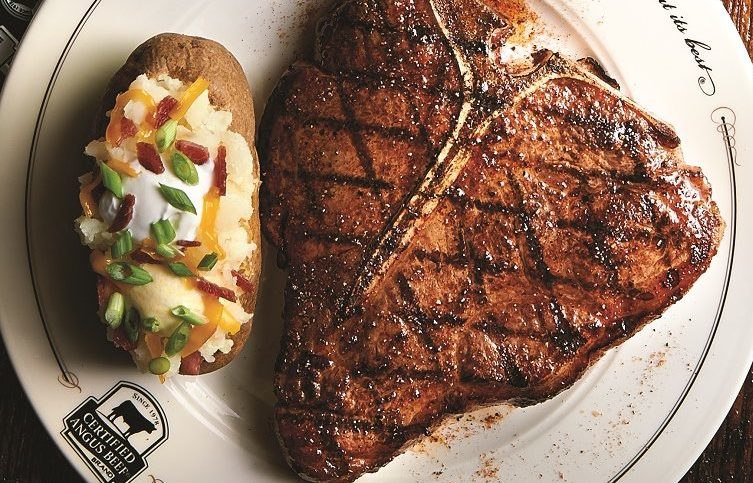 Heart Attack Grill
The Heart Attack Grill has earned both the name and reputation by offering burgers big enough to clog your arteries. The restaurant features a hospital inspired theme where you will find the staff dressed as nurses and doctors. As an added extra, there is a scale outside the restaurant, so be sure to weigh yourself before and after your meal to see what the damage was.
Evel Pie
Evel Pie is located in the hip Fremont East district. Inspired by the iconic daredevil, Evel Knievel, you will find Knievel memorabilia throughout the restaurant. Open late, this pizzeria is a perfect place to eat after a night of carousing.
Second Street Grill
If it's a complete surf and turf dinner you're craving, you'll want to hit up Second Street Grill at Fremont Hotel & Casino. They offer the freshest seafood dishes and mouthwatering meat selections from their famous grill.
Step 3: Level Up – We're Hitting the Town
What's a bachelor's party without a couple (or a few more) drinks to get everyone ready for a great time?
Thankfully, you won't have to wait until nightfall to get the party started. Downtown Las Vegas has numerous places to get your day drinking started right, and plenty more to keep it going well into the night. With well-stocked bars literally in every building, your cup will never run dry.
Day Drinking
The Tank Pool
There are many hotel pools where your party can enjoy a Bloody Mary or two paired with poolside fun, but the most notable pool in downtown Las Vegas has always been The Tank at Golden Nugget, for obvious reasons. How many people can say they enjoyed a cocktail while wading in a pool surrounded by sharks?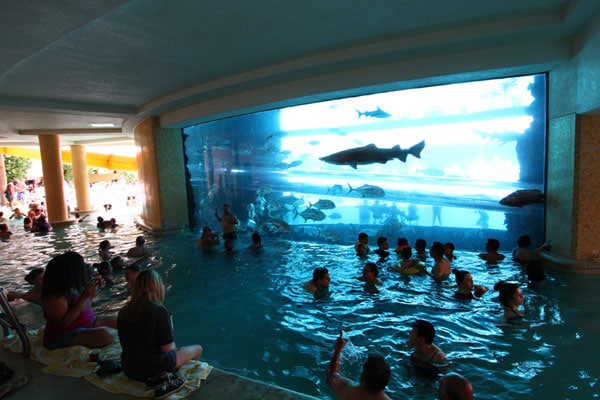 Hennessey's Tavern
This lounge combines both pub food and day drinks for your entire party. Located beneath the "world's largest pint glass" at Fremont Street Experience, you can enjoy stiff drinks while being in the center of downtown.
Goldspike
The playground for adults includes over-sized beer pong, Twister, chess and many other games that will keep everyone in your party entertained for hours. It's open 24 hours, so you can head in during the day and return later that night for more of a nightlife feel.
Downtown Nightlife
Fremont East District
Across from the Fremont Street Experience, the Fremont East district is a street lined with some of the hippest bars the city has to offer. This is the perfect location for your group to engage in a bar crawl to get a taste of a little bit of everything. Each bar has its own unique vibe where you can enjoy a variety of music, crowds and specialty cocktails.
One Bar at Golden Gate
Why not get a free show with your drink? One Bar features sexy bartenders ready for a quick dance on the bar between slinging drinks. If that's not enough, get ready for your jaw to drop as the bartenders send their bottles and glasses flying high through the air as they make your cocktail with a little flash and flair. Oh, and alcohol, of course.
Troy Liquor Bar
If you're looking for an energetic nightclub, Troy Liquor Bar at Golden Nugget is the newest nightlife experience in downtown Las Vegas. With rotating DJs, an epic dance floor, a balcony overlooking the Fremont Street Experience crowds, you'll be hosting the ultimate bachelor party without even having to try.
Step 4: Turn Up – We're Making Epic Memories
Aside from the endless drinking possibilities, your bachelor party will be able to indulge in several other thrilling activities. Downtown Las Vegas is also the best place for you and your group to gamble, hear live music, test your grit and make some memories. Here are a few options to try out:
Poker at Binion's Gambling Hall
If poker is your thing, you know Binion's Gambling Hall is the original home of the World Series of Poker. It doesn't get more iconic than that.
The WSOP was born at Binion's in 1970 and has since become the largest poker tournament in the world. If you plan to hit the poker tables hard for your bachelor party, there's no better place to be than Binion's. Also, don't forget to take a free picture with your crew and $1 million on display inside the casino!
Craps at Main Street Station
Nothing comes close to craps when you want to gamble with a large group. Craps offers the exciting experience of being able to play with your fellow gamblers, rooting for them as they roll the dice for a chance for every player at the table to win. Craps at Main Street Station offers a generous 20x table odds, a rare value in Las Vegas these days.
Slotzilla Zip Line
This slot machine-inspired attraction allows you to fly over the Fremont Street Experience, 11 stories above the visitors below. This activity involves a fair share of movement, so it might be best to lay off the drinks for a while before hitting Slotzilla. Here are a few tips to make the most of the experience.
Click here to buy tickets on SlotZilla, the world's most successful urban zipline.
Free Live Performances
The Fremont Street Experience has free concerts going on several stages along Fremont Street. With live performances from local bands, cover bands, and various other artists, your bachelor party will never have a dull moment. Also, look up at the Viva Vision light show for a dazzling experience on the world's largest LED canopy screen. Check out the event calendar for the lineups.
If the weight of throwing an epic bachelor party happens to fall on your shoulders, no need to stress. We've got this.
Downtown Las Vegas has you covered with the best places to stay, slam back some drinks, enjoy a delectable dinner, gamble with your boys and experience the biggest thrills Las Vegas has to offer.
If the party is still going and you've done just about everything on this guide, here is another list of things to do in Las Vegas for you and the wolf pack.