Celebrating pending nuptials with a debaucherous night in Vegas isn't just reserved for bachelor parties. Ladies love Vegas, too, making it the perfect location for an unforgettable bachelorette party.
The best part about sending your best girlfriend off into wedded bliss with a Vegas celebration is the overwhelming amount of things to do when partying in honor of the bride-to-be.
If you're looking to celebrate without experiencing the sticker shock of a typical night out on The Strip, look no further than downtown.
Step 1: Book Your Room
Every good party starts with a plan, and first on the to-do list is to confirm where everyone will crash after a long night of shenanigans.
Here are a few of the best downtown Las Vegas hotels to consider.
The D Las Vegas
The D Las Vegas is one of the busiest party spots on Fremont Street with trendy bars and one of the best views of the Viva Vision light show.
This party-centric hotel and casino also offers special bachelorette party packages that will make planning the rest of your downtown Las Vegas trip a breeze. Be sure to ask about their stunning suites.
Golden Nugget
Combine the feel of classic Las Vegas with modern sophistication at the Golden Nugget Las Vegas, the largest casino in downtown that's been open since 1946.
Where else can you and your friends swim alongside sharks, hit up a nightclub and sink into ultimate relaxation at a spa, all in one place?
California Hotel & Casino
Maybe you and your gal pals can't escape to Hawaii, but that doesn't mean you can't enjoy tropical bliss. The California Hotel & Casino, also known as the "ninth island," brings a little "aloha" right to Las Vegas.
You might be in Sin City, but you can still find the best Hawaiian food, drinks and island spirit at The Cal. Be sure to stop by Holo Holo bar for a classic umbrella drink, too!
Main Street Station
Are you and your girls looking for something a little different when it comes to hotel accommodations? Main Street Station is one of the best-kept secrets in Vegas featuring a Victorian-era theme, fine dining restaurants and dozens of curiosities, including an actual piece of the Berlin Wall. (The slab of the Berlin Wall is in the men's room, just off the casino floor. Just inquire with security about being able to check it out.)
Main Street Station also boasts the popular Triple 7 Restaurant & Brewery, featuring award-winning microbrews that are perfect for your bridal brew crew.
Step 2: Make Your Dinner Reservation
You and your girls are bound to work up an appetite after a long day—and night—of bachelorette partying.
Downtown Las Vegas is home to a diverse range of fine dining and unique cuisine so there's always something for everyone. Check out these hot spots!
Top of Binion's Steakhouse
For a classy dinner at an iconic casino, Top of Binion's Steakhouse on the 24th floor of Binion's Gambling Hall is the spot to be. With spectacular views of the city and ample seating for larger parties, this is the perfect place for you and your bridal crew to enjoy a piece of vintage Vegas along with savory steak and seafood dishes.
Lillie's Asian Cuisine
Lillie's Asian Cuisine at Golden Nugget is a chic fusion restaurant that brings the best of Chinese and Japanese flavors together to satisfy your cravings, all in one bite.
With hibachi-style tables available with reservations, you'll be able to share an entertaining dining experience with your best friends and your "private chef." As an added bonus, the sake, exotic cocktails, beer and wine selections are second-to-none.
Downtown Terrace
Downtown Terrace in Container Park is a hidden gem with mouth-watering cuisine without the fussy atmosphere of an upscale restaurant. If you're looking for something a little more casual, Downtown Terrace's light and seasonal dishes combine perfectly with its simple, clean ambiance. If you choose to sit on the balcony, you'll get a bird's eye view of the bustling Downtown Container Park crowd below.
Therapy
Therapy, located in the hip Fremont East District, is one of the trendiest restaurants in the entire downtown area. This popular restaurant serves up a host of shared bites and entrees, making it the ideal destination for a group of ladies looking to try a little bit of everything. Don't forget to indulge in one of their specialty cocktails like the Mango Ricky or St. Therapy, featuring unique ingredients designed to pair perfectly with any of their menu offerings.
For additional dinner ideas, check out some of the other crave-worthy downtown restaurants at Fremont Street Experience.
Step 3: Make Pour Decisions at These Downtown Bars
Celebrating your bachelorette party may mean you and your crew are ready to indulge in the traditional art of Sin City drinking, and downtown Las Vegas has no shortage of fun spots to get your buzz on.
Downtown Day Drinking
D Bar at The D
If you're going to do day drinking in downtown Las Vegas right, you must partake in a yard-sized slushy drink immediately. D Bar mixes up the most delicious flavors of these adult slushy beverages for you and your girls to enjoy as you bounce around Fremont Street to your next drinking destination. Also, don't forget to take a picture with the awesome flair bartenders!
The Hideout Pool at The Golden Nugget
The often-scorching temperatures in Las Vegas make a pool day a must for your bachelorette party. The Hideout Pool at the Golden Nugget is the perfect way to enjoy the blazing Vegas sun with chic decor, a massive infinity pool, plush cabanas and, of course, refreshing specialty cocktails for your day drinking delight. Note: The Hideout is for adults 21 and older only, so get ready for some adults-only fun.
Gold Spike
The Gold Spike is well-known as a downtown hot spot. Head over to the Fiddlestix cafe and grab a Boozy Milkshake made with vodka, Kahlua, chocolate syrup and vanilla ice cream. Or start your day off with Cereal Milk, a combination of Rumchata, Fireball, vanilla ice cream, cinnamon toast crunch, whipped cream and banana for a complete breakfast.
Once you and your girl gang are properly boozed up, head out to the Gold Spike's "Backyard" for some soccer pool, over-sized Twister, giant beer pong, corn hole, Four Square and more.
Downtown Nightlife
Troy Liquor Bar at Golden Nugget
Troy Liquor Bar is one of the few nightclub experiences downtown, and it does not disappoint. Dance the night away with your bachelorette besties with VIP tables, an energetic atmosphere, DJs and specialty cocktails. Head to the balcony to get an unparalleled view of Fremont Street or to take a breather from cutting up the dance floor. Troy Liquor Bar opens at 9:00 p.m., Thursdays through Sundays.
Girls Night Out Pub Crawl
If planning isn't exactly your forte, why not leave the details to the experts? The sales team at The D have put together the ultimate ladies pub crawl that will make your bachelorette party a girls night to remember (or not!).
All in one boozy night, you and your girls will hit up seven bars at The D and Golden Gate for the best cocktails our flirty flair bartenders can mix up.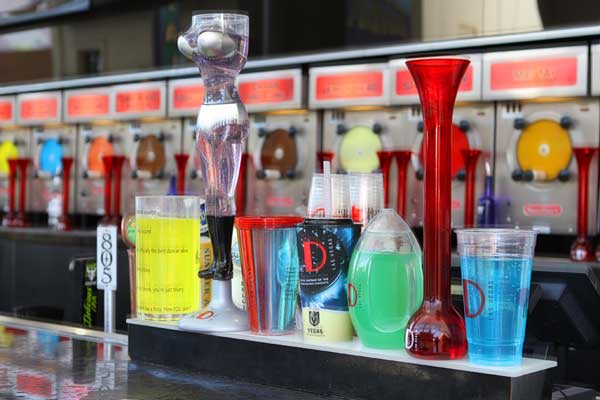 Rooftop Bar at Commonwealth
Another popular nightlife spot downtown is the rooftop bar at Commonwealth. While the downstairs area serves as an old-school speakeasy, the upstairs deck offers an airier vibe with bistro lighting, couches, park benches and an amazing view of downtown Las Vegas.
On the weekend, the rooftop bar hosts DJs from around the world for a dance party that can be seen blocks away. The venue's cocktail menu features an eclectic array of drinks. Be sure to order one of their signature punch bowl cocktails for a good time.
Step 4: Downtown Las Vegas Exclusives
Although drinking and clubs are likely to be the main attractions of your downtown Las Vegas bachelorette party, you might as well make the most of your trip with these exciting must-dos.
Outlet Mall Shopping
The Las Vegas North Premium Outlets is a massive 540,000-square-foot mall near downtown where your squad can shop for deals on designer and name brands like Coach, Burberry, Guess, Michael Kors and more. Outlet shopping is the perfect stop if you need to find a dress for your night out on the town, or just need a little retail therapy to help you relax from the stress of wedding planning.
Spa & Salon at Golden Nugget
Few things in life are better than a spa day, especially a spa day with your closest friends. Head over to the Golden Nugget and treat yourself to the ultimate gift of rejuvenation at their acclaimed Spa & Salon. The spa boasts an impressive menu of massages of varying lengths and techniques, body treatments, waxing services, and spray tans. The spa also does hair, makeup and nails if you want to get dolled up for a hot night out with the girls.
Slotzilla Zipline and Viva Vision Light Show
The Fremont Street Experience light show is a must-see while you're downtown, but you don't need to do it from the ground. Take the experience to the next level by flying on the Slotzilla Zipline! Hop on the zipline or zoomline to take in the Fremont Street views while also enjoying the Viva Vision light show on the world's largest LED canopy screen, complete with concert-quality sound. Don't worry about missing the show; it starts every hour beginning at 6:00 pm.
If you're hoping to put together the most memorable bachelorette party for the special bride-to-be in your life, downtown Las Vegas is the best place to celebrate with the "I Do" crew.
No bachelorette party would be complete without at least one blowout night on the town, so let your hair down and follow our recommendations for an adventure your entire group won't soon forget.