The only thing better than ending the night with a stiff drink is having a stiff drink in broad daylight.
Adult beverages aren't just for the evening hours, and there's no better place to hydrate than the City of Sin. Whether you're a local or a tourist, if you're looking to wet your whistle, here are some of the most tempting places to day drink in downtown Las Vegas.
Chart House at Golden Nugget
Go ahead and try to find a better mango mojito in the city. (Spoiler: You won't!) Chart House has something for everyone, from the sweet pomegranate martini to the bold Red Diamond Cabernet Sauvignon to a crisp Coors Light. Sip a cocktail, enjoy a fine wine or kick back and crack open a brewski. Never mind the fact that it's only 2:00 in the afternoon. Vegas is a judgment free zone.
If you happen to get hungry for a little nosh, the seafood at Chart House is a favorite of downtown denizens. There's also the 75,000-gallon tropical fish aquarium, so you have something pretty to look at while you're there.
And we're not trying to get you all worked up or anything, but if you stick around for Happy Hour, there'll be firecracker shrimp and prime rib sliders, a great way to avoid drinking on an empty stomach.
Triple 7 at Main Street Station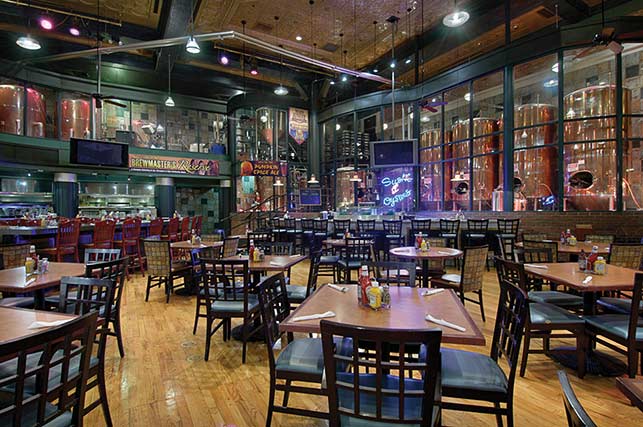 Beer neophytes and aficionados alike will appreciate the award-winning microbrews served at Triple 7. Make sure you arrive thirsty because you're going to want a taste of each of the six varieties of hand-crafted beers, not to mention the appetizers, handmade pizza, gourmet burgers and sandwiches, steaks, ribs and fresh sushi.
If you want to experience the best of downtown Las Vegas while recharging your battery and catching the latest and greatest sporting event, Triple 7 is the place to be.
Cowgirl Up Cantina at Binion's
Head to this open-air bar, park your rump on an actual saddle and order your favorite beverage.
With an unbeatable view of the Fremont Street Experience (and people screaming their heads off as they fly down the SlotZilla zipline), this place is one-of-a-kind.
You'll also be just a few feet away from Binion's cowgirl party pit, where the dealers are dressed as cowgirls, Vegas-style.
Cowgirl Up Cantina is the perfect place to rest your tired soles before heading back out into the Fremont Street Experience for gambling, music and the iconic Viva Vision light show.
D Bar at The D
D Bar is a wildly fun open-air bar located right on Fremont Street known for their vast selection of yard-sized slushy drinks.
But the frozen drinks in any flavor you can imagine aren't the only reason to spend an afternoon at D Bar. This fun-loving bar also boasts some of the city's most eye-catching entertainment! Between the minimally-dressed dancing bartenders and the quick-handed flair bartenders, D Bar gives you a hefty dose of what Fremont Street is all about, and maybe a brain freeze, too.
Did we mention the bar is right in the thick of all the action, making it a prime location for people-watching, too?
Grab an adult slushy and prepare to be entertained, in one way or another.
The Filament Bar at Fremont Casino
The Filament Bar at Fremont casino was voted the Best Downtown Bar in the Best of Las Vegas awards, and that's just for starters.
Open to the casino floor and yet offering some respite from the hustle and bustle of Fremont Street, this place believes that drinking is always a "bright idea."
Alcoholic menu items include the Electric Chair Martini, Fully Charged Colada and The Bright Idea.
Fun fact? Filament has what's touted as the longest pewter bar top in the world.
Chicago Brewing Co. at Four Queens
Chicago Brewing Co.'s award-winning handcrafted microbrews are not to be underestimated, and they pair perfectly with the joints appetizers, pizzas and entrees.
After you enjoy your libations, spend some time wandering around Four Queens, one of the last places in the entire city where you can still be transported back to classic, traditional Vegas.
In a city that's always being rebuilt, Four Queens honors the old school Vegas we all love.
Holo Holo at The Cal
Imagine heading to downtown Las Vegas and getting to visit the Big Island while you're there. Now, you can. Holo Holo, also known as "The Happy Bar," serves up Hawaiian-themed cocktails so delicious that they'll make you want to hula.
Part of the redesign and renovation of the hotel, Holo Holo's request is simple: Stop by, have fun and relax. The menu is diverse, featuring craft beers, frozen drinks and Hawaiian-themed cocktails.
The friendly and welcoming staff will make your day drinking unforgettable and are truly what makes Holo Holo a bar worth a visit.
Oak & Ivy at Downtown Container Park
You haven't experienced downtown Las Vegas until you've spent some time at the Downtown Container Park. When you do, be sure to pay a visit to Oak & Ivy and cozy up to their American craft whiskey cocktail bar, with all the delicious seasonal ingredients, handcrafted drinks, homemade garnishes and mixers. This barely scratches the surface. Don't forget about their beer, spirits and barrel-aged cocktails.
While you're at it, partake in a little boutique shopping, vegan delights at Simply Pure and Downtown Container Park's not-so-traditional playground.
Keep an eye out for Container Park's giant fire-breathing praying mantis, too. He likes to steal the show.
Carson Kitchen, Carson and 6th Street
Carson Kitchen is home to a lengthy list of delicious adult beverages. They've got wine. They've got ales. They've got mixed drinks with names like Machu Peach-u, Get Shorty and Simon Says Sangria.
As great as the beverage are, we'd be lying if we said the food isn't part of the reason this place made our list.
Carson Kitchen's creations are legendary. You haven't lived until you've tried the crispy chicken skins. The bacon jam is other-worldly. The black rice and oxtail risotto will make you weep. Go with a group of friends and order one of everything. Trust us, you'll want to sample the whole menu.
Memorable bars for day drinking in downtown Las Vegas are in no short supply. Kick back, raise a glass and drink in all the options for day drinking downtown.
Oh, and if you're looking for a way to get home safely, try Lyft. Use "FSE" and get up to $20 in ride credits. Because you know your day drinking is going to turn into night drinking. Downtown happens.