Hangry? You will be!
If you've got a hankering for delicious food while in Sin City, here are the 10 hottest lunch spots to try in downtown Las Vegas.
1. Chicago Brewing Co., Four Queens
Lunchtime at Chicago Brewing Co. brings award-winning handcrafted micro-brews, appetizers (filet mignon sliders, anyone?), pizza and plenty of entrees. Try the triple-decker chicken avocado sandwich if you're feeling particularly hungry. You'll be back for more.
2. Carson Kitchen
Carson Kitchen is one of those places you can go for lunch and legitimately order one of everything. The portions are smaller, but it's all for the best because you're going to want to sample everything.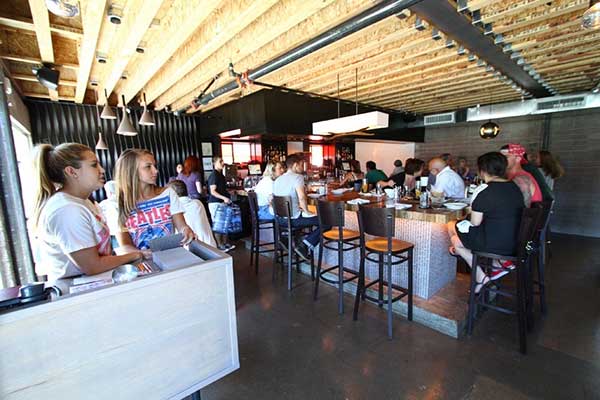 The crispy chicken skins are unlike anything you've ever had before, the bacon jam is revolutionary and monuments have been built to honor the black rice and oxtail risotto.
Go with a group of friends and have a feast or you can always fly solo.
3. Garden Court Buffet, Main Street Station
Garden Court Buffet has something for everyone—even the pickiest eater—and their prices are tough to beat.
You can easily eat to your heart's content for less than $20. This certainly is the place to go if you're famished and want the most bang for your buck.
They've got Mexican food. They've got Southwestern fare. They've got Asian delicacies, pizza, salads and even rotisserie chicken. If you're feeling extra fancy, head on over for prime rib and scampi on Tuesdays and Thursdays, or their champagne brunch on weekends.
4. Le Thai, Fremont East
Forget what you know about Thai food. Le Thai is on a whole other level. You can go with something more traditional, like their curry dishes. Be careful what level of spiciness you order, because these folks aren't playing. One is plain, five is heartburn and 10 might be followed by a trip to the emergency room.
It wouldn't be right of us if we didn't mention their spicy eggplant or mixed vegetable stir-fry. Truly, you can't go wrong.
5. Chart House, Golden Nugget
If you're in the mood for seafood for lunch, Chart House is where you need to be. The spiced ahi is to die for, and the coconut crunchy shrimp? There are no words. Just drool.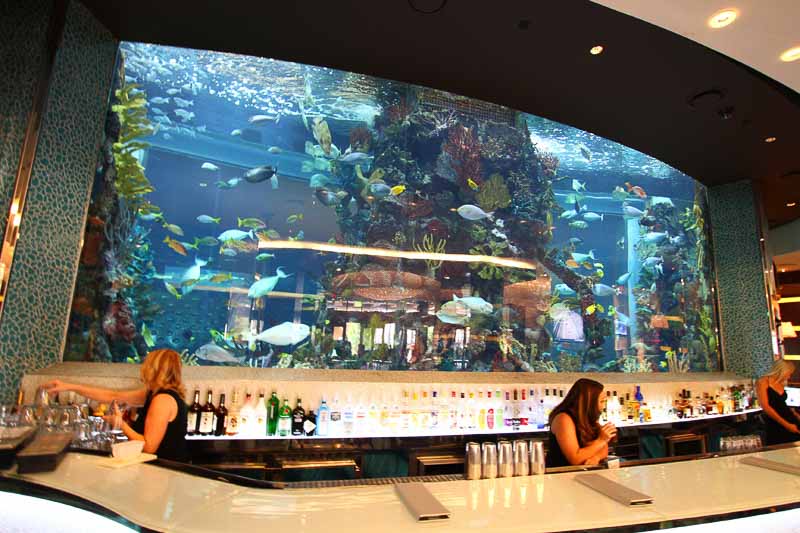 Don't forget their juicy steaks, slow-roasted prime rib and did we mention the 75,000-gallon tropical fish aquarium in the middle of the restaurant? No big deal.
6. D Grill, The D Las Vegas
We've got three words for you: breakfast all day. Try to keep your composure. Aside from breakfast classics like pancakes, waffles and omelets, D Grill also serves up gourmet burgers, sandwiches and a buffalo chicken salad that will make you weep.
7. Cadillac Mexican Kitchen, Golden Nugget
Head to Cadillac Mexican Kitchen for mouthwatering fajitas, blackened mahi-mahi tacos and the margaritas.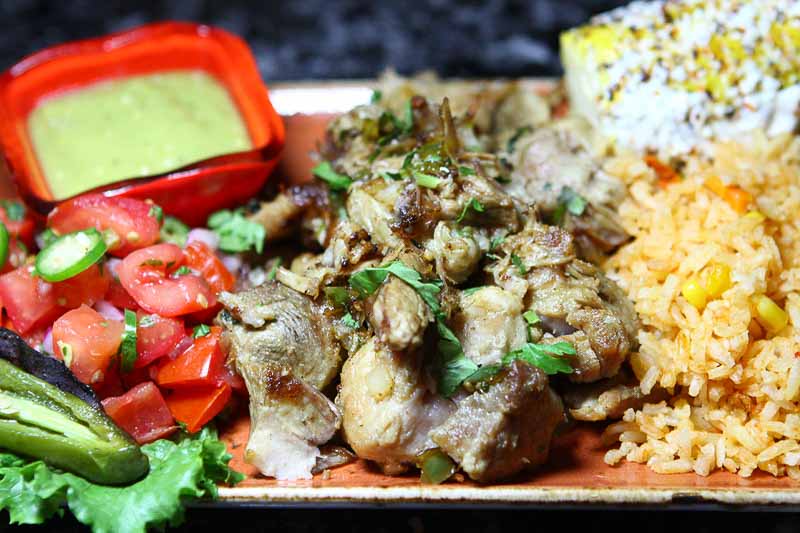 What's that? You're saying lunch is too early for a margarita? This is Vegas, so we're going to pretend we didn't hear that.
8. Downtown Terrace Kitchen & Bar
When you're ready to do some serious chowing down for lunch, we can assure you that Downtown Terrace Kitchen & Bar doesn't disappoint. You can easily make a meal out of the starters because the margarita flatbread and shrimp ceviche are just that good.
If that's not enough, though, sink your teeth into their avocado grilled cheese or the pan-roasted salmon. Or both. No one's going to judge you here.
You'll also have the option to sit by the window or on the balcony for some grade-A people-watching at the famous Container Park in downtown Las Vegas.
9. The Smashed Pig Gastropub
You'll love the soft pretzels and chicken wings, but the fish and chips are an absolute must-try. Smashed Pig also has an awesome selection of craft brews.
The Smashed Pig Gastropub is not to be missed. Choose from their many burgers and sandwiches or opt for soup and salad. They even have vegan and vegetarian options for all your herbivores out there.
10. Simply Pure
Full disclosure: It's vegan. But hear us out! Simply Pure will change the way you look at vegan food. You won't even realize what you're eating. They've got lasagna, pasta and even chili cheese fries. The tacos are a dream and you'll want to dive face first into a plate of nachos.
The best part is Chef Stacey Dougan makes sure her food is as fresh as it comes. Head downtown to Container Park and experience the magic for yourself.
If you weren't hungry before, you probably are now. They say breakfast is the most important meal of the day, but we're not so sure how we feel about that. Do lunch a little differently and head downtown for a real culinary adventure.
Don't forget that Fremont Street has plenty more to offer! From gambling to entertainment, to the king of all ziplines (SlotZilla) and the legendary Viva Vision light shows, there's never a shortage of exciting things to do in downtown Las Vegas.