Filming at Fremont Street Experience
Fremont Street Experience is one of the most in-demand filming destination in the world. From the jaw-dropping Viva Vision canopy to the neon-drenched casino facades, Fremont Street is a one-of-a-kind location and we're here to help your production make the most of this unrivaled destination.
GETTING STARTED
Filming on Fremont Street Experience requires several things for the process to start, including Certificate of Insurances, a City of Las Vegas film permit, a Fremont Street film permit and location agreements.
Please review the filming fact sheet thoroughly to determine if Fremont Street Experience is a good fit for your production.
There are also additional cost related to filming.
If you do not have a budget for your project, it will not be possible to film at Fremont Street Experience.
If you decide to proceed, you'll need to fill out and submit a Film Permit Application.
Download the Fremont Street Experience Film Permit Application.
Please submit both documents via e-mail.
We understand sometimes dates and times are hard to lock down, but please try to fill out as much information as possible.
CHECK OUT OUR VENUE
Fremont Street Experience is available on Google Street View! Click here to virtually walk it and determine a location.
Here's a map of what Fremont Street Experience manages under city ordinance.
Included on the map is the location of our three stages. Please retain this for your reference.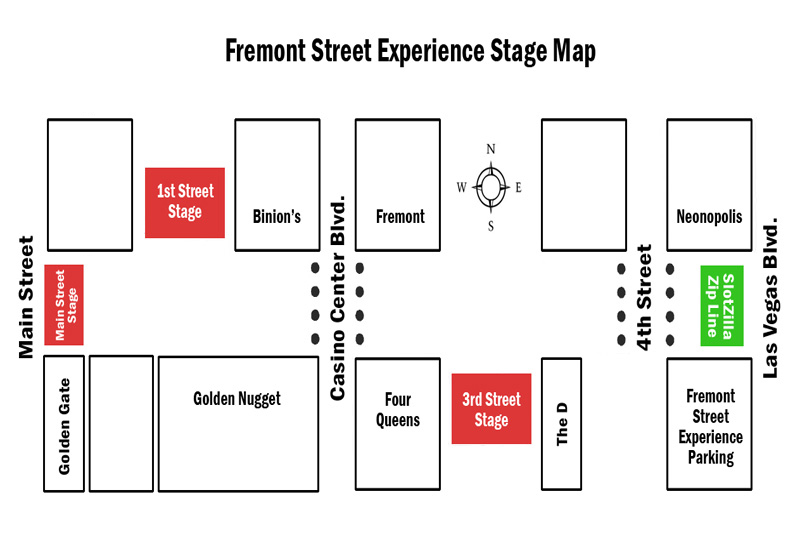 FEES AND COSTS
Please understand that as a venue for filming, photo shoots and events there is a fee for fulfilling the process.
Please review our quote sheet. It breaks down exactly what we charge for each service you may need. If your film permit application is not received 10 business days prior to your film date, you will be charged a late fee for rushed processing.
In addition, if your production needs to cancel the shoot on Fremont Street, the production must provide written notice 48 hours prior to the shoot date and time in order to receive a refund should the production be already charged. A refund fee of 50% of the original charged amount will be put back on the original credit card charged.
PROCESS SNAPSHOT
Loosely, this is how the full process goes:
Fill out the Film Permit Application.
After we've determined your proposal is approved we will draft a quote based on your needs. Once the quote is agreed upon, please sign it and return with a filled-out credit card authorization sheet so we may process an invoice and finalize payment prior to your shoot time and date. If payment is not completed at the time of the shoot, you will not be permitted to film or photograph on the mall.
A COI (Certificate of Insurance) on an ACCORD form naming Fremont Street Experience LLC at 425 Fremont Street Las Vegas NV 89101 for $1 million needs to be submitted to us and you may now apply for your city permit. The contacts for the city are Kristina Hayes and Gail Wilkinson. Please note the City is closed Friday, Saturday and Sunday. It is imperative you apply for your City permit and submit your COI as soon as possible. The city appreciates a week's notice to process. Please verify with the Nevada Department of Insurance that your insurance provider is approved to do business in the state by searching your provider.
Once your quote is signed and payment processed, we will create an FSE film permit for our property as well as send an executed Location Agreement with the correct dates and fee amount reflected. Please retain these forms and have the Film Permit on hand at all times while filming on the mall.
OUR PARTNERS
The Golden Nugget and Fremont Hotel & Casino have exterior licensing agreements if you plan to directly feature their images, property or logos. Failure to contact with the relevant property may result in legal action. If you'd like to film the exterior of the Binion's Hotel & Casino or the Four Queens Hotel and Casino, you are obligated to those casinos for approval prior to turning in your application.
THE LAW
Nevada State Law NRS 231.128 states: Registration and permits required for production of motion picture. Before a motion picture company begins production of a motion picture in this State, the motion picture company must: (a) Register with the Division of Motion Pictures. Registration of your production is absolutely free and you can fill out the form online.
Should you have questions about the registration process please contact Danette Tull at the Nevada Film Office via email or by phone at 702-486-2713.
SHARE THE BUZZ
If at all possible, please tag Fremont Street Experience or SlotZilla in your social channels should you decide to post about your production. Our social handles are as follows:
Facebook (Fremont Street Experience)
Facebook (SlotZilla)
Twitter (Fremont Street Experience)
Twitter (SlotZilla)
Instagram (Fremont Street Experience)
In an effort to both promote your production and increase awareness of the productions that have been on the Fremont Street experience, please let us know if we can share anything you should post, the material once it is released, or tease information about a production that has not been released.
We would also like to use materials from the production in promotional reels and paper media that would be distributed internally only with clients both future and past along with sharing it with our member properties.
MORE INFORMATION
Should you require more information about the property itself or the SlotZilla zipline to include in your script, we've got a handy fact sheet.
THANK YOU
Thank you for reaching out to bring your production to Fremont Street Experience, and we look forward to working with you!