Downtown Las Vegas is home to some of the best bars in Sin City, so it's no surprise the Fremont Street area is one of the hottest destinations for a good, old-fashioned bar crawl.
If you're thinking about hosting a bar crawl in Las Vegas for a special occasion, or you just want to try new places with your friends, downtown Las Vegas is the place to be. Here are some of our favorite places you should hit up:
OneBar, Golden Gate Hotel & Casino
Try not to have a good time with dancing bartenders. We dare you!
That's not all OneBar has, either. They're known for their variety of frozen drinks, chilled by the only geothermal closed loop cooling system in any Las Vegas casino. But wait, there's more. Golden Gate's world-famous flair bartending team will drop your jaw, all while being entertained by the lights, sounds and crowds on Fremont Street.
Cadillac Mexican Kitchen & Tequila Bar, Golden Nugget
Not far from Golden Gate is the iconic Golden Nugget, home of Cadillac Mexican Kitchen & Tequila Bar. We know, we know—you had awful experiences with tequila in college, right? We promise this will be different.
Cadillac Tequila Bar has more than 70 boutique varieties of tequila and a killer selection of Mezcal. We also have it on good authority their nachos are among the best in downtown Las Vegas.
Cowgirl Up Cantina, Binion's Gambling Hall
If you want energy and excitement, you want the Cowgirl Up Cantina, located on one of the most exciting corners in all of downtown. It also happens to be one of our favorite spots to day drink. Have a seat on a real saddle, order a cocktail and watch people soar down the SlotZilla zip line.
Patio Bar, Four Queens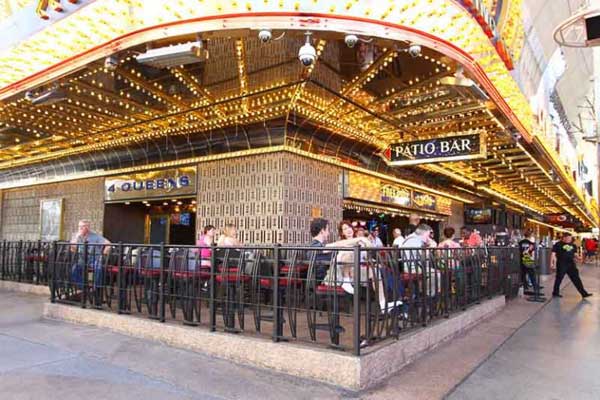 You need to stop at Patio Bar if only to experience the 43-foot long bar that wraps around the property, right next to the live shows on our 1st street stage. Kick back with a brew while enjoying the tunes of Good Charlotte, Nelly and all the other bands lined up for the Downtown Rocks free concert series.
Backstage Bar & Billiards
DJs, live music, pool, booze—Backstage Bar & Billiards has it all. Located on the Fremont East entertainment district, it could very well be the perfect way to cap off your bar crawl. According to their Instagram page, they're "part upscale billiards lounge and part rock 'n' roll museum." We don't know about you, but that sounds like the perfect place to take a series of end-of-the-night bar crawl selfies.
Las Vegas Bar Crawl Tips
We've seen many a bar crawl fall apart due to poor planning. It's more than just gathering a group and winging it. So, here are some helpful tips when it comes to planning out your evening.
1. Nail Down Your Itinerary
Aim to visit from four to seven bars during your bar crawl. Any fewer and it's just going to seem like an ordinary night out on the town. Any more than seven and you're going to start losing members of your crew to various bathroom stalls.
2. Choose Bars Within Walking Distance
A major benefit to hosting your bar crawl in downtown Las Vegas is the proximity of everything in the area. Bars are sometimes only steps away from each other, saving you expensive cab bills and time spent waiting for a ride. By choosing to walk from place to place, you also give your group time to take a little breather between destinations.
3. Have a Flexible Schedule
The responsible bar crawl host will have an actual schedule, albeit a flexible one, they'll pass along to all the participants. Leave time in between stops for paying the tab, bathroom breaks and other unplanned extras. You want to give your guests an idea of what to expect, but not make it so rigid that it takes the fun out of it!
4. Get Everybody Involved
Nothing's worse than those few people in your bar crawl who poop out early or the ones who decide to stay put at one of the stops for the rest of the night. You can keep people engaged by making the bar crawl a sort of scavenger hunt. You can even give little prizes or gag gifts to people who complete it at the end of the night.
With a little preparation, you can host an awesome bar crawl in downtown Las Vegas that your friends will be talking about for years to come. Wear comfy shoes, don't drink and drive and remember: Pics or it didn't happen. Make sure to tag #FremontStreet on Instagram.