The best obligatory part of visiting Las Vegas is dancing the night away or having drinks with friends at some of the hottest nightclubs and bars you'll find in the world. Las Vegas is home to an exhilarating and unique nightlife scene that leaves you with more options than you have time for! Don't worry—we're here to help. Next time you're in town, here are the best bars and clubs in Las Vegas to check out for the most unforgettable Vegas experience.
Legacy Club at Circa
Circa is the newest resort in downtown Las Vegas and doesn't disappoint when it comes to classy fun. Legacy Club at Circa has an excellent selection of signature and classic cocktails served in a swanky club atmosphere with an unrivaled view of Sin City. Located on Circa's 60th floor, you can take in a panoramic view of the Las Vegas skyline from the elegant club lounge and rooftop firepit. Now, that's not something you don't see every day!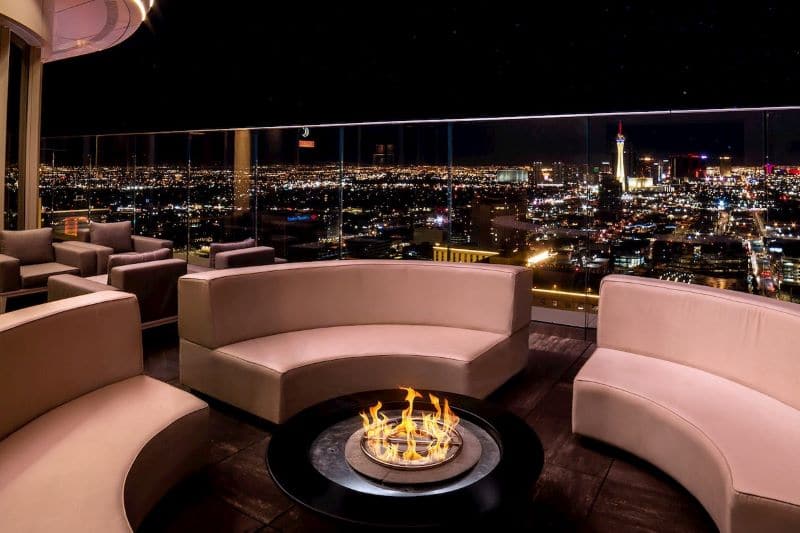 Legacy Club is open from 4:00 p.m. to 2:00 am on Sunday through Wednesday, and 2:00 p.m. to 4:00 am on Thursday through Friday. Pop in for a refreshing cocktail to start your evening, an in-between stop during your downtown Las Vegas bar crawl or to wrap up a fun and debaucherous night with a little class. Whenever it may be, you don't want to miss this one.
Inspire Nightclub in Downtown Las Vegas
If you want to hit the dancefloor during your next visit, Inspire Nightclub is the place to be in downtown Las Vegas. This three-level bar, lounge and nightclub in the heart of downtown lets you take your pick between a live DJ lineup on the rooftop or a more intimate indoor setting. Featuring an eclectic crowd of Las Vegas locals and visitors alike, you can book a table for VIP bottle service or grab a drink at the bar.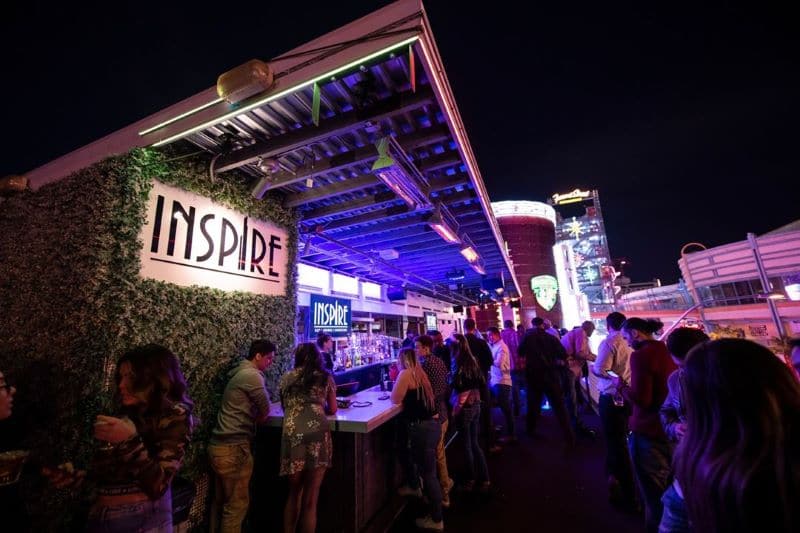 Located on the corner of Las Vegas Blvd. and Fremont Street, it's only steps from all the Fremont Street Experience hotels, casinos and Slotzilla Zipline (should a little extra excitement tickle your fancy).
Rush Lounge at Golden Nugget
Looking for some entertainment with your drinks? Rush Lounge is a hidden gem at Golden Nugget in downtown Las Vegas that pours drinks generously and hosts live bands and musical artists every weekend! It definitely has a more relaxed vibe, so it's the perfect place to catch up with friends, play some video poker or blackjack, indulge in VIP table service or simply try a new hand-crafted cocktail.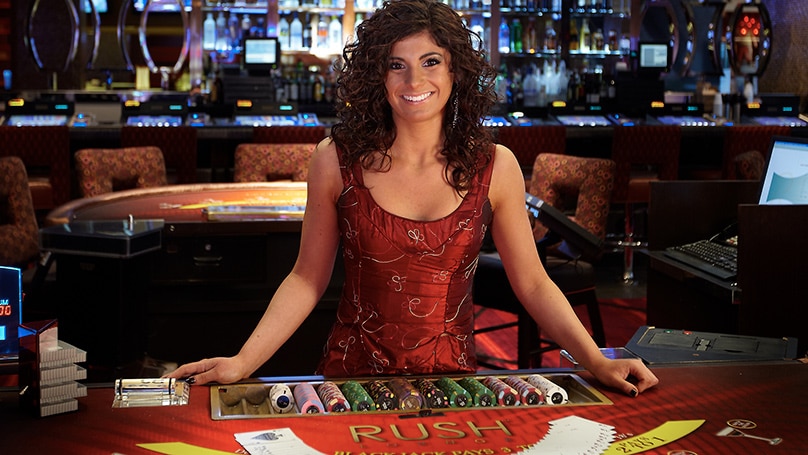 Check out their full entertainment lineup and swing by between 6:00 p.m to midnight on Sundays through Thursday or 6:00 p.m. to 2:00 a.m on Friday or Saturday for a guaranteed good time.
Troy Liquor Bar at Golden Nugget
Troy Liquor Bar is Golden Nugget's other nightlife scene that features an impressive rotation of local and guest DJs for a packed dancefloor every weekend. As one of the only "traditional" nightclubs in downtown Las Vegas, you can expect a lot of hype around this party-goer destination. Also with an excellent view of the downtown crowds from the second-floor balcony, it's one of the best people-watching spots in all of Sin City.
Make sure you get on the guestlist on busy nights to avoid long lines and take advantage of drink specials, including their $150 bottles before 11:00 p.m. on Fridays. You won't find deals on bottle service like that on the Strip!
Commonwealth
Commonwealth in the Fremont East District has been a local favorite for years for its energetic crowds, friendly staff, great music, excellent drink selection and cool vintage vibe. The dark wood, exposed bricks, crystal chandeliers and classic decor will set the tone for a great night out with friends. You can choose to sit in the main room to sip on your hand-crafted cocktail or head up to the rooftop dancefloor for unrivaled views of downtown and excellent sets from local and international DJs.
Commonwealth is closed Mondays, but you're in for a good time if you stop by from 9:00 p.m. to 3:00 a.m. on Sundays, Tuesdays through Thursdays or Fridays and Saturdays from 6:00 p.m. to 3:00 a.m.
Don't Tell Mama
If you've never been to a piano bar, you are missing out! Don't Tell Mama at Neonopolis on Fremont Street is a fun night of drinks, live performances and even a chance to take the stage yourself. This exclusive nightlife experience will have your bartenders and servers taking turns to perform their favorites, accompanied by talented piano players and eager patrons. You can try to stump these piano players, but they know just about every song known to man—so, good luck!
They're open Sunday through Thursday from 8:00 p.m. to 2:30 a.m. and Friday and Saturdays from 8:00 p.m. to 3:30 a.m. This show did in fact move back to Fremont Street after a short stint up at the Palazzo, where it had been before it was previously in Fremont Street East. Don't be fooled – it's here in downtown Las Vegas!
Nightclubs on the Las Vegas Strip
The Las Vegas Strip has dominated for its reputation as having the best clubs in Las Vegas. Hey, we get it. That's why we can't make this list without giving a nod to these nightclubs on the Las Vegas Strip:
Encore Beach Club
Encore Beach Club and EBC at Night hosts some of the world's most popular DJs by the pool for a fun night of dancing and lounging under the Vegas skyline. Just keep in mind if you're not on the guestlist, you most likely won't make it past the door.
Drai's at The Cromwell
Drai's Nightclub is known for booking the biggest names in hip-hop like Future, T.I. and Travi$ Scott. The nightclub's dancefloor is massive with lighting and production that rivals most major concert venues.
Hakkasan at MGM Grand
Although not the newest club, Hakkasan remains a constant on Las Vegas nightclub lists for its impressive history of resident DJs, including Calvin Harris, Tiesto and Steve Aoki. However, be prepared for long lines and pricey drinks if you choose to brave the crowds!
Omnia at Caesars Palace
What do you get when you mix a giant LED chandelier, a giant dancefloor and an impressive sound system together? That's basically Omnia Nightclub in a nutshell. The, add all the best DJs in the world and you're in for a wild night.
XS Nightclub at Encore
If extravagance and opulence are your style, XS should be your go-to. As the name suggests, this nightclub is covered in excess, with golden statues, chandeliers, detailed decor and classy lighting. Make sure you stick to the dress code and get there early (even if you're on the guestlist!) to make the most of your night.
Fremont Street Experience at Night
If you're not looking forward to overpriced drinks and long admission lines, downtown Las Vegas has you covered. Fremont Street Experience embraces the fun spirit that put Vegas on the map—free entertainment, strong drinks and good times! Check out our Downtown Rocks free concert series lineup, our nightly Viva Vision light shows and everything else downtown Las Vegas has to offer, including unique nightlife experiences you won't find anywhere else.