There's no arguing that the downtown Las Vegas nightlife is alive with excitement and fun. Whether you're looking for downtown Las Vegas bars and lounges, the best nightclubs, or simply information about how to enjoy the downtown Las Vegas nightlife, we've got you covered.
What Are the Best 18 and Over Nightclubs in Las Vegas? 
There's no shortage of great spots in Vegas so making a final decision is challenging. Here are some of the best over 18 Las Vegas downtown bars and nightclubs that are well worth checking out when you're in town. 
The Legacy Club
For a more low-key club where you can grab a drink and relax, consider The Legacy Club. At The Legacy Club at Circa Las Vegas, you'll find:
A comfortable setting

Hand-crafted cocktails

Rooftop fire pits

A spectacular scenic view of the city and Las Vegas sunset
Hakkasan Nightclub
To get the party going with some high-energy entertainment, check out the Hakkasan Nightclub at the MGM Grand, which includes:
Restaurant

Dance floor

Award-winning entertainment from performers such as Lil Jon (multiple DJ appearances), Ludacris, and BIA

Drinks, bottle service, and VIP tables
Club XS
For a more lavish evening with elegant style, check out club XS for:
Sleek design (two fancy chandeliers and gold walls)

First-rate DJs

Drinks, bottle service, and VIP tables

Pool parties (in the summer)
Looking for the hottest spots in town? Fremont Street Experience will make it a night to remember.
What Is the Nightlife Like in Las Vegas? 
The downtown Las Vegas nightlife can be an exciting night you'll never forget, the relaxing evening you need, or a specialized combination of both. Las Vegas has nightlife options open all night long so there's always someplace to go.
Gambling
Las Vegas is well known for its multiple gambling opportunities. From sports racing to cards, you'll find exactly what you're looking for pretty much anytime you want it. For a place to gamble with multiple options for grabbing a drink, check out The Golden Nugget Hotel and Casino, where you'll find seven different craft cocktail bars and one of the best Casinos in downtown Las Vegas.
Clubs
Clubbing is a popular way to spend a late night out with friends to celebrate an event or just enjoy each other's company. Whatever your style, there are downtown Las Vegas bars and lounges made just for you. One of the "best club in Las Vegas," Drai's Nightclub, is located on the Las Vegas strip and features:
A rooftop club

Award-winning DJs, top R&B artists, and top Hip-Hop artists

150 VIP tables

Two VIP balconies

Four bars

Eight pools

7,000 square-inch LED screens

Drinks, bottle service, and VIP tables
For a relaxed and stylishly unique bar, The Commonwealth may be more your pace. Here you can get some great barrel-aged whiskey and enjoy happy hour from 7 p.m. to 9 p.m. on Fridays and Saturdays.
How Much Does a Table at a Nightclub Cost in Las Vegas? 
Prices range significantly depending on the size of your party, the table's location, the club's style, and other factors. Check out these popular club's pricing to get an idea:
Tables at Hakkasan cost anywhere from a minimum spend of $1,250 to $7,000.

Tables at Drai's cost anywhere from $1,200 (seats 4) to $10,000 (seats 12).

Tables at XS cost anywhere from $2,000 to $15,000.
How Many After-Hours Bars Are There in Las Vegas?
 
Like other big cities, Las Vegas infrequently sleeps, making it pretty easy to find bars open until the sun rises. Here is a short list of some downtown cocktail rooms and bars open all night — most until 8 a.m. during weekends.
How Do Ladies Usually Dress at Nightclubs in Las Vegas? 
Most nightclubs in Vegas leave dress codes up to the staff's discretion. But your best bet is going to be to go with something considered "elegant casual" as this is the most common dress code at clubs. Generally, it's best to avoid:
Hats

Athletic wear (including sweatpants)

Sandals

Sneakers

Ripped clothing

T-shirts

Steel-toed or work shoes
Looking for great local music and events? Fremont street has it all. Check out our calendar of events.
What Is the Safest Way to Have Fun in Las Vegas?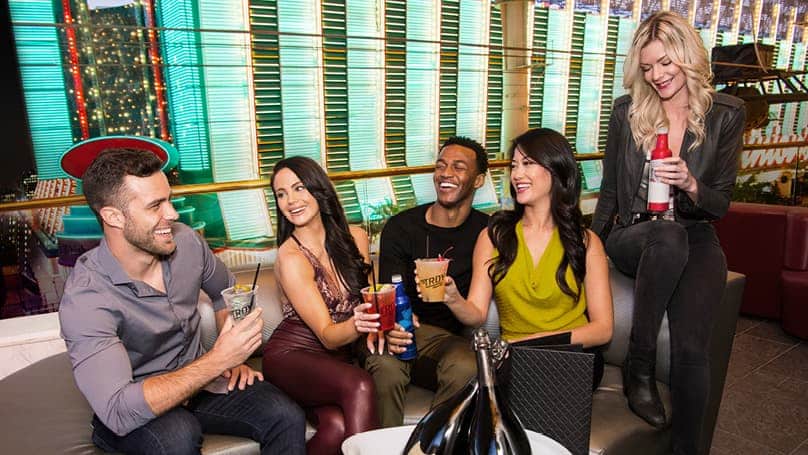 According to U.S. News, the violent crime rate for Las Vegas locals is higher than the national average. But by taking precautions, there is no reason you can't still have a good time and be safe. Safety precautions you should take:
Don't travel alone

Stay in well-populated areas such as downtown, on the Las Vegas strip, or Fremont Street

Keep your phone, money, and ID with you and in a safe location

Invest in pepper spray or a taser
Since gambling and drinking can put you at a slightly higher safety risk, you can also check out alternatives such as museums, family-friendly restaurants, light shows, shopping, and much more.
What Happens if You Get Bottle Service at a Las Vegas club? 
Bottle service at clubs and bars in Las Vegas usually goes together with paying to reserve a table with a "minimum spend." The "minimum spend" reserves the table, and then you use that money towards bottles of alcohol. Purchasing whole bottles of alcohol at one of the best bars in downtown Las Vegas may save money while guaranteeing you a place to sit with friends.
Time for Some Fun
The downtown Las Vegas nightlife has something for everyone. From the thrills of Fremont Street to the relaxed atmosphere of sipping a delicious barrel-aged whiskey at a cozy lounge bar, everyone is bound to have a good time. So grab some friends, find your spot, and get ready to have the time of your life.