We bet you never thought there'd be a connection between Victorian-themed decor and Las Vegas-style entertainment. This must mean you haven't yet visited Boar's Head Bar in downtown Las Vegas.
Whether you're a visitor looking for a hidden Sin City gem or a Las Vegas local hoping for a unique experience, swing by and see why we love Boar's Head Bar at Main Street Station so much. Main Street Station is just a block or two north of Fremont Street.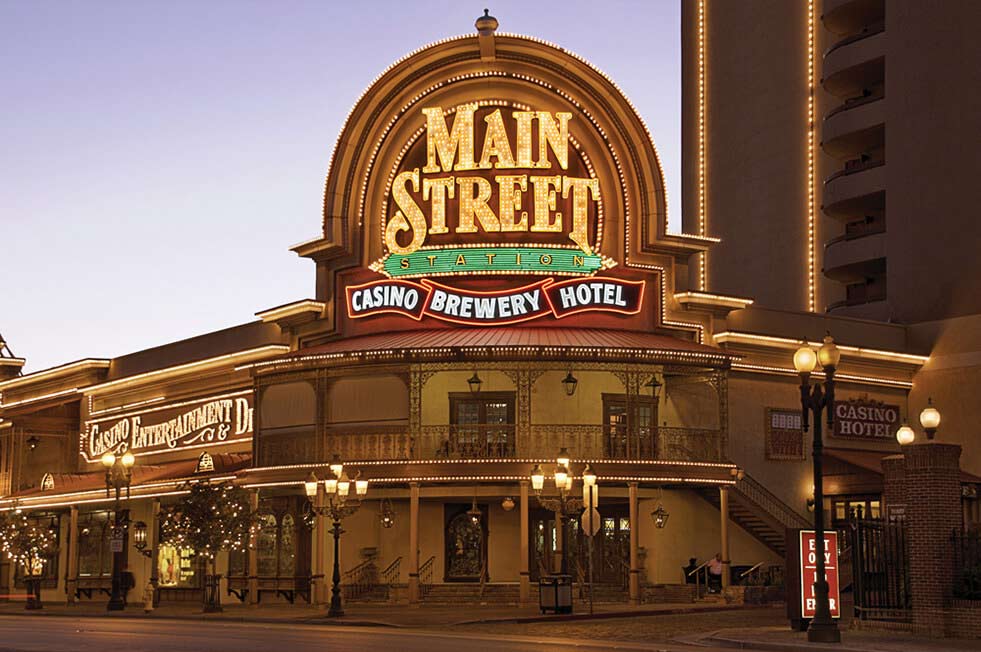 Decor and Ambiance
While the beverages are stellar on their own, the opulent decor might be what sets Boar's Head Bar apart from every other bar Las Vegas.
Boar's Head Bar is a mix of vintage Victorian decor and modern-day Vegas accents. The beautiful marble counters and ornate brass column statues add a touch of elegance and sophistication that fits perfectly with the Main Street Station casino antique theme.
And how could we forget the iconic brass boar statue that gives the bar its name?
Brass Boar Statue
Let's talk about the famous brass boar a little bit.
The boar is from Nice, France, and was originally a part of a fountain. It's a replica of the Renaissance-period original from Florence, Italy. Amazing. Be sure to snap a photo in front of it, because you won't find anything like this anywhere else in Vegas.
Boar's Head Bar is at once somewhat luxurious but totally casual. Go there for your bachelorette party or awesome downtown Las Vegas bar crawl. Go there for an important business meeting. Go by yourself and live your best life. Just go.
The Drinks
What's not to love about craft beer at super cheap prices? Boar's Head Bar gets their beer brewed fresh from Triple 7 Brewery, and you've never tasted anything like it. The fully-stocked bar has all your favorite libations, and the friendly bartenders can help guide you through all the options.
Video Poker
If you're looking for one of the best places to play video poker in downtown Las Vegas, this is it.
With some of the best pay tables around, you have to stop in if you're a video poker fan.
More About Main Street Station
Boar's Head Bar is a great place to visit, but it's not all Main Street Station has to offer.
This unique hotel and casino has two award-winning dining experiences, each boasting diverse flavors, detailed decor and menus that will make your mouth water.
The Triple 7 Restaurant and Microbrewery features six varieties of the freshest hand-crafted beers in town, tasty appetizers, hand-made pizza, gourmet burgers, sandwiches, juicy steaks, ribs and even a fresh sushi bar. You might be hungry when you get there, but you certainly won't leave that way.
Vegas is famous for two things: Gambling and buffets. And when you go to Main Street Station, you really hit the jackpot. The Garden Court Buffet was voted the best in downtown Las Vegas, and that says a lot. Competition is stiff here.
From the moment you step inside, you'll enjoy the Victorian decor and the smell of some of your favorite foods. Go there for any meal of the day and choose from cuisines including Mexican, Southwestern, American and Asian. Then there's the pizza and their infamous rotisserie chicken.
Are you hungry? We're hungry.
It doesn't matter if you're a tourist seeking adventure or a local looking for a fun night out after a grueling day of work. Start the evening with some beer and video poker at Boar's Head Bar, visit Triple 7 for appetizers and then head to Garden Court Buffet and really get down to business. Wear stretchy pants. You're going to need them.
Experience All That Downtown Las Vegas Has to Offer
Main Street Station will give you the real Vegas experience, but be sure to make your way out to Fremont Street for another eye-opening adventure.
The gambling in downtown is unlike anywhere on the Strip. Why? Simple. We've got dancing dealers. *mic drop* Pull up a seat and get comfortable — they'll take good care of you.
We've also got the hottest activities and entertainment in Las Vegas, even if you're on a budget. Enjoy live music, fly through the air over the Fremont Street crowd on the SlotZilla Zipline and soak up the dazzling colors of the Viva Vision light shows, which play on the regular and are free.
We might be biased, but we happen to think it doesn't get any better than downtown Las Vegas. Round up your friends and get ready for a night to remember. Once you visit Fremont Street, you'll never want to leave.