Are you looking for a place to party and watch the Big Game in Las Vegas? The football match up of the year is just around the corner and downtown Las Vegas is gearing up for an epic weekend. Some people are in it for the football. Others just want to see the halftime performance. Then there's some who are dying just to catch the commercials.
Whatever your motivation may be for watching the upcoming game, there's plenty to do in downtown Las Vegas this Big Game weekend.
Where to Catch the Big Game
Whether you want to be surrounded by big crowds of excited football fans or are looking for a more exclusive viewing experience with your friends, downtown Las Vegas has you covered.
Biggest Big Game Bash at Downtown Las Vegas Events Center
Whoever said size doesn't matter clearly didn't hear about the massive stadium screen. happening at the Biggest Big Game Bash at the Downtown Las Vegas Events Center—plus, the additional 22-foot LED side screens. Admission to this event is free, but you can opt to reserve a private table or "Man Cave" for a fee. Here are your options:
General Admission to the Downtown Watch Zone
Free admission.
First-come-first-serve seating in the general watching area.
View of the massive stadium screen.
Premium Table – $100 Beverage Min. Per Person
Premium four, six, eight, 10, 12 and 14 top tables available.
Clear view of the massive stadium screen.
Man Caves – $5,000 (Up To 15 People) or $7,000 (Up To 30 People) Food & Beverage Minimum
One 70" LED HD TV.
Premium shaded space.
Access to beer pong tables.
Leather Couches
Private bathrooms
Food and beverage service available.
Clear view of the massive stadium screen.
Private Server
If you don't plan on reserving a premium table or Man Cave, you'll want to come early to grab seats for you and your friends in the general seating area. Doors open at 11:00 am on Sunday, February 3rd, and the event is expected to fill up fast!
Remember, this event is for adults 21 and older only, so have your ID ready to go.
Big Game Bash Watch Party at The D
In addition to the outdoor bash at the Downtown Las Vegas Events Center, The D will be hosting an indoor viewing party on the 12th floor. They'll have multiple screens, VIP seating, and—wait for it—unlimited stadium-style food and drinks. What more could you ask for?
So if you're looking for a more exclusive watch party, The D is probably your best option. You can reserve VIP seating for up to 12 people, which includes access to unlimited food and drinks, for $2,400. Each additional person is $185 with a max of 25 people.
You can also reserve general seats including the stadium-style buffet with a Game Day Package for $150 per person.
Where to Place Your Bets
If you're heading to downtown Las Vegas to watch the game this weekend, you might as well make some bets while you're here! Luckily, there are multiple sports books at the casinos lining Fremont Street, so you just need to take your pick.
Sports Book at Golden Nugget
The Golden Nugget Sports Book is one of the most popular wagering establishments in all of Las Vegas.
Along with the extensive amount of high-definition TV screens and sports-related wall art, there are plenty of leather booths, couches, and seating for a comfortable living room vibe. The sportsbook will be open at 7:00 a.m. to take bets for the Big Game on February 3.
William Hill Sports Book at The D
Place your bet on your favorite team at the William Hill Sports Book at The D Las Vegas before the game to lock in your big payout. It's located on the second floor next to Vue Bar. Learn more about William Hill Sports Book.
William Hill Sports Book at Four Queens
Also operated by William Hill, the sports book at Four Queens is taking bets for the Big Game on February 3. Although this sports book may be a little smaller than others on Fremont Street, you may be able to place your bets more quickly and avoid the big crowds trying to get in right before kickoff.
The Cal Sports Book
Recently relocated to the casino floor, the state-of-the-art sports book at the California Hotel & Casino is open and ready to take your bets. Be sure to check for beer or cocktail specials in the sports book lounge for a quick drink before you head out.
Post-Game Activities at Fremont Street Experience
The fun doesn't stop when the game ends! There's no shortage of excitement to be had when you're on Fremont Street.
SlotZilla Zip Line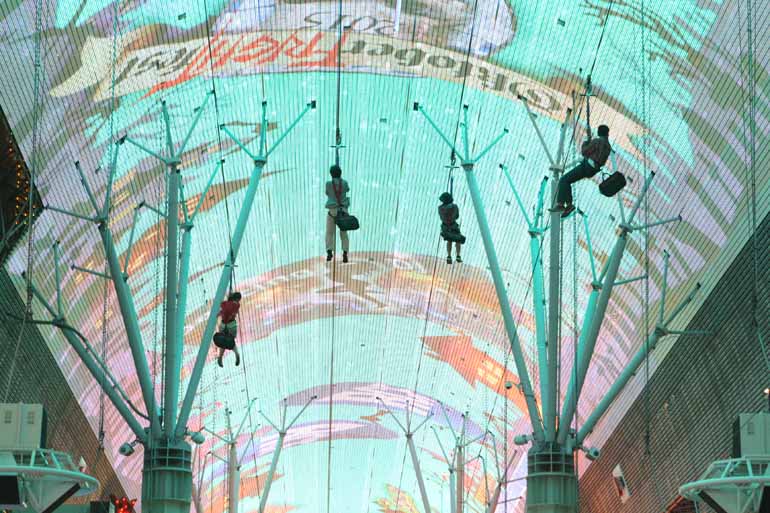 SlotZilla will take you to new heights. Literally. Send yourself flying through the air for a thrilling end to your Big Game weekend! Choose from the zip line (seven stories up, two blocks long, sitting style) and the zoom line (11 stories up, five blocks long, superhero style) to soar over the Fremont Street crowds.
Cadillac Mexican Kitchen at Golden Nugget
Once the game wraps up, you'll probably want to celebrate with tequila—or drown your sorrows in some chips and guac. Cadillac Mexican Kitchen has all the booze and eats ready and waiting to cater to your post-game feels.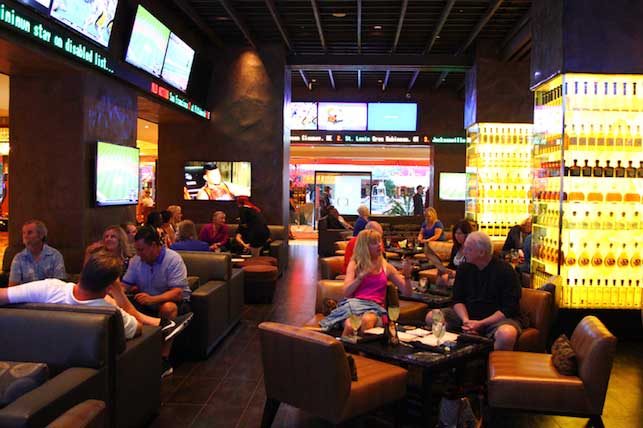 Chicago Brewing Co. at Four Queens Hotel & Casino
Light up a stogie, split a pizza with your crew, and talk about Tom Brady's best (and worst) moves. And don't worry, Chicago Brewing Co. has plenty of big-screen TVs so you can catch all the best replays and commentary.
Downtown Las Vegas isn't just about day drinking and the world's largest video screen, although those are pretty darn cool. Big Game weekend is the best time to come on over and experience everything Fremont Street has to offer. Even the truly weird stuff. And there's a lot of it.