Las Vegas has earned the nickname of the "Marriage Capital of the World" for its popularity as a wedding destination—and it's easy to see why. You can have your bachelorette or bachelor party, wedding ceremony, reception and honeymoon all in one fun-filled place! Downtown Las Vegas is home to many of the best wedding chapels you'll find in Sin City.
Whether you're planning a quick ceremony, a themed wedding or an epic shindig, here's a list of the best downtown Las Vegas wedding chapels and venues to consider:
Best Traditional Chapel – Chapel of the Flowers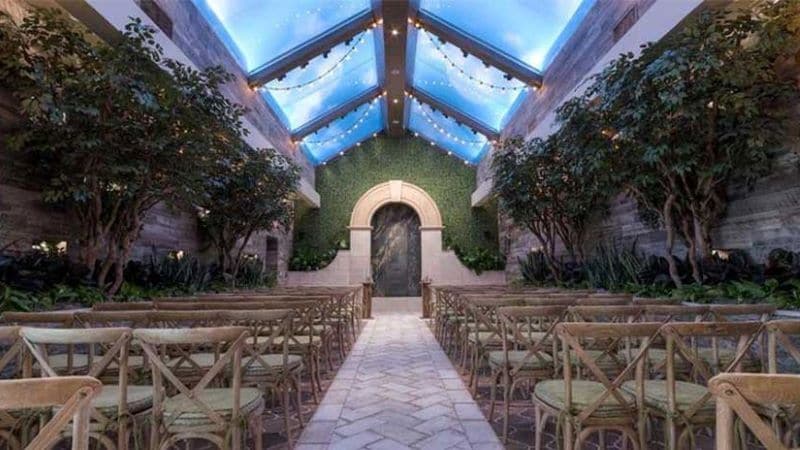 There's a reason, or should we say reasons, this lovely little wedding chapel makes all the lists. The Chapel of the Flowers actually offers five beautiful venues for your ceremony, depending on how many guests you have and the look you're going for. For example, their Victorian Chapel can seat up to 30 people, the intimate Magnolia Chapel fits 20 and the stunning Glass Gardens can accommodate 88 guests.
Located next to the "Welcome to Downtown Las Vegas" sign, you'll be close to all the downtown hotels, casinos and Fremont Street Experience action.
Best All-Inclusive Wedding Chapel – Viva Las Vegas Chapel
Viva Las Vegas Wedding Chapel, located south of Fremont Street, takes the win for the best all-inclusive wedding chapel because it's a one-stop-shop that can provide everything from wedding attire to flowers and photography to makeup packages.
You can also host your wedding reception at the venue, which offers catering, a two-tier wedding cake, a DJ or MC, a dance floor, video screen displays, access to a choreographer and more (depending on which package you book). If you're looking for the full wedding experience, this chapel is a great option.
Best Outdoor Wedding Chapel – Mon Bel Ami Chapel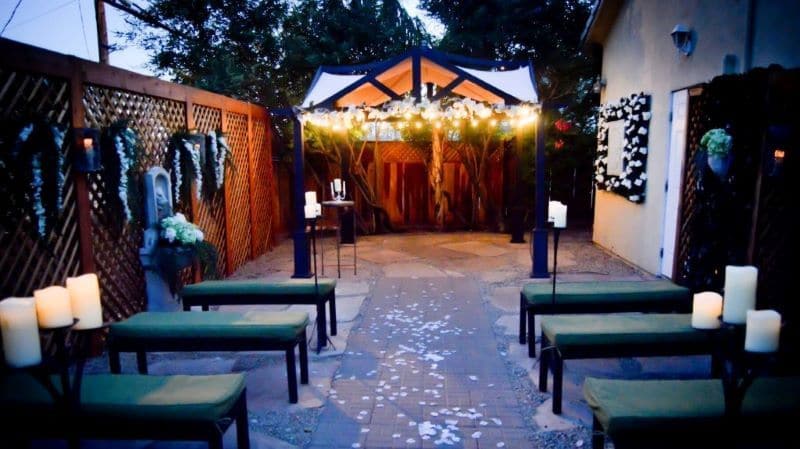 The Mon Bel Ami Chapel in downtown offers two outdoor locations on their property. The Gazebo is intimate and lovely with twinkle lights, padded benches and seating for up to 18 guests. Accommodating up to 40 guests, their Le Pavilion outdoor venue has a French theme, beautifully chic setting and elegant decor.
We assure you, the romantic photo ops are endless.
Best Drive-Thru Wedding Chapel – A Little White Chapel
Ever wonder how the Las Vegas drive-thru wedding got started? The answer is A Little White Chapel on Las Vegas Blvd. This downtown wedding chapel has been tying knots since 1951 and is home to the "Tunnel of Love," where countless couples have taken their vows without ever having to leave the comfort of their car. The romantic canopy features sparkling stars, a night sky and cherubs.
The chapel also has different areas, including an outdoor gazebo, for wedding ceremonies. But nothing else in Vegas really comes close to their drive-thru ceremony option.
Best Elvis-Themed Chapel – Graceland Wedding Chapel
As the story goes, Graceland Wedding Chapel in Las Vegas is the first wedding chapel to host an Elvis-themed wedding back in 1977. We're not here to confirm or deny that. What we can say is they do put on one heck of an Elvis wedding ceremony! The charming venue will provide an Elvis escort down the aisle for the bride, at least two songs performed by your Elvis officiant and a copy of Elvis and Priscilla's marriage certificate to go along with yours.
And if that's not enough Elvis for you, consider booking their famous Dueling Elvis wedding package! You'll get two Elvis impersonators performing songs from different stages in his career while you tie the knot. If that's not good enough, we don't know what is.
Best Wedding Chapel on a Budget – The Little Neon Chapel
Let's face it—we can't all afford a lavish wedding ceremony and reception. However, that doesn't mean you can't make your wedding day special. The Little Neon Chapel is located right on Fremont Street, so you know you'll have the best downtown Las Vegas hotel options, won't have to worry about expensive parking or transportation costs, and you and your guests will have a blast before, during and after your ceremony. You can even take a ride on the Slotzilla Zipline to get that adrenaline pumping after sealing the deal!
For those on the tightest budgets, you'll be relieved to know their most affordable package clocks in at a cool $49. At that price, you'll spend more on drinks than your actual wedding, and there's nothing wrong with that.
Other Wedding Venues in Downtown Las Vegas
If these wedding chapels haven't tickled your fancy and you have a little more time to plan, you can also consider a downtown Las Vegas hotel for your big day. Many of the hotels right on Fremont Street have banquet halls and ballrooms that will easily make your wedding ceremony and reception memorable for you and your guests.
Check out these other downtown Las Vegas wedding venues:
A Sin City-Style Proposal Only in Downtown Las Vegas
In downtown Las Vegas, it's go big or go home, and proposals are no exception. First comes love, then comes marriage, right? Let us help you lock down that love part with an epic proposal on our Viva Vision screen!
Viva Vision is the world's largest LED canopy screen and towers 90 feet above the Fremont Street crowds. After its recent $32-million upgrade, it now features 16.4 million crystal-clear pixels and booming concert-quality sound. Imagine the shock and surprise on your soon-to-be fiance's face as your proposal begins to play on the iconic Viva Vision canopy! We guarantee it'll be one for the books.
Contact the Fremont Street Experience team to learn more about our $500 offer to feature your proposal on Viva Vision. We can answer all your questions and help you plan the most unforgettable surprise proposal in downtown Las Vegas.