Sometimes in Las Vegas, your inner carnivore wins, and it just has to be steak.
Thankfully, downtown Las Vegas has multiple great options for meat lovers. Here are six reliably delicious steakhouse options in the heart of Las Vegas.
1. Hugo's Cellar at Four Queens
Hugo's Cellar at Four Queens is one of the best gems in the entire city. The restaurant has an old-school charm that has endured and thrived, and the service is a throwback to a time when customers were the star of the show. Hugo's Cellar is a romantic (female guests are presented with a rose) escape at a classic downtown casino and is not to be missed. Learn more.
Your best bet: Try the Hugo's Hot Rock Specialty for Two. The dish features filet medallions, Ahi tuna, chicken and shrimp, prepared at your table.
2. Vic & Anthony's Steakhouse at Golden Nugget
Downtown's premier resort, Golden Nugget, serves up a classic steakhouse showcasing exceptional steak and seafood dishes. It's a luxurious restaurant with an unpretentious vibe, and has won numerous accolades for its steak and stellar service. Learn more.
3. Andiamo Italian Steakhouse at The D
Andiamo Italian Steakhouse by Joe Vicari is a palate-pleasing nod to traditional steakhouse cuisine against the backdrop of Italian hospitality and style. Located on the second floor of The D Las Vegas, Andiamo's is welcoming and intimate, perfect for a date or gathering of friends. You'll be tempted to fill up on the homemade breads and handmade pasta, so do! You're in Las Vegas! Learn more.
Your best bet: In Vegas, it's go big or go home. Do your best to take on the Andiamo Tomahawk, a long-bone 32-ounce rib-eye steak.
4. Top of Binion's Steakhouse at Binion's
To lots of visitors from around the world, Binion's is synonymous with Las Vegas. It's no surprise, then, that the Top of Binion's Steakhouse is the kind of restaurant guests have been raving about since the town got its start. Beyond the recently-refreshed menu of steakhouse classics (the steaks are aged a minimum of 28 days), the restaurant also provides a spectacular view of downtown Las Vegas, from 24 floors up. Learn more.
Your best bet: Make sure to save room for dessert. From the S'Mores Lava Cake to the Modelo Negra Chocolate Bundt Cake, Binion's Steakhouse always saves the best for last. And don't even get us started about the dessert cocktails!
5. Redwood Steakhouse at The California
The California is about a block from the Fremont Street Experience, and offers some great gambling and dining values. The Redwood Steakhouse at The Cal was recently renovated, so check it out when you're downtown. If steak isn't your thing, make sure to hit the incomparable California Noodle House nearby. Learn more.
Your best bet: Be sure to try the Redwood Bar's Social Menu (4:00 p.m. to 6:00 p.m. daily), with affordable small bites and classic cocktails. It's a great launching pad before hitting your favorite slots and table games at The Cal.
6. Saltgrass Steak House at Golden Nugget
The newest addition to the Golden Nugget property is Saltgrass Steak House, an award-winning steakhouse famous for serving Certified Angus Beef® brand steaks. Every tender cut of steak is cooked to order with their famous Saltgrass-7 Steak Spice and finished with fresh garlic butter.
Your best bet: You really can't go wrong with anything on the menu, but their Gulf Coast Steak & Shrimp combo might be the best thing you'll eat your entire trip to Vegas.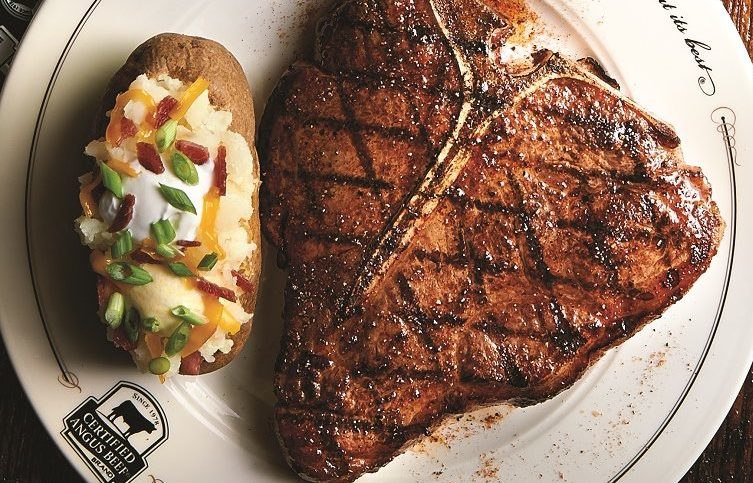 These steakhouses are just the beginning when it comes to some of the best steaks in Las Vegas! Of course, there's plenty to love for Vegans and vegetarians at these restaurants as well. Las Vegas has something for everyone.
If you have a favorite Las Vegas steakhouse, we'd love to hear about it, so drop a comment.