We're always getting questions about things for couples to do in Las Vegas, and not just for Valentine's Day.
If you're like us, you've waited until the last possible moment to make your plans, which means your procrastination has probably resulted in feelings of panic and dread as you search frantically for romantic things to do with that special someone who might toss a shoe at your head if you don't get your act together.
Have no fear! There's a nearly infinite list of romantic things for couples to do in Las Vegas. And exactly none of them will cost anywhere near $30,000. Here we go.
1. Stroll Along the World's Most Sparkly Street
It's so simple, yet so romantic. Fremont Street Experience is a thrill for the senses. The lights. The sounds. The people-watching! And it all happens beneath the world's biggest video screen. No, really. It's huge. Five football fields huge. So, stroll, people-watch, make out. It's downtown Vegas, we won't judge.
2. Play the Titanic Slot Machine Together
Nothing says romance like sitting side-by-side with that special someone making wagers against a backdrop of a timeless cinematic love affair.
3. Take a Free Portrait With a Million Clams
If you're like most people, few things will get you in the mood as quickly as a million bucks in cash. At Binion's, you can get a free photo with a million dollars. No catch!
4. Fly the SlotZilla Zip Line Together
Here's a sure-fire way to add some excitement to your relationship. Not that you need that, of course. Moving on. Fly the SlotZilla zip line, one of the most exciting attractions in Sin City! Flying on SlotZilla is twice the fun as a couple. See downtown as you've never seen it before, and we promise it'll take weeks to get that smile off your face.
5. Have Your Fortune Told
Fremont Street has its own fortune teller, so stop by and see what the future has in store for your relationship. Tip: If the fortune teller says something you don't like, you can always fall back on, "Honey, our visit to the fortune teller was intended to be ironic in nature and we assume no liability for inaccurate predictions or specific outcomes." That one has romance written all over it.
6. Dine Out in Style
Downtown has a great line-up of fine dining restaurants to prove your devotion. There's Andiamo Steakhouse at The D Las Vegas, Vic & Anthony's Steakhouse or Saltgrass Steak House at Golden Nugget, the Top of Binion's Steakhouse and Hugo's Cellar at Four Queens. At Hugo's, ladies get a rose, and not just on Valentine's Day. That's old-school class, baby.
7. Practice "Safe Sax"
Pretty much every night of the week you can listen to the musical stylings of Fremont Street's resident "safe sax" expert, Carl Ferris. He's been getting Fremont Street visitors in the mood for the last 14 years.
8. Share Candied Apples
What's sexier than chocolate? How about red chocolate? The Rocky Mountain Chocolate Factory at the Fremont casino has specialty candy apples around Valentine's Day, and they're the perfect fuel for your night out on Fremont Street. Or night in. Again, no judging.
9. Fake a Quickie Vegas Wedding
The Photo Magic kiosk on Fremont Street can superimpose your face, and that of your love, on the bodies of other people. The resulting keepsakes can be used to shock and delight family members with news of your Las Vegas elopement, among other things.
10. Have an Actual Las Vegas Wedding
It doesn't get much more romantic than actually getting married in true Las Vegas style. There are lots of venues for weddings downtown, and they're all entirely unforgettable. You can get married on a balcony at The D Las Vegas, at the Mob Museum (see photo below), in the Neon Boneyard or even at Denny's. No, really, Denny's. If you're looking for a spectacular way to propose, do it on the Fremont Street Experience Viva Vision screen! Here's How!
11. Have Your Undergarments Scared Off By a Fire-Breathing Mantis
Hey, there's a reason people take dates to scary movies. Having a bonding moment at the Downtown Container Park, just a couple of blocks from Fremont Street Experience, where a giant praying mantis lights up the night sky with bursts of fire. The sound gives visitors a jolt, a wonderful facilitator of bodily contact.
12. Add a Lock to the Love Locket
While you're at Downtown Container Park, add a lock to the piece of interactive art, by artist Nova May, just outside the main entrance, the Love Locket. The Love Locket was originally created for the Life is Beautiful music festival, but now it's a testament to the vibrant community that is downtown Las Vegas.
13. Work Your Mojo With a Couples Massage
Massages are a sure-fire way to win the heart of your true love, and a couples massage means there's something in it for you, too. The newly-renovated spa at Golden Nugget offers couples massages and other services to put you and your special someone in the mood. Check out those Valentine's Day specials, too.
14. Catch a Show
No tickets necessary! There's free, live entertainment every night of the week at Fremont Street Experience. Here's the schedule of bands so you can better plan your woo.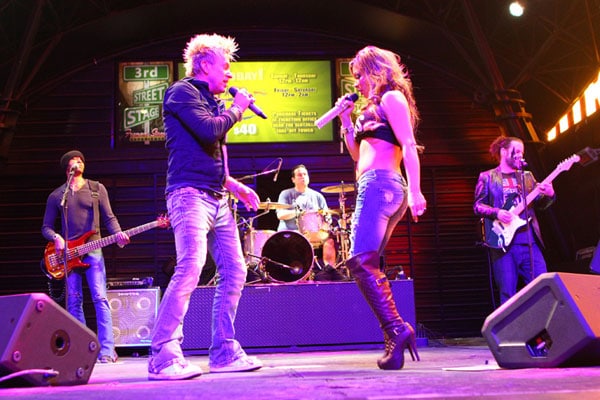 15. Live Dangerously at a Biker Bar
Admittedly, downtown's Hogs & Heifers Saloon isn't dangerous, but you don't have to tell your sweetheart that. This lively, irreverent bar a block north of Fremont Street was the inspiration for "Coyote Ugly." Don't miss the bra collection above the bar!
16. Find Your Chocolate Fix
If the candy apples didn't satisfy your Valentine's Day chocolate cravings, drop by The Chocolate Box at Golden Nugget. The store is a few feet from the hotel's registration area, and the succulence within is sure to spark some friskiness. Just blame it on the antioxidant polyphenols. Oh, and if you're near downtown's California casino, you can get your polyphenol fix at Ethel M Chocolates, on the hotel's second floor, next to the world's best ice cream, Lappert's.
antioxidant polyphenols
17. Re-Enact That Scene From "Last of the Mohicans"
Hey, if you're at Golden Nugget for chocolate, you might as well take your Valentine's Day to the next level. Here's how. Remember that waterfall scene in "Last of the Mohicans"? Yeah, super romantic.
Now that you have the scene firmly in mind, visit the Golden Nugget's pool. You'll notice two water features perfect for re-enacting that famous scene!
18. Be Immortalized
Make your love forever with a caricature at the Caricature Cinema kiosk on Fremont Street.
19. Get Googly-Eyed Over Slushy Drinks
Nobody in the world does slushy cocktails like Fremont Street, so sidle up to one of the bars along Fremont Street Experience and dive right in. Not literally. That would be gross. The monster drinks below came from Golden Gate, the oldest casino in Las Vegas, and still going strong.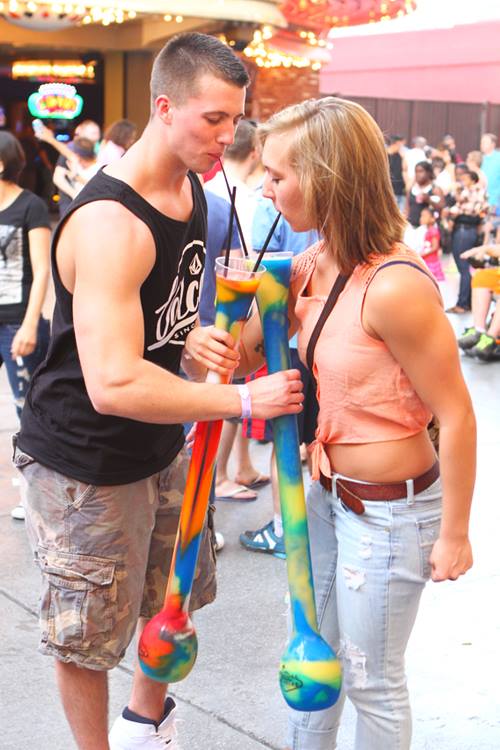 20. Cozy Up Fireside
Fremont Street can be boisterous, no doubt, but there are quieter, more intimate spaces, if you seek them out. For example, there's a fire pit and comfy couches at Bar 46 at Golden Nugget. It's one of the best places to kick back and people-watch as you kanoodle on Fremont Street. Assuming kanoodling is still a thing.
Check out our full list of places to sit and people-watch on Fremont Street.
That's just a small sampling of the romantic things to do in downtown Las Vegas!
If you have other ideas about romantic things to do in downtown Las Vegas, we'd love to hear them in the comments section.