Slot machines are everywhere in Las Vegas, but in downtown Las Vegas, there are some that truly stand out. We've gathered a few we consider must-sees during a visit to downtown and Fremont Street Experience.
SlotZilla Zip Line
Not surprisingly, we're starting with the biggest, baddest slot machine anywhere. The SlotZilla zip line is the world's largest slot machine, standing a towering 128 feet tall. Guests can fly down the Fremont Street Experience on two levels, the upper Zoomline (114 feet up) or lower Zipline (77 feet up). This one-of-a-kind slot machine has video screen "reels" and a massive, animated arm, simulating a true slot machine experience. Only in Vegas, baby!
Vintage Slots at Main Street Casino
The Main Street hotel houses surprises at every turn, including rare antiques and art from around the world. There's even a slab of the Berlin Wall in one of the hotel's restrooms! The hotel also has a collection of classic slot machines on display, just a few feet from the hotel's registration area. These gorgeous relics of a bygone era are art in their own right.
Oversized Slot at The D Las Vegas
Unless you know where to look, you might just miss this one. The second level of The D Las Vegas, formerly Fitzgerald's, is dedicated to classic slot machines. You know, the kind that take and pay coins, rather than paper. On the exterior of the casino's second floor is a larger-than-life slot machine, complete with a moving "arm." Get a closer look by taking the escalator up to the second floor. You'll notice the escalator only goes up, into The D. Hey, Las Vegas casinos know what they're doing! (Don't freak out, there's a down escalator inside. Besides, once you're inside The D, you may never want to leave.)
Sigma Derby at The D
While you're at The D, make sure to check out a truly distinctive slot machine, Sigma Derby. This throwback machine is one of only two still operating in Las Vegas (the other is at MGM Grand). Sigma Derby machines made their debut in 1985, and up to 10 players can place bets on their favorite mechanical horses. When the Sigma Derby machine fills up with players, it's one of the most exciting games in any Las Vegas casino.
Humongous Slot Machine at Golden Nugget
It's one of the biggest functioning slot machines in Las Vegas, and it's right inside the door at Golden Nugget. Playing this machine isn't just fun because you're winning–it's so large and eye-catching, it often attracts a crowd. The machine's roughly eight feet tall and has four reels. In Vegas, it's either go big or go home, and Golden Nugget's giant slot machine is a great way to go big.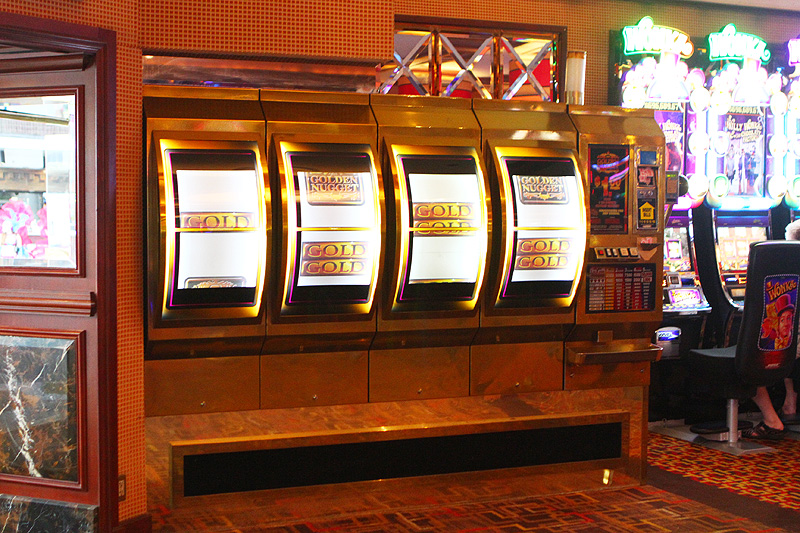 Silver Strike at Four Queens
Silver Strike slot machines add some surprises to the typical slot machine experience. On these machines at Four Queens Las Vegas, you can win not only money, but also souvenir tokens containing, you guessed it, silver.
Silver Strike machines pay out coins of different values, from $10 in value to $300. While they can be redeemed for cash at the casino cage, we tend to hold onto ours. The coins come in a variety of styles, and often come out in plastic cases to protect them. (The blue ones are called "bluecaps.") Give the Silver Strike slot machines a try when you're at Four Queens.
Golden Gate Classics
The Golden Gate casino opened in 1906, making it the oldest casino in Las Vegas, so it's no surprise the casino has its own collection of antique slot machines. The bank of classic machines are near the casino's valet entrance and loyalty club desk. Included in the collection are machines from the earliest days of Las Vegas casinos, back when slot machines were primarily to keep the wives of table game players occupied. How things have changed!
Las Vegas slot machines come in just about every shape or size you can imagine. Make sure to take a look at these weird and wonderful slot machines during your next visit to downtown Las Vegas.