Yes, we've got live bands on three stages 365 nights a year, everybody knows that.
And everyone knows about Viva Vision, the largest video screen in the world.
But that's just the beginning of the free entertainment to be found on Fremont Street!
Here's a collection of free entertainment you'll want to check out the next time you visit downtown Las Vegas.
1. People-Watching
Fremont Street is a mecca for the wild, the weird and the wonderful. People from around the world gather to sing along to their favorite songs, to dance in the street and express themselves. There are lots of places to take it all in, and we guarantee you've never seen anything like it.
2. Street Performers
Fremont Street is a public street, so performers (often called "buskers") of varying levels of talent provide free entertainment for visitors. Note that the street performers aren't hired or screened by Fremont Street Experience, so results may vary. Widely.
3. Weighing in at Heart Attack Grill
Outside the quirky Heart Attack Grill restaurant, guests can weight themselves on a massive scale. Those who weigh more than 350 pounds. Watching people weigh themselves, as their friends and family react, is a fun way to spend a few minutes on Fremont.
4. Spray Can Art
One of our most successful Fremont Street Experience kiosks is the spray can art stand. When the spray can artists complete a work, crowds consistently burst into applause. Take one home for $40. The artwork, not the artists. We need them.
5. Dancing DJs
Our team of dancing DJs keep things lively on the street, providing lots of eye candy and specialized skills and costumes like silks, hula hoops and others.
6. Craps Games
Some of the best free entertainment in Las Vegas happens at the craps tables. The chips and jargon fly, the dice roll and fortunes are made and lost in an instant. It's free to watch, but we recommend you learn the basics before you step up to play. As your favorite casino if they offer free craps lessons.
7. Flair Bartenders and Dancing Dealers
The flair bartenders and dancing dealers at the D and Golden Gate don't just serve drinks and deal cards, they provide an experience. See flair bartenders show off their stuff at Vue Bar upstairs at the D, downstairs at Longbar or at the casino's outdoor bars. You'll also find flair and dancing bartenders at Golden Gate's outdoor bars. It's free to watch, but more fun if you grab a cocktail or slushy drink.
8. Teppanyaki Theatrics
Swing by Lillie's Asian restaurant at Golden Nugget and enjoy the spectacle of teppanyaki fire tricks. If you've never seen a volcano made with onions, you've been missing out.
9. Aquariums
Downtown Las Vegas has a number of aquariums, and they're a great way to pass some time during your visit. The monster aquarium is Golden Nugget's The Tank, featuring a waterslide through a tank full of sharks. While you're there, make sure to look for another captivating tank at Chart House restaurant. There's also an aquarium inside the buffet at Fremont casino, and another at Benny's inside Binion's.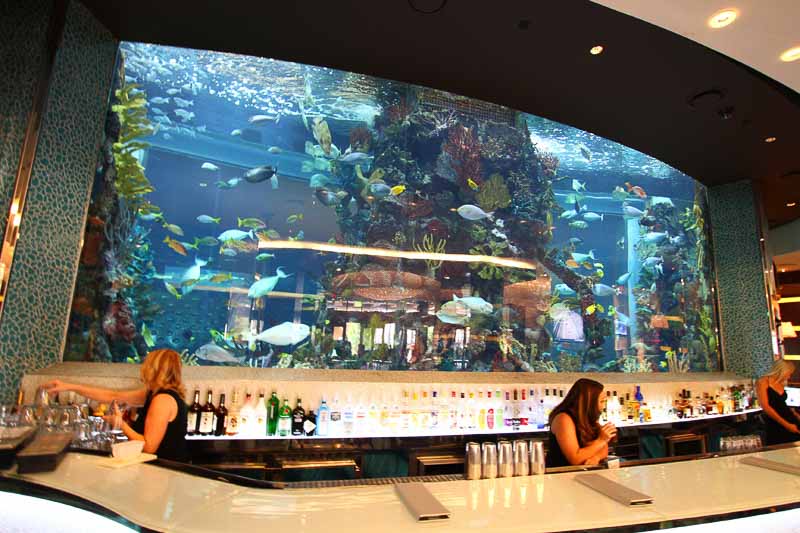 10. Antiquities Scavenger Hunt
One of our favorite free forms of entertainment downtown is seeking out the remarkable collection of antiques and curiosities at Main Street Station, just a block from Fremont Street. Guests can get a brochure, "Guide to Artifacts, Antiques and Artworks," and begin a journey through time. Up one flight is Winston Churchill's snooker table. In the men's room, there's a piece of the Berlin Wall. There are artifacts from around the world, and every discovery is a prize.
The best things in life are free, so when you're at Fremont Street Experience in downtown Las Vegas, make sure to take advantage of all the free entertainment and more.