Typically, Fremont Street Experience isn't for sitting. There's a reason it's called a "pedestrian mall" and not a "taking a load off mall."
Still, there are some great spots along Fremont Street Experience to sit, relax and people-watch. Let's start at one end of Fremont Street Experience, the west end, and work our way toward the other end.
1. Whiskey Licker Bar at Binion's
This bar at the southwest corner of Binion's has some frosty beverages, along with the great view of the mall.
2. Gold Diggers Nightclub at Golden Nugget
Not all the best places to sit on Fremont Street are at street level. Gold Diggers lounge and nightclub, on the second floor of Golden Nugget, is the best way to get a bird's-eye view of all the fun on the street below.
3. Stage Bar at Golden Nugget
This outdoor bar has bar stools as well as an entire seating area with seats facing all the fun on Fremont Street. Bonus: Stage Bar is a great vantage point for performances on our 1st Street stage, hence the bar's name.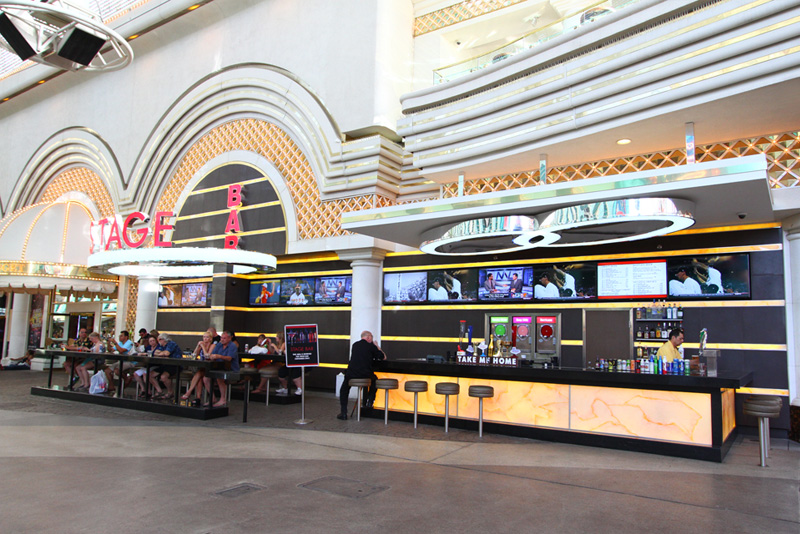 4. Starbucks at Golden Nugget
This enclosed seating area provides a solid entertainment value from your grande, iced, sugar-free, vanilla latte with soy milk investment.
5. Tasti D-Lite at Binion's
This is one of our favorite places to relax and take in the sights of Fremont Street. Bonus: Delicious soft serve (not ice cream, but also not frozen yogurt) with lots of thigh-tastic mix-ins like chocolate chips, chocolate chips and chocolate chips. Don't judge.
6. Bar 46 at Golden Nugget
An intimate (that's PR-speak for smallish) outdoor seating area at the heart of Fremont Street is just the ticket if you're looking for a cocktail and up-close, but not too close, view of the millions of people who visit downtown Las Vegas each year. Oh, there's a fire pit, too. Not for heat, really, but more for atmosphere. Bar 46 is a reference to when the Golden Nugget was built, in 1946.
7. Cowgirl Up Cantina at Binion's
This new outdoor bar at Binion's opened recently and has very limited seating, but it's more fun than the usual kind, because four of the bar stools are saddles.
8. Patio Bar at Four Queens
This stage-side bar is a great location to chill and take in some of the free entertainment on our 3rd Street stage.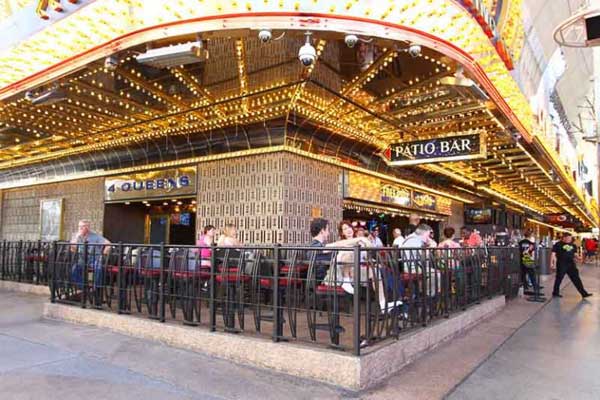 9. Mickie Finnz
As we move past the Viva Vision canopy of Fremont Street Experience, there are still more places to sit and people-watch, including Mickie Finnz, at the food of the SlotZilla zip line attraction.
10. Banger Brewing
Fremont Street's first craft brewery has some outdoor seating, right at the gateway to the Fremont Street Experience.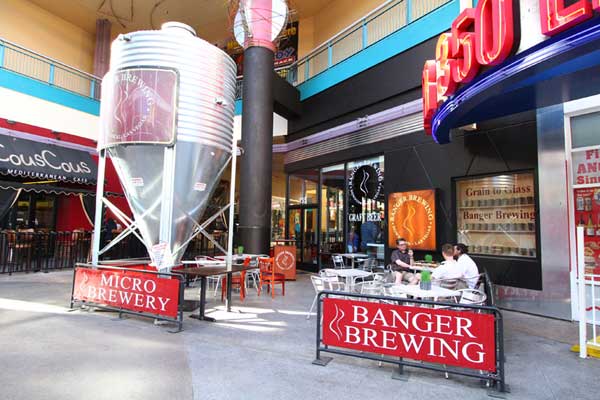 11. Hennessey's Tavern
Hennessey's is the last establishment you'll see before you hit the Fremont East Entertainment district. It's actually two places to sit in one, as upstairs is the Brass Lounge, a balcony uniquely suited for ogling and, wait for it, lounging.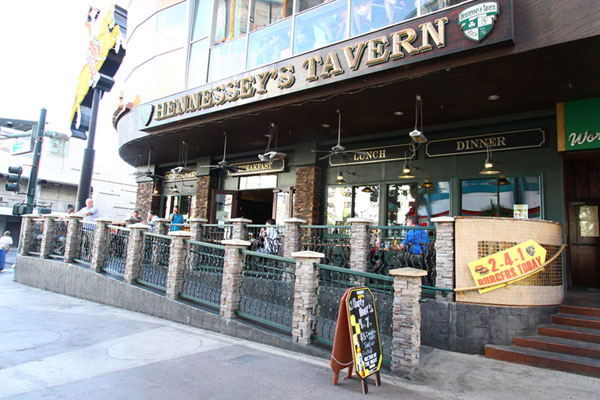 When your dogs are barking on Fremont Street, now you know where to go!