Everyone is always interested in what they should do when they go to Las Vegas. They make lists of places to visit or have a plan for when they arrive. What many of these people do not realize is there are also things you shouldn't do when you're in Sin City. To help you have the best Vegas experience, we're sharing our Downtown Insider guide on the top 10 things to avoid while in Las Vegas.
1. High Resort Fees
Most people forget that most, if not all, of the hotels on The Strip have high resort fees attached to their per-night rates. You may pay upwards of $50 per night extra in these fees if you are not careful. If you are staying more than one night in Las Vegas, these fees can add up quickly and end up costing you more than you anticipated while planning your trip.
Avoid the high fees by staying at Las Vegas hotels that have low to no resort fees. Generally, you'll find lower room rates and resort fees at many of the hotels in downtown Las Vegas, especially with package deals and seasonal promotions.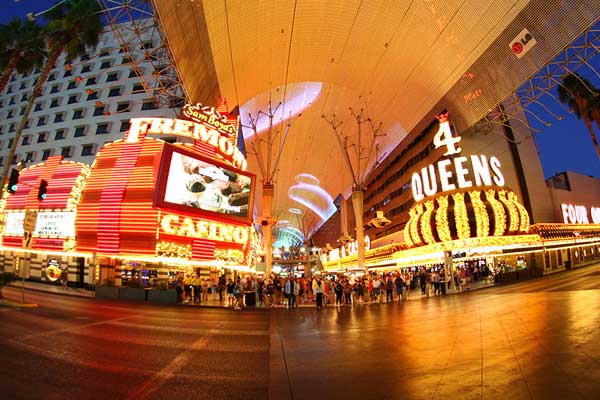 2. Wearing Uncomfortable Shoes
Another mistake that many Las Vegas newbies make is not taking into account how much walking they'll be doing. You don't want the fun ruined by sore feet. On the Las Vegas Strip, blocks are long, mega-resorts are huge and you have to use crowded pedestrian bridges and walkways to get around. It's not as simple as just crossing the street to get to where you're going.
You'll find it's easier to get around in downtown Las Vegas where properties are closer to each other, restaurants and bars are within walking distance, and everything you need is only minutes away from wherever you are.
RELATED: Host the Most Memorable Bar Crawl in Downtown Las Vegas
3. Forgetting To Tip
Another thing you want to avoid doing is assuming you shouldn't tip the people who create the Vegas experience for you. A majority of people who work in Vegas rely on these tips for their income. Waitstaff, cocktail servers, bar staff, bellmen, valet drivers, and casino dealers all work for tips—and they don't go unnoticed.
If you want the best service while you are in Las Vegas, don't forget to tip!
4. ATM Machines in Casinos
Need cash while you're in Las Vegas? Keep in mind that you will pay pretty high ATM fees on the casino floor. That is in addition to the fees your bank will charge. If you are getting a large amount at the ATM, this may not bother you. However, if you need 20 bucks, you will want to avoid these machines.
Go to a convenience store or pharmacy and get cash back for a purchase. This is the best way to get small amounts of money off your debit card.
You should also plan ahead and see if your bank has a location close to where you're staying.
5. Paying Too Much For Cocktails
The clubs and casinos on the Strip are known to overcharge for cocktails and inflate prices because they know visitors think they have no other choice. You definitely don't want to fall into this trap. If you want to have a good time but not break the bank on drinks, swing by downtown Las Vegas.
In downtown, you'll find casinos, bars and local watering holes that serve specialty cocktails, beer, wine, and any drink you could want at real prices.
Also, if you're gambling, you'll be offered free cocktails at the tables or slots (just don't forget to tip!). No wonder downtown Las Vegas is where the locals choose to hang out.
6. Dehydration
You must remember to stay hydrated while you are in Vegas. Generally, the climate is hot and dry, and this desert air can quickly dehydrate your body. Add to the fact that you're probably consuming alcohol and walking around, and you can quickly find yourself overheated and tired.
If you want to keep the Vegas party going, carry a water bottle with you and hydrate often between your favorite beer or cocktails.
7. Missing Out on Free Entertainment
A lot of the most iconic things to do in Las Vegas are free. In Downtown Las Vegas, you can experience Fremont Street's famous Viva Vision light shows, free concerts across three stages in the pedestrian mall, walk around Container Park, check out awesome downtown street art and murals and epic people-watching, all without spending a dime.
RELATED: 11 Great Places to Sit and People-Watch at Fremont Street Experience
You should also add the Welcome to Las Vegas sign, the Hand of Faith and The Tank pool at Golden Nugget, taking a picture with $1 million at Binion's and snapping a selfie with Vegas Vic to your must-do list.
8. Long Waits at Restaurants
If there is a restaurant that you really want to try in Las Vegas, make sure you make a reservation. Knowing you have a table waiting for you is well worth the effort of calling ahead of time. Las Vegas restaurants, especially the more popular ones, can have very long waits (especially with occupancy restrictions).
Why wait for hours to eat when you can simply make a reservation and show up?
9. Only Visiting the Las Vegas Strip
Many people think that the only thing to see in Sin City is the Las Vegas Strip. While this area can be fun, Vegas has so much more to offer. Visit downtown Las Vegas, where you can see where it all began and experience some of the best-kept secrets in the city. You'll find world-class restaurants, free entertainment, live music, craft beer and cocktails and that vintage Vegas vibe you won't find anywhere else.
Check out these things to do in downtown Las Vegas to make the most of your time while exploring this part of town.
10. Planning Too Much
If you really want to have a great time in Las Vegas, make sure you don't pack your days with too many planned activities. Give yourself some time to make a split-second decision to take advantage of free or exclusive offers, entertainment or whatever the day might bring. This spontaneity is what makes visits to Las Vegas so memorable.
If you're ready to plan your trip to Las Vegas and want to avoid these common mistakes, be sure to take a look at downtown Las Vegas. We have everything you need to make your Vegas vacation special, including affordable rooms, free live music and entertainment, lively casinos and the thrilling Slotzilla zipline!