Join Rick Springfield, Men at Work, and John Waite Over Labor Day Weekend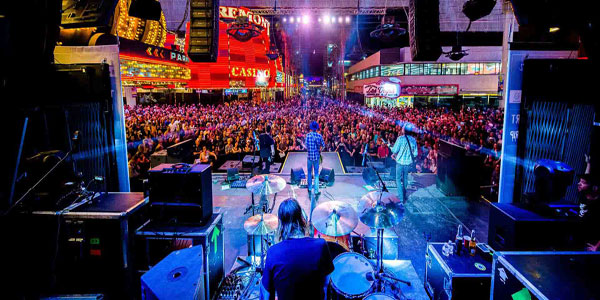 Free Live Concert Featuring Rick Springfield, Men at Work, and John Waite
Saturday, Sep 3rd
3rd Street Stage, Time 7:00 p.m.
Rick Springfield
Over the past four decades, Rick Springfield has worn many hats as an entertainer and performer. The creator of some of the finest power-pop of the '80s, a Grammy Award-winning singer, songwriter, and musician who has sold 25 million albums and scored 17 U.S. Top 40 hits, including "Jessie's Girl," "Don't Talk to Strangers," "An Affair of the Heart," "I've Done Everything for You," "Love Somebody," and "Human Touch."
It has been a long and fruitful affair, and one that has gifted him with a powerful connection to his legions of devoted fans, who pack his annual fan getaway events, as well as the nearly 100 shows a year he performs both with his band and solo in an intimate "storyteller" setting that he captured on the 2015 CD/DVD and concert film Stripped Down. Though too self-deprecating to discuss his immense appeal, he will acknowledge that the fans connect with him through the music. "I guess they think I'm honest," he says. "They must like my approach, what I write about. I think they like that I have a sense of humor in it at times. Because the 'cute' thing isn't going to last forever."
Men at Work
Men At Work were born in Melbourne, Australia in the middle of 1979.
The band went on to become a globally successful Grammy winning, multi-platinum selling act, during the early 80's. The original band however came apart relatively quickly and had disintegrated by 1985.
Founding member Colin Hay has developed a solo career over the last 35 years, writing, recording, and touring extensively throughout the world as a solo artist. He is presently part of Ringo Starr's All Starr Band. Since 2019, he has also toured and played under the Men At Work banner with his LA based group of musicians, where he plays an exclusively Men At Work set, including all the hits and dearly loved songs which clearly have stood the test of time.
John Waite
John Waite's catalogue of hits features some of the most loved songs of the 80s and 90s – the #1 Worldwide hit 'Missing You', The Baby's 'Isn't It Time' and Bad English 'When I See You Smile' rank amongst some of his biggest international hits and are still heard on radio today. Others include 'Tears', 'Change' and 'These Times Are Hard For Lovers'. 'Every Step Of The Way' and 'If Anybody Had A Heart' appeared on the soundtrack to the 1986 Demi Moore film About Last Night. 'Deal for Life', penned by Martin Page and Bernie Taupin, was featured in the Days Of Thunder soundtrack.
As a solo artist and as the lead singer of The Baby's and Bad English, John Waite was a fixture of album-oriented rock radio stations during the '70s and '80s. John Waite had a talent for power ballads and driving arena rock, occasionally touching on new wave-styled power pop as well.
Great Places to Stay and Play
Good Times, Great Values
Having opened in December 2020, we are excited and proud to welcome Circa Resort & Casino to the Downtown Las Vegas family of casino hotels! Room reservations are available. Check out the property's highlights below or book direct with the hotel now for the best rates!