Where to stay? What to do? Where to eat, drink and play? You've got questions, we've got answers. Here's some helpful insider info about our favorite places near the fabulous Fremont Street Experience. Show these places some love—they're a big part of what makes Downtown Rock.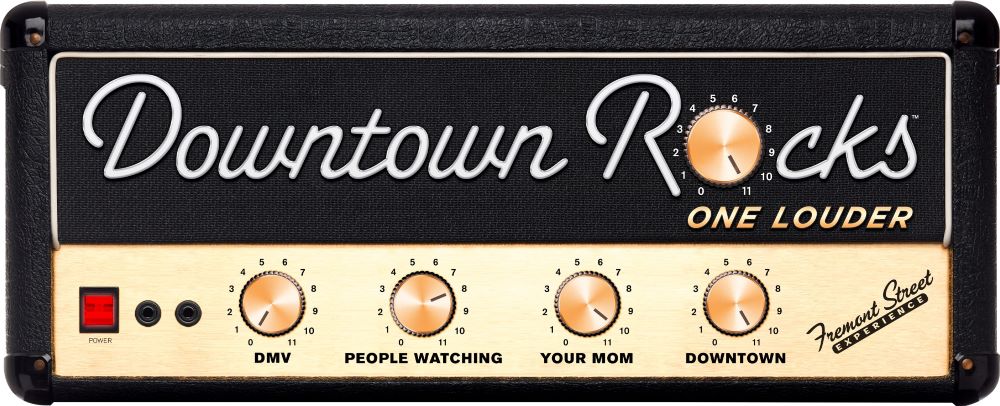 Fremont Street Experience is proud to announce the return of our Downtown Rocks Concert Series! With so many big name acts coming, you'll need more than one trip to Downtown Las Vegas to see all the action!
Places to Stay
There are eight hotel-casino properties directly adjacent to the Fremont Street Experience. Some of them even date back to the vintage Vegas days—with modern updates of course. In the downtown area, you'll find dozens of excellent hotel and casino options. The hotel-casinos right on Fremont Street are:
Whether you're looking for a big resort experience or a more intimate boutique hotel, downtown Las Vegas has something for everyone. The best part? You're just steps away from all the action on Fremont Street.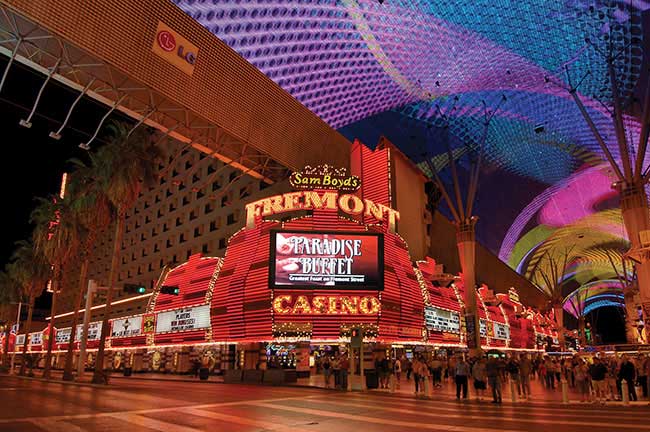 Places to Visit
The heart of downtown Las Vegas is the famous Fremont Street Experience, and no trip downtown is complete without visiting these iconic stops.
Viva Vision
Catch a free Viva Vision Light Show on the largest screen in the world! Mind-blowing visuals set to rocking music dazzle visitors each night hourly starting at 6:00 p.m. Think you've seen it already? Think again. Viva Vision recently underwent a massive $32 million renovation.
SlotZilla Zipline
If you're feeling particularly adventurous, you can catch a birds-eye-view of Fremont Street by riding the 12-story slot-machine inspired SlotZilla. You can choose to ride seven stories up while sitting on the zipline, or go soaring superhero-style over the downtown crowds11 stories high on the thrilling zoomline!
Catch a Glimpse of Vintage Vegas
There's no shortage of iconic neon lights in downtown Vegas, like Vegas Vic, the friendly cowboy who's been lighting up Fremont Street since 1951. To see even more classic Vegas signs, head on down to the nearby Neon Museum which houses an impressive collection of Las Vegas signs dating back to the 1930s. For another fun dose of culture in downtown Las Vegas, plan a visit to the Mob Museum where you'll learn about the history of organized crime and law enforcement through interactive exhibits and loads of incredible artifacts.
Test Your Luck at the Downtown Las Vegas Casinos
Looking to get lucky while in Vegas? There's no shortage of places to do that in downtown! Whether you're eager to roll some dice, play blackjack, or look for that lucky slot machine that's ready for a big payout, you'll find plenty of gambling opportunities in all of the casinos lining Fremont Street. For a fun freebie activity, stop by Binion's to take a photo with a million dollars in cold hard cash!
Downtown Container Park
Ever seen a whole shopping center constructed out of recycled shipping containers? How about a massive fire-breathing grasshopper statue? You've got to check out Downtown Container Park, an open-air shopping center filled with boutique shopping, unique restaurants, bars and live entertainment.
Places to Eat
If you're looking for a top-notch Las Vegas dining experience, you're in luck. Downtown is home to so many crave-worthy restaurants from high-end steakhouses to more casual dining options.
Hugo's Cellar in the Four Queens Hotel and Casino offers a romantic dining experience, excellent service and vintage Vegas charm.
At the Redwood Steakhouse at the California Hotel and Casino, you'll find fresh steak and seafood, along with amazing side dishes and tempting desserts.
For a luxurious steakhouse experience, visit the award-winning Vic and Anthony's Steakhouse in the Golden Nugget. Or for a more casual dining experience, check out Cadillac Mexican Kitchen at the Golden Nugget where you'll find delicious Mexican food and a collection of 70 boutique Tequilas.
Craving Italian food? Plan to feast at Adiamo Italian Steakhouse at The D Las Vegas where they're serving up Italian bread, award-winning sauces and homemade pasta, all created from scratch using the freshest ingredients.
Looking for a slice of pizza (or a whole pie)? We recommend Evel Pie for a bit of mouthwatering cheesy goodness in a rock-n-roll setting dedicated to—you guessed it—Evel Knievel himself.
If you're willing to venture just a few blocks off the Fremont Street Experience for a meal, you might want to check out some of these other amazing restaurants in the trendy Fremont East District: Carson Kitchen, La Comida, Therapy, Park on Fremont and The Smashed Pig Gastropub.
And while Vegas is certainly a carnivore's paradise, plant-based eaters can also find some delicious grub while in downtown by visiting VEGEnation for breakfast, lunch or dinner!
Places to Drink
You'll find plenty of places to wet your whistle as you mosey on down the Fremont Street Experience. On a hot summer night, there's nothing better than cooling down with one of those iconic yard-long blended icy drinks that conveniently hang right around your neck.
If craft beer is your beverage of choice, you'll find a handful of locations serving up cold brews in downtown, including the Triple 7 Restaurant and Microbrewery at Main Street Station, Chicago Brewing Co. at Four Queens and Banger Brewing.
Want a drink with a view? Head on up to the second story of Binion's for the one-of-a-kind revolving bar overlooking Fremont Street at Whiskey Licker Up Saloon.
For a truly unique experience, step right into the era of 1920s Prohibition when you visit the underground Speakeasy in the basement of the Mob Museum. At this bar, you'll find fun prohibition-era themed drinks like their home-brewed Hooch, Giggle Water and their Underground Old-Fashioned.
Looking for a place with great music and cool vibes? We recommend heading to nearby Commonwealth, a two-story bar with a rooftop dance floor and beautiful views of Fremont Street.
The Downtown Insider
Have you checked out the Downtown Insider? It's chock-full of unique downtown Vegas finds—right here on VegasExperience.com. We recommend starting with The Ultimate, Mega, Definitive, Endless FAQ to Answer All Your Downtown Las Vegas Questions. We have whole sections dedicated to Things to Do in Downtown Vegas, just for you!
Here's Everything You Need to Know About the Upgraded Viva Vision Canopy—debuted for New Year's Eve December 31, 2019—it's a $32 million renovation. What made history as the largest video screen with heart-pounding nightly light shows is now a 24/7 bright and captivating experience. It's still the largest, now it's just… way better!
Interested in Las Vegas history? Check out these Ten Old Vegas Attractions in downtown.
We have a lot of opinions about places to eat and drink. Here's the Ten Hottest Lunch Spots near Fremont Street, our Eleven Favorite Happy Hours and our Nine Go-To Places for Craft Beer in Downtown Vegas. Sign up for Downtown Insider updates to get the latest news!