The SlotZilla zipline in downtown Las Vegas recently celebrated its fifth anniversary. Thrill-seekers have been enjoying this one-of-a-kind attraction since 2014.
The official opening date of SlotZilla was August 31, 2014. That's the day SlotZilla's upper Zoomline opened, although the lower Zipline had been in operation since April 27, 2014.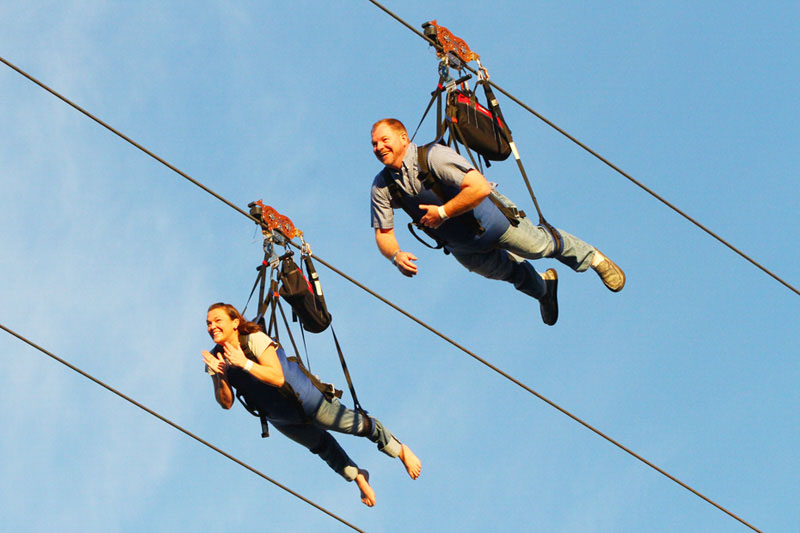 Since opening in 2014, the SlotZilla zipline has welcomed more than two million riders!
Two Ways to Fly SlotZilla
If you've never heard of SlotZilla, we've got this!
For one thing, the SlotZilla take-off tower is the world's biggest slot machine.
There are two ways to fly on SlotZilla, the Zoomline (superhero-style) and Zipline (seated). Both send riders under the world's largest LED canopy screen, Viva Vision, into the heart of downtown Las Vegas, once known as "Glitter Gulch." Riders experience sensory overload as they fly by iconic casino facades and land in the middle of the an epic street party on Fremont Street.
How you choose to ride is up to you! To learn more or to purchase tickets, click here.
Memorable SlotZilla Riders
SlotZilla has launched some pretty memorable riders over Fremont Street in the past five years. This includes "The Walking Dead" star Norman Reedus.
SlotZilla has also hosted characters such as Captain Morgan, Ronald McDonald and the Power Rangers!
SlotZilla has hosted a slew of married couples who hit the ride immediately after getting hitched.
Accolades Galore
SlotZilla continues to win over guests, and we're proud to have been named the "Best Amusement Ride," "Best Extreme Adventure" and "Best Family Atrraction" by the readers of the Las Vegas Review-Journal. Read more.
There's never been a better time to fly SlotZilla, because the Viva Vision video screen is getting a $32 million renovation. This makes the ride even more spectacular because the screen is four times the resolution and seven times brighter! Due to the renovation, for the first time in the history of Fremont Street Experience, the screen can be used during daylight hours. The renovation is more than halfway completed. Read more.
While you're out and about on Fremont Street, be sure to check out all the things you can do in downtown Las Vegas. Here's to the next five years of the world's ultimate zipline, SlotZilla!