Las Vegas is the only place to be for Halloween.
In a city known for being a non-stop party, Sin City's Halloween festivities truly push the boundaries of scary, sexy and "How is that even legal?"
One of the challenges of taking part in all Las Vegas has to offer on Halloween is coming up with a costume. We've got this! We've scoured Fremont Street and downtown for some serious Las Vegas Halloween costume inspiration. We hope these costume ideas spark your imagination, and we'll see you at Fremont Street Experience on Halloween!
1. Prospector
This iconic prospector adorns a gift shop at Fremont Street Experience. He's been photographed hundreds of thousands of times and harkens back to a time in Nevada's history when, apparently, people panned for light bulbs. Feeling inspired yet?
2. Chumlee from "Pawn Stars"
The History Channel's "Pawn Stars" has been a cultural phenomenon, and downtown's Gold & Silver Pawn shop have become a popular tourist destination.The show's loveable goofball, Chumlee (Austin Russell), doesn't take himself too seriously and has a distinctive sense of fashion, making him great fodder for a Halloween costume.
3. SlotZilla
You'll be the talk of Halloween if you stroll the Fremont Street Experience dressed as downtown's newest thrill ride attraction, the SlotZilla zip line. Sure, it'll take some work to construct your costume, but it's Halloween, so go for it. You might get candy.
4. Shark
What does a shark have to do with downtown Las Vegas? Well, it just so happens the Golden Nugget's pool boasts a massive shark tank, complete with a water slide through it. Golden Nugget offers tours of The Tank, too. Learn more.
5. Elvis
The quintessential Las Vegas Halloween costume, all year round. While Elvis isn't specifically a downtown thing, we certainly have our fair share of Elvi, so we claim him. For inspiration, catch a new tribute show, "Spirit of the King: Steve Connolly," at Four Queens.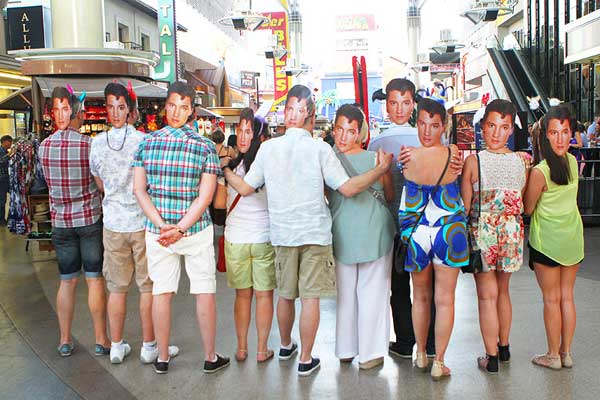 6. Dancing DJ
Dancing DJs have become a popular fixture at Fremont Street Experience. Their outfits tend to be on the skimpy side, so dressing as a dancing DJ can be a low-cost alternative as a Halloween costume.
7. Glittery Slipper
This twinkling slipper on Fremont East was inspired by another famous Las Vegas sign for the now-closed Silver Slipper casino. The rotating ruby slipper is one of several sign replicas that make a great downtown photo op. Pull this one off and the Halloween costume contest is yours!
8. Sexy Nurse
Downtown has a special claim to sexy nurses thanks to the Heart Attack Grill at Neonopolis, near the SlotZilla zip line tower. Hostesses and waitresses dress as health care workers, and services often include customer spankings. Only in Las Vegas!
9. Carl "Safe-Sax" Ferris
Carl Ferris, who plays saxophone pretty much nightly outside Binion's, is a Fremont Street Experience institution. If you dress as Carl, be prepared to field song requests and offers to purchase your CDs.
10. Million Dollars in Cash
Speaking of Binion's, head in the casino and you can have a free photo taken with a million dollars in cash. What a great Halloween costume idea, though! Here's how you make this costume. Step 1: Get a million dollars in cash. Step 2: Stack your cash into a pyramid. Step 3: Climb inside. Step 4: Encase yourself in plexiglass. Step 5: Let tourists take free photos with you. Best Las Vegas-themed Halloween costume, ever. Except for the other 19 costumes on this list, of course.
11. Oscar Goodman
Former mayor Oscar Goodman is, and will always be, "The Man" in Las Vegas. During his time as mayor, whenever Oscar Goodman appeared in public, he had two showgirls on his arms and a martini in his hand. 'Nuff said.
12. Showgirl
Showgirls are a symbol of Las Vegas around the world. So, break out your glue gun, get a truckload of sequins and get to work. A key part of going as a showgirl for Halloween is mastering the "bevel." That's the bent position of a showgirl's leg when she's posing. (See the showgirls above for reference.) Also needed for your showgirl costume: Feathers, crystal rhinestones and sass.
13. Praying Mantis
The Downtown Container Park, a shopping center made from shipping containers, has a distinctive, fire-breathing praying mantis outside. The Downtown Container Park is just one of many things to do in Las Vegas.
14. Chippendales
The world-famous Chippendales have some representatives downtown, at the Photo Magic kiosk on Fremont Street Experience. These hunky guys pose for photos with visitors, showing off their trademark bowties and cuffs. So, guys, hit the gym, get your Chippendales accessories and we expect you'll be very, very popular on Halloween night.
15. Dancing Bartenders and Dealers
There's no shortage of eye candy on Fremont Street! The lovely go-go bartenders and dealers at The D Las Vegas create buzz every night of the week. The dancing bartenders and dealers at The D wear uniforms of black and red, and the go-go bartenders and dealers at the nearby Golden Gate stick with basic black.
16. Brass Boar
The Boar's Head Bar at downtown's Main Street Station is home to an impressive brass boar. This huge brass boar is from Nice, France, and was originally part of a fountain. Main Street Station is filled with antiques and curiosities that can serve as inspiration for your Halloween costume, so stroll around, and make sure to get a "Guide to Artifacts, Antiques and Artworks" at the hotel's front desk. When you're making your boar costume, pay special attention to the lower tusks, also called "cutters."
17. Mobster
It's no secret the history of Las Vegas is a colorful one. There's more than a little color on display at downtown's wildly popular Mob Museum, just a couple of blocks from Fremont Street Experience. This museum is bursting with stories of "made men" and the law enforcement officials who took them down. Take your pick of gangsters like "Bugsy" Siegel, Tony "The Ant" Spilotro, Frank "Lefty" Rosenthal and others, but remember, getting mobbed up has its perils. Just ask "Bugsy.
18. Slushy Drink Cups
Fremont Street is known for its Viva Vision light show, sure, but it's also known for being a street party like no other, including guests enjoying frosty beverages from distinctive receptacles in the shapes of footballs, boots and even human legs. If you're feeling ambitious, try making a costume inspired by one of these shapes, or come up with one of your own.
19. Cowgirl Dealer
The dealers in the Cowgirl Pit at Binion's make gambling fun, no matter what surprises Lady Luck might have in store. Required for your Binion's cowgirl outfit: Cowgirl hat, lace and a BeDazzler, assuming those are still a thing.
20. Vegas Vic
Vegas Vic is one of the most recognizable symbols of downtown Las Vegas, Fremont Street Experience and Las Vegas. He has a long and storied history, including being built in 1951 for the Pioneer Club (now a gift shop), and his original "Howdy Podner" greeting. That sound effect was silenced in 1966 when actor Lee Marvin complained about it being too loud during the filming of his movie, "The Professionals." The voice of Vegas Vic, by the way, was Zack Hale Jr. Read more. Vic's arm stopped waving in 1991, but his charm still makes visitors feel welcome on Fremont Street. Your Vegas Vic costume will have to include a wide-brimmed cowboy hat (at a rakish angle), red bandana, checkered shirt, blue pants, boots with spurs and generous amounts of neon.
If you don't have a solid idea for your Las Vegas Halloween costume by now, you might be lacking the Halloween costume gene! We won't judge. It's Vegas, after all.
We look forward to seeing you in Las Vegas for Halloween!