Vegas is often associated with gambling, shopping, fine dining, entertainment and that guy on the street corner who may or may not be Elvis. While it's true that you want to walk around the city with some cash in your pocket, there are still plenty of ways to have fun and relax in the entertainment capital of the world without breaking the bank. Here are eight ways to enjoy downtown Las Vegas on a budget.
1. Visit the Tank Pool at Golden Nugget
If you haven't visited the Tank Pool at the Golden Nugget yet, you're seriously missing out. The Tank is a 200,000-gallon shark tank aquarium. And in case you're wondering, yes, there are real live sharks (plus other sea creatures) swimming inside it.
What else can you do aside from observing sharks doing their thing? Here's a list of the other activities you can enjoy at the Tank Pool.
Fly Down the Waterslide
Think you've already lived life on the edge? You thought wrong. The Tank Pool's waterslide starts from 30-feet up in the air and goes through the shark tank, so you get to see the swimming giants eyeing you as you slide down toward the pool.
This is one of the reasons why this place is dubbed "one of the most extreme pools in the world" by Travel Channel. It's a thrill you wouldn't want to miss out on.
Swim With Sharks
At the Tank Pool, you can even swim alongside the sharks (in a separate pool, of course) to help beat the summer heat.
Lounge Poolside
Not in the mood for swimming? You can lounge by the pool and people (or shark) watch. It's an excellent way to relax and unwind.
Not staying at Golden Nugget? No problem! Non-hotel guests can still enjoy this amenity for a small fee.
2. Take Advantage of No Resort Fees
A lot of hotels in Las Vegas, especially on the Strip, have resort fees. If you're not yet familiar with the term, these fees are totally separate from the booking fee. They're charged to allow guests access to the hotel's services and amenities and are paid upon check out.
Here's a fun fact for you: some hotels don't charge resort fees! You can opt to stay in those places to reduce the cost of your trip.
Here are a few of the hotels that don't charge resort fees in downtown Las Vegas:
You may need to book directly through the hotel to take advantage of this perk, so be sure to ask the team about resort fees when you reserve your room.
3. Grab Drinks at Main Street's Triple 7 Brewery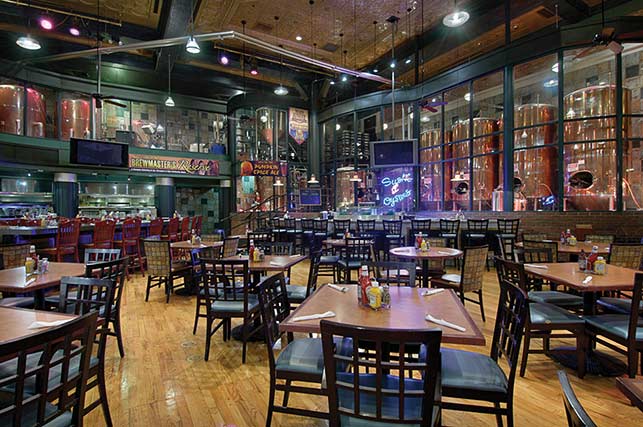 Drinks at Triple 7 are relatively cheap, but don't be fooled: They're not inferior in taste to others. In fact, Triple 7 is one of the best places to get craft beer in Las Vegas! In addition to a delicious draft, you can also grab a bite from the happy hour menu to get more bang for your buck.
4. Visit Bars and Restaurants During Happy Hour
There are a lot of places in downtown Las Vegas that offer tasty snacks and meals at discounted prices during happy hour. Make your way to:
5. Check Out the Specials at the Spa & Salon at Golden Nugget
Want to get a massage or a facial? Golden Nugget's Spa and Salon has many delightful and affordable services, including massages, facials, waxing, nails, hair and professional makeup application to help you relax or get ready for a night on the town. Don't you deserve a little TLC? Exactly. Be sure to ask them about seasonal specials, too!
6. Have Fun Watching the Viva Vision Light Show
Made up of 12.5 million energy-efficient LED lamps, the Viva Vision Light Show allows guests on Fremont Street to enjoy high-resolution imagery and state-of-the-art, concert-quality sound. This is a sight you definitely have to see when you're visiting Las Vegas. Best part? It's free!
7. Enjoy Free Live Music
Downtown Las Vegas has a lot of entertainment to offer, including free live music. With three stages, each with a rotating schedule of performances from every music genre, you'll be able to get your fill of top-notch beats.
There's also the Downtown Rocks Concert Series, which offers free live performances from some of the most recognizable names in music.
8. Let Off Some Steam on SlotZilla
Your Vegas trip won't be complete without visiting the world-famous SlotZilla. The Zipline and Zoomline allow you to fly high over Fremont Street taking off from the city's biggest slot machine.
Also, if you are an active member of the military or a senior, enjoy a 15% discount!
There are a lot of fun things to do in downtown Las Vegas, and contrary to what most people believe, many of them can be enjoyed for free or at discounted prices. Bring this list with you the next time you visit Sin City and enjoy everything the downtown area has to offer without having to unload your wallet.