Forget going back to your hotel room after a night of libations and raiding the mini bar. If you need sustenance after a long night of carousing, we're rounding up the 10 best places to satisfy your "drunchies" on Fremont Street.
You know, drunchies: The tipsy version of "munchies."
A post-boozing snack is absolutely vital if you don't want to wake up the next morning feeling like you got hit by a semi. And you're going to need something delicious, juicy, and maybe a little bit greasy. After all, when was the last time you got drunk and said, "Man, I need a salad"?
So, if your Fremont Street Experience adventures include plenty of adult beverages (no judgment), try hitting up one of these 10 joints for some much-needed drunk snacks:
1. American Coney Island at The D
Have a taste of Detroit's favorite Dearborn sausage brand hot dog topped with the Keros family secret special Coney Island chili sauce at American Coney Island located at The D. It's quick and easy and is sure to hit the spot.
Another perk is this place is open 24 hours a day, seven days a week! That means you can grab a Coney Island chili dog at any time, day or night, when the drunchies hit hard.
2. Park on Fremont
Have you ever had garbage fries before? We promise they taste better than they sound. If you've never experienced the magic, then you're missing out on one of life's greatest pleasures. Head over to Park on Fremont ASAP.
Aside from their life-changing fries, they also have some pretty awesome menu choices, including desserts that'll make you weep. We don't want to get you too worked up, but they have fried doughnut bites.
The best thing? It's right on Fremont Street, so you don't have to drag yourself too far after one too many cocktails.
3. Cadillac Mexican Kitchen at Golden Nugget
If you're up for some tapas or other signature Mexican delights after a round or 12 of drinking, then drop into Cadillac Mexican Kitchen at the Golden Nugget. We're talking about cheesy enchiladas, sizzling fajitas and signature tacos right at your fingertips. Also, their guacamole is a revelation.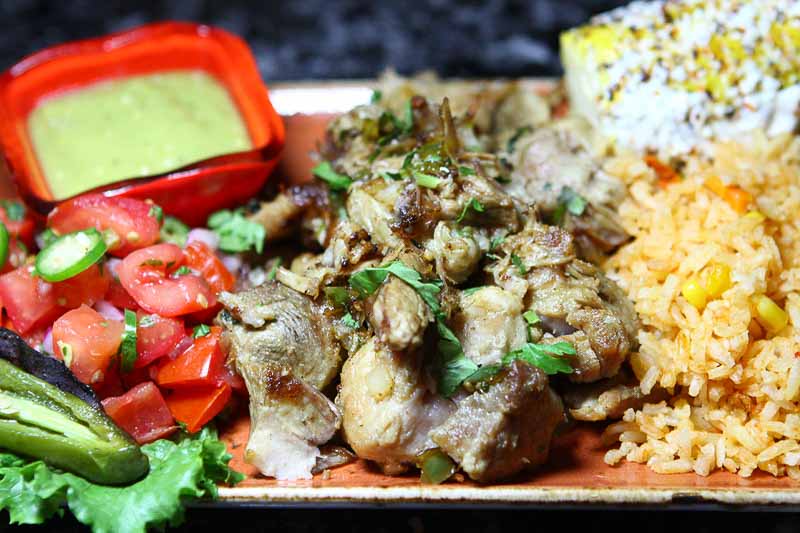 Oh, and by the way, they also serve 80-oz ice-cold beer towers. So if you still have some fight left if you, this is the place to indulge.
4. Chicago Brewing Company at Four Queens
Another great place for grabbing a satisfying snack on Fremont Street is at Chicago Brewing Company, located at Four Queens Hotel and Casino. They've got a unique selection of appetizers and entrees you can sink your teeth into, like filet mignon sliders, brew wings, Midwest potato skins, Chicago deep dish pizzas and southside cheese steak sandwiches.
Plus, they offer delectable handcrafted microbrews for people who live for craft beer and a selection of fine cigars for those who want to go all in on their Sin City trip.
5. Denny's
When you need some solid breakfast food, you know Denny's won't disappoint. The location on Fremont Street at Neonopolis is open 24/7, so no matter when the party ends, you can get your drunchies on. Stumble on over for a satisfying omelet, pancakes or waffles before you head back to your room.
They also have great burgers, steaks and milkshakes, which can also satisfy those cravings at the end of a wild night.
6. Lanai Express at Fremont Hotel & Casino
In the mood for Chinese? Check out Lanai Express, located by the second-floor elevators of Fremont Hotel & Casino. Their specialties include sweet and sour chicken, sweet and sour pork, orange chicken and pepper steak.
They've got plenty of American eats, too, like hamburgers, hot dogs, and $0.99 shrimp cocktails. Winning!
7. Lappert's Ice Cream Shop at The Cal
You know that feeling when you drink just a little too much and start craving something sweet? It happens to the best of us. Lappert's Ice Cream Shop is the place for people who get a serious craving for sweets along with their drunchies. On top of all their ice cream choices, they offer a variety of goodies like donuts, pastries, candy and coffee.
Lappert's is located inside The California Las Vegas, better known as "The Cal." Read more about Lappert's famous Hawaiian-style shaved ice before stopping in.
8. Evel Pie
If you're running on empty after a long night of drinking, Evel Pie might be just the place for you. They've got pizza. They've got wings. They've got something called "Grandma's Balls." In any case, you definitely won't leave hungry.
It's fun. It's fast. And their menu is 100% drunchies-approved.
9. Benny's Smokin' BBQ & Brews at Binion's Gambling Hall
Benny's Smokin' BBQ & Brews offers a mouthwatering selection of slow-cooked ribs and steaks, making them another ideal option when your tummy starts rumbling. Keep those drunchies at bay with their famous BBQ rack of smoked ribs, BBQ chicken and mouthwatering sides. We're not drooling. You're drooling!
You can find Benny's inside Binion's Gambling Hall right on Fremont Street.
10. Heart Attack Grill
Complete your post-drinking experience at Sin City's very own hospital-themed restaurant. Offering over-the-top, heart attack-inducing juicy burgers, Heart Attack Grill is the place to be if you're really hungry, fighting off a hangover or just want to be waited on by Vegas-style nurses while wearing a patient's gown.
No matter what you're craving after a wild night out on the town, Fremont Street has you covered. Be sure to check out these 10 locations the next time you're visiting and you get a mean case of the drunchies.
Also, if you're looking for things to do in downtown Las Vegas, Fremont Street Experience has the best bars, restaurants, live music and attractions to keep the party going all night.