You've made it to Las Vegas! After you've settled into your hotel and are ready to hit the town, what is the best way to get around? How can you hit all the main attractions without breaking the bank?
Whether it's your first time in Sin City or a seasoned Vegas veteran, there are affordable, convenient and exciting new transportation options to get to all the hot spots.
The Downtown Loop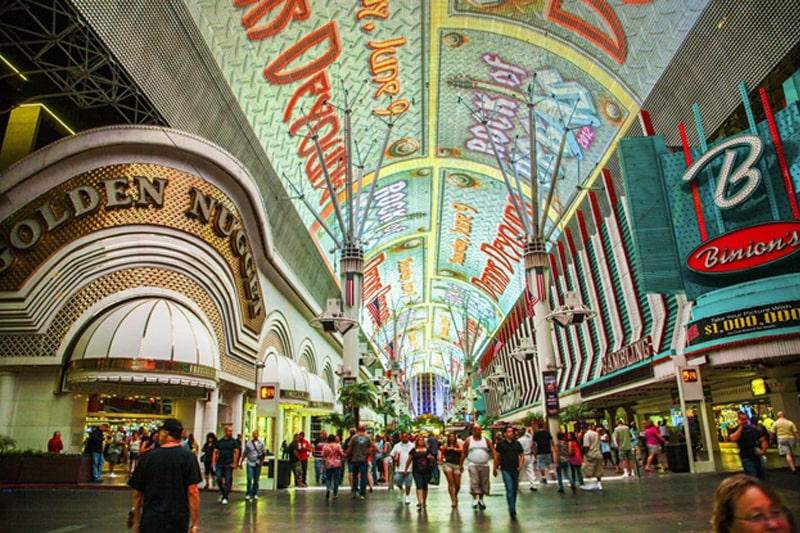 With so much to see and do in the downtown area of Las Vegas, it's always a good place to start. If you're unfamiliar with downtown, it's the part of Las Vegas just north of the Strip where everything began. It's where you'll find classic vintage Vegas gems, the cultural center of the city and local Las Vegas favorites.
The Downtown Loop is the most convenient and affordable way to get around downtown. In fact, this is a free shuttle service! Get ready to have your mind blown at these stops along The Downtown Loop route:
Fremont Street Experience
Free nightly light shows on the Viva Vision screen
Circa Sportsbook – largest sportsbook in the world
Fremont East Entertainment District
Downtown Container Park
The Las Vegas Arts District
Symphony Park
Brewery Row
Book a thrilling ride on the Slotzilla Zipline today!
In addition to these Las Vegas favorites, you also have the downtown casinos, bars and restaurants to visit.
Looking for authentic Hawaiian cuisine? The Cal has you covered. With a tagline like, "Aloha spoken here," how can you go wrong? For fresh seafood, head to the Golden Nugget's Chart House. Craving Italian food? Andiamo at The D is the place to be. See where we're going with this? You can find everything from upscale steakhouses to casual fast food in downtown Las Vegas.
The Las Vegas Monorail
If you're on the Las Vegas Strip and want a quick and easy way to get up and down Las Vegas Boulevard, the Monorail is the way to go. The clean, air-conditioned trains run regularly during business hours, so you never have to wait more than eight minutes for your ride. It also has conveniently located stations along the Strip, including:
MGM Grand
Bally's/Paris Las Vegas
Flamingo/Caesars Palace
Harrah's/The LINQ
Las Vegas Convention Center
Westgate Las Vegas
SAHARA Las Vegas
Just keep in mind that the SAHARA station is the furthest north the Las Vegas Monorail runs, so you should make other transportation accommodations if you want to venture downtown.
Las Vegas Convention Center Loop by The Boring Company
If you're in town for a convention or another event taking place at the Las Vegas Convention Center (LVCC), the LVCC Loop by Elon Musk's The Boring Company provides a unique way to get to your destination.
According to The Boring Company, "LVCC Loop connects the LVCC New Exhibit Hall with the existing campus (North/Central/South Halls) and reduces a 45-minute cross-campus walk time to approximately 2 minutes."
The LVCC Loop consists of two tunnels, three stations and several autonomous, all-electric Tesla vehicles to transport passengers through the tunnels. Why not? When you're in Vegas, go big or go home.
Rideshare Services
Another convenient way to get around Las Vegas is through ridesharing services. Using an app on your smartphone, you're just a click away from getting a ride from one of these popular rideshare providers:
Uber
Lyft
Kaptyn (upscale rideshare option)
If you decide to use rideshare services while in Las Vegas, be aware that most casinos and resorts have designated pick-up and drop-off areas. You must be in that area to find your ride. Don't expect your Uber driver to slam on the breaks mid-Las Vegas Boulevard to pick you up!
Limousine and Private Car Services
Another way to explore Las Vegas is to book a limo or private car service. For those who want a more high-end transportation experience, talk to your hotel's concierge about booking a private town car or limo. You may even find Las Vegas show packages that include private car services.
Taxis
You'll also find an abundance of taxi cabs throughout Las Vegas. Most hotels and casinos have taxi lines at their main entrances, so it's easy enough to catch a cab. However, it can get busy in the evenings and on the weekends. Give yourself extra time if you have dinner reservations or need to make a show.
Public Transportation
Las Vegas also offers public transportation options to help you reach your destination. The Las Vegas Deuce bus runs 24 hours a day and covers the Las Vegas Strip and downtown, all the way to Fremont Street. You can purchase passes for single rides up to multi-day passes either from ticket vending machines or onboard the bus.
Ready to explore downtown Las Vegas?
If you're ready to get the most out of your Vegas experience, be sure to visit downtown for everything from free live music to some of the best nightlife in the city. However you plan to get here, you're in for a good time! See you downtown.