Labor Day marks the end of the summer season, so it makes sense that downtown Las Vegas would celebrate this weekend with a bang! Fremont Street will be hosting some of the biggest parties this 2019 Labor Day weekend that you don't want to miss.
Here are some reasons to head to downtown Las Vegas to celebrate Labor Day this year.
Downtown Rocks Free Concert Series
If you haven't checked out the Downtown Rocks free concert series hosted by Fremont Street Experience in downtown Las Vegas, you are missing out on some of the biggest names in music. The Fremont Street promenade transforms into a one-of-a-kind outdoor concert venue under the upgraded Viva Vision canopy and SlotZilla Zipline.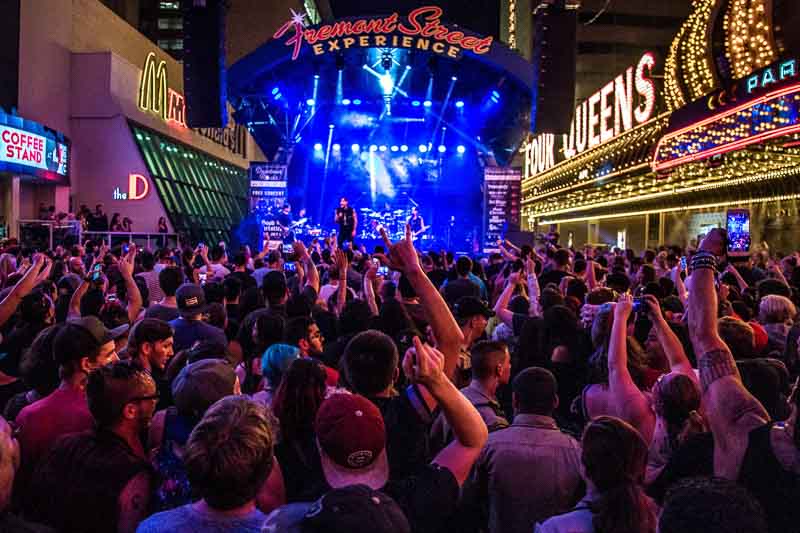 The Wallflowers
Grammy award-winning rock group, The Wallflowers, will be performing on the 3rd Street Stage on Friday, August 30, 2019, to start off the Labor Day festivities in downtown Las Vegas! Best known for their hit song "One Headlight" and their lead singer, Jakob Dylan, the band will be playing their most popular songs for the Fremont Street crowd starting at 9:00 pm.
No tickets are needed, but we do recommend making your way to the stage before the concert starts to secure a good spot. Grab a drink and warm up those vocal cords! You'll be singing your heart out for this epic performance.
I Love the '90s Concert
On Sunday, September 1, 2019, the most popular '90s pop and hip-hop artists will be taking the stage for an unforgettable "I Love the '90s" Labor Day party. This includes performances by Vanilla Ice, Montell Jordan, All-4-One, Tone Loc and Coolio.
Sound familiar? Oh, it's only the hottest musicians that defined that decade. No biggie.
The show will take place on the 3rd Street Stage, near Four Queens and Fremont Casino, and starts at 7:00 pm. Be sure to get there early and dance the night away to the best '90s jams this Labor Day weekend.
Collective Zoo's Block Party at Downtown Las Vegas Events Center
On Saturday, August 31, 2019, the Downtown Las Vegas Events Center (DLVEC) will be hosting Collective Zoo's Labor Day weekend block party to wrap up the summer. The event will feature awesome live performances by musicians and DJs, as well as the best food trucks and local and hand-picked craft beers from some of the best breweries in the country.
The fun doesn't stop there. There will also be a custom 2,200-square-foot pool right in the middle of all the action! Take a dip, have a refreshing brew and get your dance on with Big Gigantic, Keys N Krates and Chet Porter to celebrate this Labor Day in downtown Las Vegas. Just remember you must be 18 to enter and 21 to drink.
Fremont Street Bar Crawl
If there's any city that is perfect for an epic bar crawl, it's Sin City. More specifically, downtown Las Vegas boasts some of the best locations along Fremont Street that will keep the Labor Day celebrations going all night.
This Labor Day, LA Epic Club Crawls is hosting a Fremont Street Bar Crawl on Monday, September 2, 2019, from 8:00 pm to 4:00 am. It will cover five blocks of the most popular bars under the Viva Vision screen! An experienced party host will take you through historic casinos, restaurants, world-famous venues and some of the newest joints in downtown Las Vegas nightlife while on the hunt for the best beer and cocktails in town.
Downtown Las Vegas Attractions
Fremont Street Experience always has something going on, whether it's daytime, the middle of the night or those foggy morning hours as you stumble out of bed. Here are some things to check out no matter what time it is this Labor Day weekend:
SlotZilla
The SlotZilla Zipline is not for the faint of heart! This thrill ride will send you flying high above the downtown Las Vegas crowds from one end of Fremont Street to the other. You can choose to ride seated at seven stories up or fly super hero style at 11 stories. Either way, you'll be making a memory that will last a lifetime.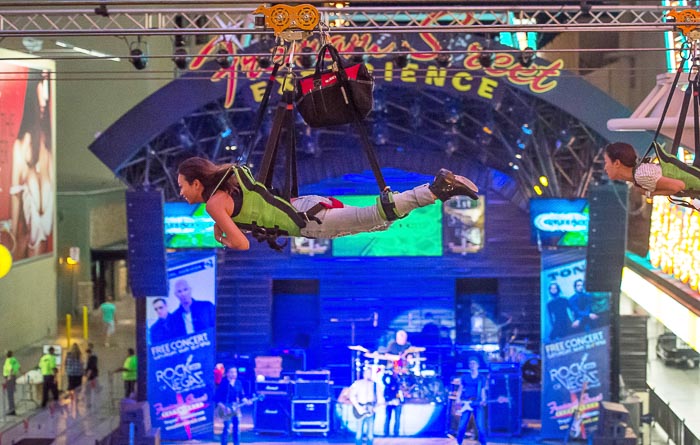 Viva Vision Light Shows
Set your eyes on the biggest and most spectacular high-resolution screen positioned just above the Fremont Street pedestrian promenade! Viva Vision is made up of 12.5 million energy-efficient LED lamps that deliver a dazzling light show every hour starting at 6:00 pm every evening.
Along with concert-quality sound, some of the Viva Vision light shows feature music by The Killers, Imagine Dragons, Green Day, Linkin Park and, most recently, DJ Steve Aoki and The Chainsmokers.
If you're looking for a good time this Labor Day weekend without breaking the bank, make your way to downtown Las Vegas. The live performances, parties, bars and Fremont Street attractions are sure to make this Labor Day one for the books. Also, check out some of the best restaurants in downtown Las Vegas to round out the perfect weekend.