Are you looking for an unforgettable place to host an upcoming seminar, meeting, product launch, holiday party, trade show or some other type of big event in Las Vegas?
Fremont Street Experience in downtown Las Vegas might be just what you're looking for. Let loose and enjoy the full Vegas experience by hosting your event right on Fremont Street.
Host Your Event at Fremont Street Experience
If you really want to immerse your guests in classic Vegas, Fremont Street Experience has you covered. All or part of the iconic pedestrian mall can be closed for your event so that you and your guests have full access to the Fremont Street bars, casinos, stages and Viva Vision light show.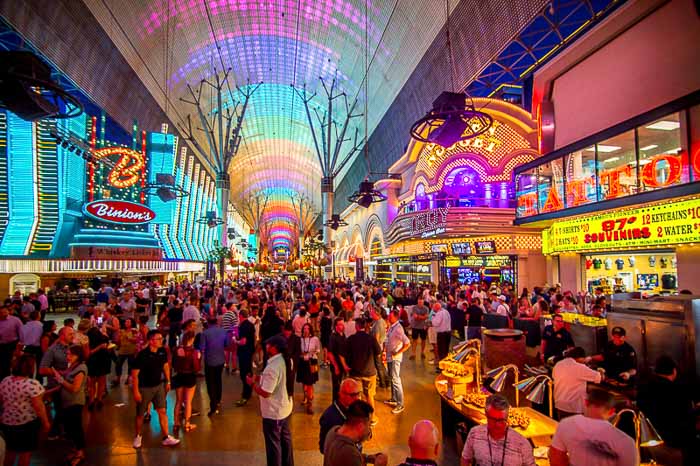 You can also customize your set up with tables, seating, screens, catering and more to match your theme and achieve the vision you have for your special event. Check out the corporate event Fremont Street Experience hosted for Microsoft for a better idea of what your exclusive party can look like.
Fremont Street is a staple in Sin City. With more than two million lights, an ultramodern sound system, the most affordable accommodations in Las Vegas and some of the best entertainment you'll ever find, it's the perfect destination to host your event.
Event Venues in Downtown Las Vegas
Apart from Fremont Street Experience itself, there are several hotels and casinos in downtown Las Vegas that can accommodate events, weddings, parties and meetings of all sizes.
Here are some places in downtown Las Vegas that are perfect for hosting your next event:
Golden Nugget Las Vegas
Whoever said size doesn't matter has never been to the Golden Nugget. It has 37,000 square feet of function space to accommodate up to 1,300 guests. Elegant and technology-rich, Golden Nugget has everything you need to make your dream event a reality.
Also, did you know that the Golden Nugget is the home of The Tank? It's the $30 million award-winning pool which features a 200,000-gallon shark tank aquarium, 17 private cabanas and a three-story complex.
As you can imagine, your guests will have plenty to do outside of your event at the Golden Nugget.
The D Las Vegas
The D is not only the home of Vegas' most electric casino, but it's also a great venue for holding large corporate gatherings, weddings, anniversary parties or any other special event. It has 18 meeting rooms that can accommodate 70 to 605 guests.
Boasting a prime location just minutes from Fremont Street Experience, you can be sure your guests will have a lot to keep them occupied. With upscale amenities and flawless service, The D has a solid reputation for making every party a success.
Binion's Gambling Hall
Binion's Gambling Hall not only offers exciting table games but it also has beautiful venues with specialized catering menus, state-of-the-art A.V. options and friendly staff to help make your event everything you'd hoped it would be.
Binion's regularly hosts meetings, conferences, and large parties throughout the year. It can accommodate up to 480 guests for a theater-style setup or 360 for table seating.
The Longhorn Room is perfect for bigger parties, or head to the pool deck on the 25th floor for an unforgettable outdoor event.
Four Queens Hotel & Casino
The sister property of Binion's, Four Queens Hotel & Casino, is what classic Vegas is all about—radiant neon, affordable rooms, delicious food and the most exciting games that can be played in their 32,000-square-foot casino. The banquet rooms at Four Queens can accommodate up to 275 guests with a theater-style setup or 400 for a cocktail party.
Whether you're holding a seminar or tying the knot, the Four Queens is definitely worth checking out.
The Fremont Hotel & Casino
The Fremont Hotel & Casino is well known for its iconic red neon sign that's been showing off its bright lights for more than 60 years. It also happens to be one of the most popular places to host an event in downtown Las Vegas.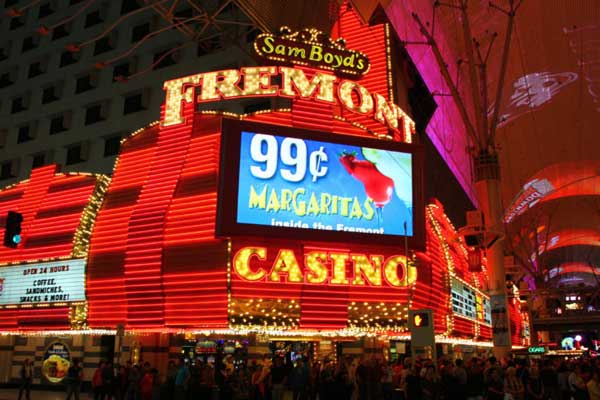 This hotel has banquet rooms for any occasion, including weddings, reunions, board meetings, seminars, and corporate parties, with locations situated away from the casino's hustle and bustle. Fremont Hotel & Casino can accommodate up to 450 guests.
The California Hotel & Casino
Can't decide whether you want to have your event in Hawaii or Vegas? Now you don't have to choose.
The California Hotel & Casino lets your guests experience that welcoming aloha vibe without paying for additional airfare. We call that a win!
The Cal banquet rooms have enough space to accommodate parties of all sizes, whether it's an intimate gathering of 50 or 400. Combining a laid back island atmosphere and the excitement of Vegas, the California Hotel & Casino is another excellent option for your next big event.
Why Downtown Las Vegas?
Downtown Las Vegas is the ideal destination for corporate events and special occasions for so many reasons. It is accessible, memorable, has an abundance of hotel rooms, restaurants, bars and so many other places to hang out.
Everything in downtown Las Vegas is conveniently close, so your event attendees are able to walk from place to place rather than having to spend money on transportation and parking. That's not something you can get on The Strip!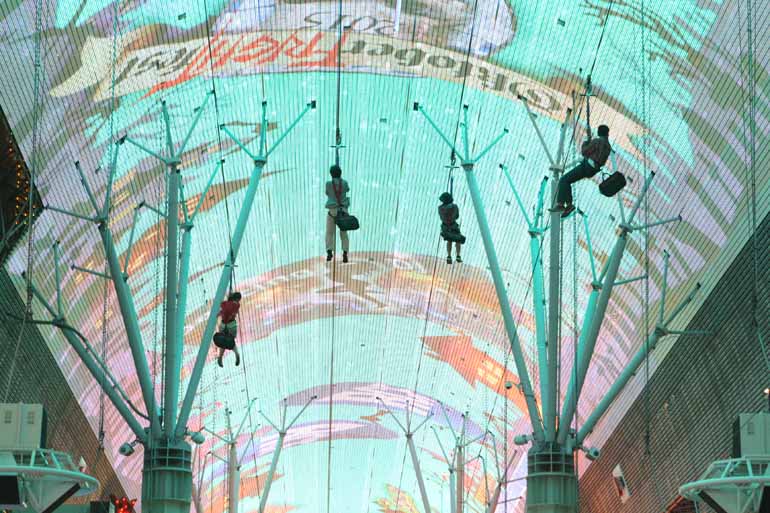 You'll never run out of things to do in downtown Las Vegas. When hosting your event on Fremont Street, your guests can take an unforgettably thrilling ride on SlotZilla, check out one of the Viva Viva light shows, take a stroll down to the Mob Museum or Container Park, or test their luck at any one of the exciting casinos at Fremont Street Experience.
To learn more about hosting your event at Fremont Street Experience, you can contact our corporate events team at contact@vegasexperience.com.