It's that time of the year when we reflect upon all the things we're thankful for. Here at Fremont Street Experience, we've got this, because in downtown Las Vegas, there's a bounty of things worthy of appreciation. Here are 10 that spring to mind.
1. Free Drinks
One of the best things about downtown, and Las Vegas in general, is the time-honored practice of giving casino players free cocktails when they're at the tables or machines. It's true those "free" drinks don't always end up being free, but if you play your cards right, they're still a great value, and a "gift" for which we are eternally thankful.
2. Gravity
If it weren't for gravity, there would be no SlotZilla zip line. If there were no SlotZilla zip line, thousands of people would miss out on a true YOLO experience in Las Vegas. Thanks, gravity.
3. Newness
There's always something new happening downtown. There's a new Downtown Las Vegas Events Center across from The D Las Vegas. The Fremont casino has a new flair bar, Filament Bar. The casino at The California is undergoing a major renovation. Binion's has a new comedy-hypnosis show. And that's just for starters! No matter how frequently you visit downtown, you'll find something new to explore the next time you're here.
4. Cheap Hotel Rooms
Speaking of rooms, the hotels in downtown Las Vegas offer some of the cheapest rooms in town. We're a little biased, but we recommend the hotels who are Fremont Street Experience partners, but no matter where you stay downtown, you're sure to find a great deal.
5. Short Walks
Just about every day we're thankful the casinos and businesses on Fremont Street are so close together! On The Strip, you can herniate yourself just trying to walk from one hotel to another. On Fremont Street, if you're not feeling one casino, you can just bop over to another. There's a world of Vegas experiences, all within just a few blocks of each other. We're not lazy, we're energy efficient!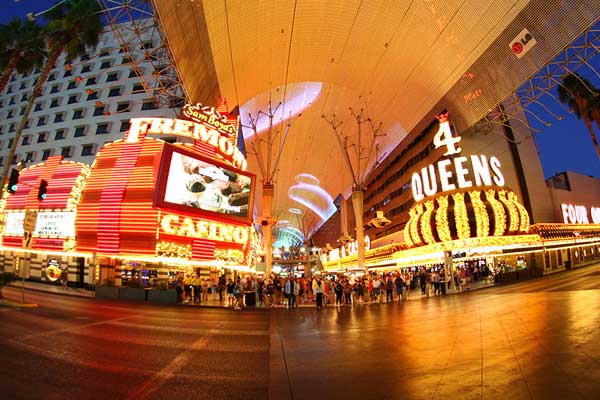 6. Hotties
If you're looking for eye candy, Fremont Street may just be the world's biggest candy store. There are so many hotties in downtown Las Vegas, we even have a show with "Hotties" in the title. From Fremont Street's dancing DJs to go-go dealers at The D Las Vegas and Golden Gate, from cowgirl dealers at Binion's and buff Chippendales guys available for photo ops on the Fremont Street Experience mall, your eyes are sure to thank you after your next downtown Vegas foray.
Oh, like we're going to take heat for only sharing a photo of female hotties.
7. Great Eats
Dining options in downtown Las Vegas are pretty much limitless. Choose a cuisine and you're covered. Try one of the great casino restaurants along Fremont Street, or just explore and follow your cravings. Whether you're up for fast food or seafood, you'll discover downtown is ready to take your appetite to school. Or something.
8. Neon
The lights of Fremont Street are like none other in the world, dazzling Las Vegas visitors nightly. By the way, there's no better way to see them than a flight on SlotZilla's Zoomline. Take a look.
9. Free Lights Shows
No matter how many times you see the free light shows at Fremont Street Experience, you can't help but just stand there, mouth agog, mind blown, and you try to take it all in. Viva Vision is the largest video screen in the world, and never fails to wow even the most seasoned Las Vegas fanatics. Check out our calendar to see which Viva Vision shows are playing when.
10. The People
There's really no way to adequately express how thankful we are for all the people who make downtown Las Vegas and Fremont Street Experience the wonderful adventure it is, every single day. There are our incredible visitors, always up for a party, and myriad casino employees, many of whom have been downtown for decades and have seen it all (and who keep what happens here, here). There are the performers in our free shows, the team at SlotZilla, our security officers and maintenance workers who tirelessly make Fremont Street a place people want to visit again and again. We're also thankful for you. Because you visited our blog, and because you're taking some time out of your day to learn more about Fremont Street and downtown. We'd kiss you to show our appreciation, but that would get awkward. Thank you, anyway.
Have a great Thanksgiving! And forget that whole "everything in moderation" thing. Tell your thighs Las Vegas said so.