Here at Fremont Street Experience, we may be best-known for our nightly live music scene (not to mention the massive Viva Vision video screen overhead), but now we're expanding our line-up to include Saturday and Sunday afternoons through Sep. 4, 2016.
Guests to downtown Las Vegas can now cool off under the Viva Vision canopy while enjoying live entertainment starting at 2:00 p.m. on weekends.
We've beefed up our entertainment schedule with local acts frequent downtown Las Vegas visitors have come to know and love, including Tony Marques, Monroy, Cash Presley, Tyler James as Elvis, Alter Ego, '80s Station, VooDoo Cowboys, Siana King, HaleAmanO and others.
"As summer begins to heat up, Fremont Street Experience provides a unique opportunity to cool down Downtown for some afternoon fun," says Thomas Bruny, Director of Marketing at Fremont Street Experience. "The Viva Vision Canopy provides four blocks of shade, plus the street is only 90 feet wide, so guests can feel the air conditioning coming from the hotel-casinos as they enjoy live entertainment; making Fremont Street Experience literally the 'coolest street' in Las Vegas."
He's not kidding about the "coolest street" part, either. It's a phenomenon unique to Fremont Street Experience. Here's proof.
Typically, Fremont Street is 20 degrees cooler than the ambient air under the shade of the canopy. In certain spots, it's an astonishing 40 degrees cooler! Take a look.
In addition to the new afternoon entertainment, guests can enjoy frosty beverages from the outdoor bars along Fremont Street Experience fly on the SlotZilla Zipline and Zoomline.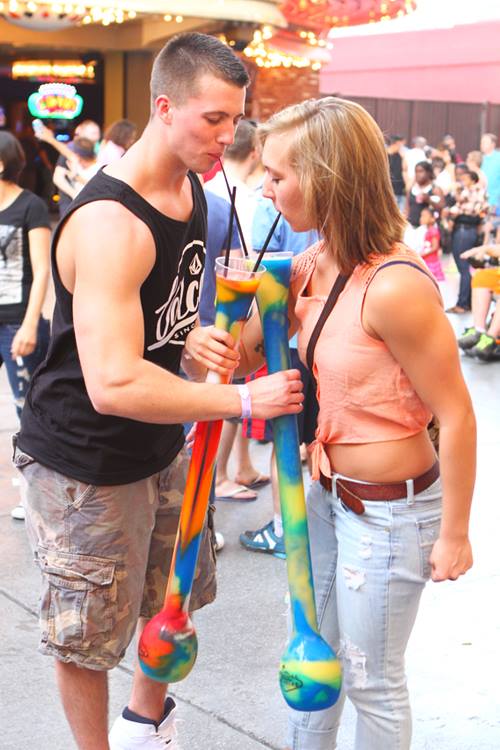 At night, the Viva Vision canopy lights up with free shows on the hour beginning at dusk, and nighttime entertainment, including performances from local artists as well as headliner concerts in the Rock of Vegas summer concert series, continues on all three stages well into the night.
Check out the full Fremont Street Experience entertainment schedule, and come cool off with some of Sin City's hottest bands.