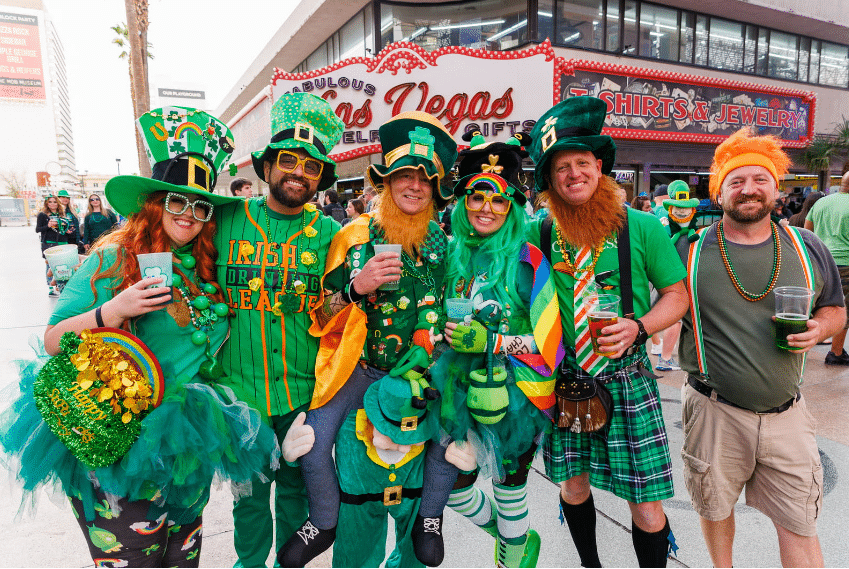 There are very few occasions that beat St. Patrick's day in Las Vegas. St. Patrick's Day is the perfect opportunity to participate in a Las Vegas bar crawl across the city. Start at the most popular bars and end at some of the best-kept secrets Sin City has to offer. Whether you want to embark on an adventure or just relax and have a few drinks, Vegas has what you're searching for. Explore the Las Vegas nightlife and celebrate St. Patrick's Day 2023 in style!
What is a bar crawl?
A bar crawl is a great way to experience a city's nightlife. Bar crawls typically involve visiting several different bars in a single night, often with a group of friends. Going from bar to bar allows you to sample some of the best craft cocktails around while enjoying some great entertainment options like live music and special events. The Fremont Street Experience is a top choice for bar crawls because of its ample selection of stops. Jump into your St. Patrick's Day bar crawl in Las Vegas by embarking on an adventure at the Fremont Street Experience. It's sure to be a night you won't forget.
Fremont Street St. Patrick's Day Hotspots and Events
SlotZilla Zipline
Before you go browsing cocktail menus and throwing a few back with your friends, take a ride on the SlotZilla Zipline. This fun-filled attraction is bound to get your blood pumping and your excitement peaked for a night of cocktail lounges and bar hopping. Fly upright or like a superhero into your St. Patrick's Day bar crawl in Vegas. 
Four Queens Hotel & Casino
Located at the heart of the Fremont Street Experience, this impressive 694-room hotel and casino is a must-stop destination on your bar crawl tour. The Four Queens is everything you can imagine about Classic Vegas. This is just one of the hotels in downtown Vegas you have to see! Home of the Chicago Brewing Company and The Patio Bar, it is a great choice for places to drink in Vegas. 
Golden Gate Hotel & Casino
The Golden Gate Hotel & Casino is a hotspot in downtown Las Vegas you don't want to miss! Be sure to hit Bar Prohibition! On your bar crawl adventure, drink and socialize in a bar frequented by glamorous '20s flappers, Frank Sinatra and the Rat Pack! It is a slice of history you can talk about for ages. Enjoy the light show and encounter dancing bartenders with a cocktail made to perfection. 
Circa Resort & Casino
Featuring the world's largest sportsbook, a rooftop amphitheater with six pools and four original restaurants, Circa Resort & Casino as a bar crawl stop is a no-brainer. Grab a fun and unique drink and enjoy the most exciting games in one of the available pools. You won't experience anything like it anywhere else.
The Golden Tiki
One of the most unique bars in vegas off the strip is The Golden Tiki. If upbeat and nightlife-centered entertainment is your goal, this is the spot for you. The Golden Tiki is a one-of-a-kind experience that is packed full of excitement at every turn. Don't forget to read up on The Legend of The Golden Tiki. It's sure to make your adventure all the more memorable. 
St. Paddy's ShamROCK Bash 2023
Four days of nonstop live entertainment, events, drink specials and festivities is what the St. Paddy's ShamROCK Bash 2023 is all about. You can enjoy 144 hours of free live entertainment featuring authentic Irish bands. See what St. Patrick's Day in Las Vegas is known for with this exciting, fun-filled four-day event. Get wild and crazy this St. Patrick's Day, and remember, what happens in Vegas, stays in Vegas!
St. Patrick's Day, Las Vegas Style
There is an endless supply of fun and excitement to be had during a St. Patrick's Day bar crawl in Las Vegas. You can't go wrong with grabbing a group of friends and hitting the road or the sky for this entertainment-filled drinking holiday. You can find your way to a night to remember with these Fremont Street Las Vegas directions, find your new favorite Vegas hotspot and come back for more.