Nothing kills a good concert vibe more than finishing your drink only to discover you don't know where to get a refill! But never fear—when jamming out to free live music at Fremont Street Experience, you have a number of options to grab another drink and get back to the stage for the next song.
Here's everything you need to know about the Downtown Rocks free concert series, our free nightly shows starting at 6:00 pm and where to refill your drinks during a show.
What Is "Downtown Rocks" at Fremont Street Experience?
If you haven't heard about our free Downtown Rocks Concert Series in downtown Las Vegas, get ready for a revelation. Fremont Street Experience hosts some of the biggest names in music across three stages in the pedestrian mall, including Grammy-award winning artists, rock bands, country legends and musical collaborations, with no admission fee. Seriously, it's free. No catch, no gimmicks—just free live performances every weekend at Fremont Street Experience.
No matter which stage you're closest to, you can take your pick when it comes to getting a drink during a free concert.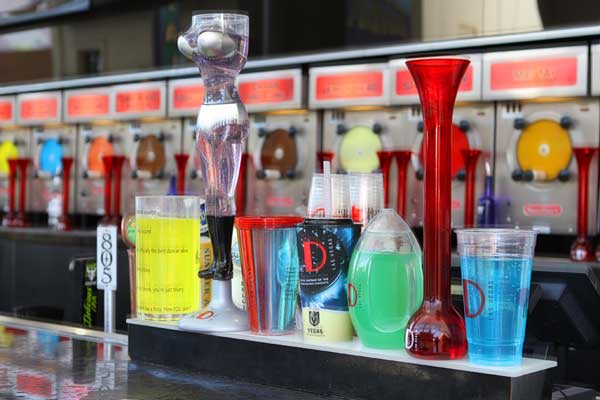 Drinks Near 1st Street Stage at Fremont Street Experience
Keep the good times rocking and rolling with these popular bars on Fremont Street Experience near the 1st Street Stage:
1. Stage Bar at Golden Nugget
The word "stage" is literally in the name of this bar, so that should give you some idea of how close it is to the 1st Street stage. Hint: it's super close. If you want to hit the most convenient bar for a cold beer or souvenir yard cup with a slushy drink during a show, Stage Bar is it. You're close enough to see the stage and enjoy the music from the bar, so you won't skip a beat when you're ready for a refill.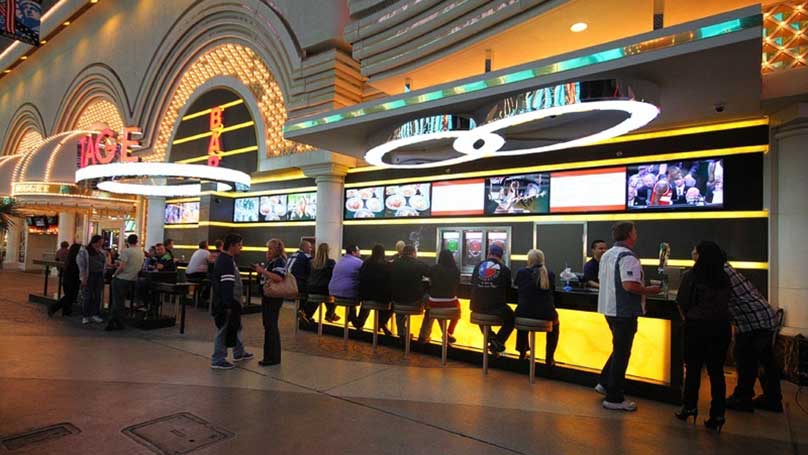 2. Whiskey Licker & Whiskey Licker Up at Binion's Gambling Hall
Another outdoor bar you can run up to and order a drink is Whiskey Licker at Binion's. This one is as close as it gets to the 1st Street stage and offers a variety of beers and specialty drinks to quench your thirst. You'll be back and ready for action in no time no matter what you order. And if you want to grab a bite and watch the show at the same time, head up to Whiskey Licker Up, Binion's new rotating bar on the second floor, for good food and great views.
3. Bar 46 at Golden Nugget
Another gem at Golden Nugget that concert goers should note is Bar 46. They have an excellent menu of classic and craft cocktails, including an epic Old Fashioned, Manhattan and Mint Julep, if you're feeling a little fancy. However, they also have a full bar for any refreshment that will hit the spot. It's right inside of the Golden Nugget doors, so you won't have to go far.
Drinks Near 3rd Street Stage at Fremont Street Experience
If you're heading to the 3rd Street stage to enjoy some sizzling summer tunes, be sure to have these bars on your radar for mid-concert refills!
1. D Bar at The D
Located directly adjacent to the 3rd Street stage on Fremont Street, this is your closest option to grab a much-needed drink while enjoying a free concert. D Bar features dancing dealers and flair bartenders mixing up the best libations while you catch your favorite band. This is also one of the best places to get a frozen slushy drink in a collectable container to remind you of the good times you had in downtown Las Vegas—because, let's be honest, you might not remember all of it in the morning.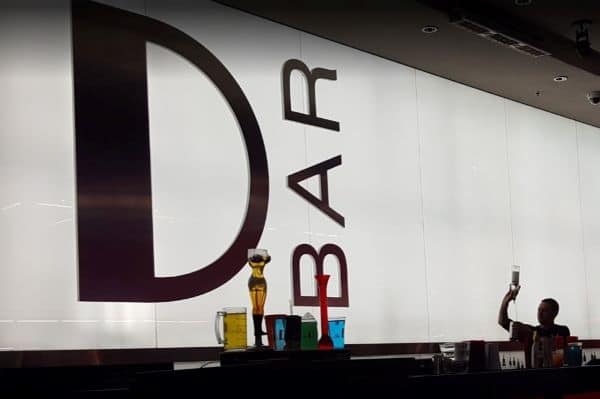 2. LONGBAR at The D
Need to cool off with some air conditioning for a few minutes? LONGBAR at The D is right inside the casino doors and ready to serve up your faves away from the summer heat. With nine beers on tap and a bar that stretches from the front of the casino to the hotel lobby, there are plenty of bartenders to take your orders. Best part is you're still only a few steps away from the 3rd Street stage.
3. Patio Bar at Four Queens
You won't need to go far from the 3rd Street stage to get to the Patio Bar at Four Queens. In fact, it's right across the street. When you're ready for your next drink during one of Fremont Street Experience's free concerts, this is the ideal choice. Not only do they have a full bar with all your favorites, they also have a misting system that can help you beat the Vegas heat. When you're rocking out in 100-degree weather, you'll understand why that's a big deal. Bonus: get a front-row seat to the Slotzilla Zipline riders as they fly overhead!
4. The Filament Bar at Fremont Casino
If you're enjoying a free concert at the 3rd Street stage, there's no way you can miss the flashing red neon sign that marks the iconic Fremont Casino. Now that you've spotted it, head into the casino towards The Filament Bar to refill your drink! This fun and modern bar is easily accessible, has a great selection and won't have lines as long as some of the outdoor bars right next to the stage. They've got frozen yardstick drinks, beers on tap and all the liquor you can handle.
Drinks Near Main Street Stage at Fremont Street Experience
The Main Street stage hosts free live performances every night, so it's definitely worth knowing where you can get a drink during a show.
1. Circa Bar at Circa Resort & Casino
If you need a drink and want to get back to the show ASAP, Circa Bar is the longest outdoor bar at Fremont Street Experience and can get you in and out in a jiffy. Right next to the Main Street stage, Circa Bar gives you a little taste of everything the new Circa Resort & Casino has to offer. Added perk: drinks are served by dancing bartenders, so you won't miss out on entertainment when you head over for a refill.
2. OneBar at Golden Gate
You won't have any trouble finding OneBar at the Golden Gate Hotel & Casino while enjoying a free performance at our Main Street stage. The bikini-wearing dancing bartenders have a knack for flair and keep the party going before, during and after every concert!
3. MEGA BAR at Circa Resort & Casino
Itching to get a peak at the newest casino in downtown Las Vegas? Run into Circa to grab a drink at MEGA BAR during a free concert and you'll immediately see what all the hoopla is about. On top of getting an ice-cold drink from the impressive 165-foot long bar between songs, you'll also have a chance to take in that new casino smell. Don't forget to check out Stadium Swim and the massive Sportsbook, too!
2021 Free Concert Lineup at Fremont Street Experience
Now that you've got your drink refill plan mapped out, it's time to head to downtown Las Vegas for a FREE live performance on Fremont Street! See the full Downtown Rocks lineup for all your favorites, including Chevelle, Craig Morgan & Clay Walker, Plain White T's, 3 Doors Down and more. A great date idea!
Also, check out all the things to do in downtown Las Vegas for the rundown of what Fremont Street casinos to visit, the best places to eat in downtown Las Vegas and the full schedule of Viva Vision light shows (also free!). Rock on.