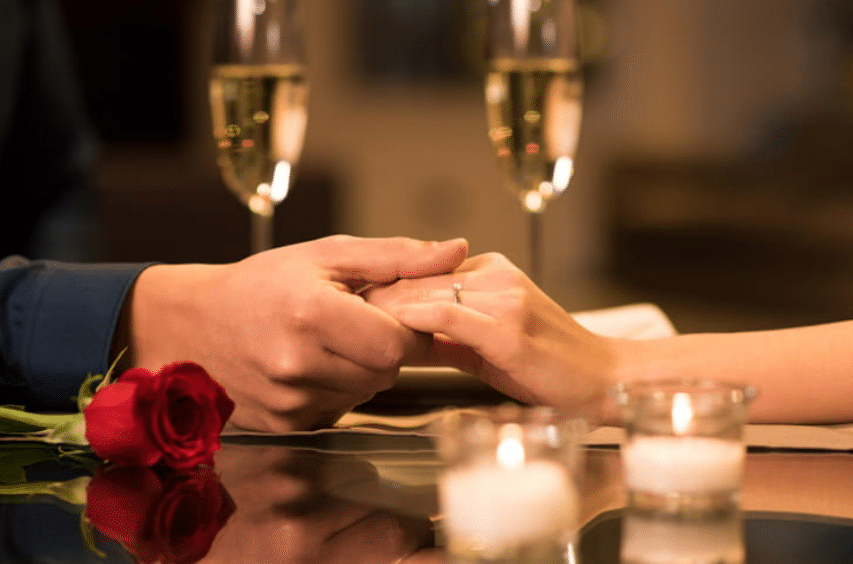 The perfect romantic vacation can be challenging to achieve. You could find yourself tumbling down an internet rabbit hole searching for information on how to plan your romantic getaway or attempting to find anniversary ideas in Las Vegas. Fret no more; we have you covered. Whether you're a foodie or an adventure seeker, there are plenty of activities in Las Vegas to help fill your romantic vacation itinerary and make it an unforgettable experience. From romantic hotspots to exciting nightlife, we have some ideas to make your romantic rendezvous in Las Vegas memorable.
Downtown Las Vegas
Downtown Las Vegas is packed with hotels, casinos, bars, restaurants and various entertainment activities. You can find ample entertainment and fun date activities at the Fremont Street Experience located in the heart of Sin City. Choosing where to stay may seem like a practical part of any vacation, but in Las Vegas, it's part of the full experience.
Once you've decided where you want to rest your head at night, you can start creating your itinerary. We have some unique date ideas for you to consider. Las Vegas downtown offers some of the best options for fun date ideas or romantic stays.
Romantic Places to Visit in Las Vegas
Kicking off our list of vacation activities is a selection of romantic ideas for places to go and things to do during your stay. You and your special someone will fall in love all over again when you experience the activities we have in mind for your romantic vacation. No matter which of these options you choose, you are guaranteed to feel warm and fuzzy with your significant other next to you.
Fountains of Bellagio
Want to see the awe and wonder in the eyes of your better half? Stopping by the Bellagio's famous fountain will do the trick. The iconic fountain show is a perfectly choreographed display of water, light and music sure to thrill. Watching the intricate dance displayed by the Fountains of Bellagio will set the mood for a magical evening in Las Vegas.
High Roller
The High Roller Observation Wheel is on our list of fun date ideas in Las Vegas. Soaring 550 feet above the Las Vegas Strip with your favorite person by your side can be a great romantic experience. From one of 28 air-conditioned compartments, you can witness the lights of Las Vegas from above during this 30-minute attraction. You'll love the time spent together, seeing the beauty and vitality of Las Vegas
Couples Massage 
Nothing says romance more effectively than a couples massage. Enjoy a laid-back, relaxing, romantic couples massage to release any pent-up tension. This is an excellent intimate activity to get ready for a fun-filled weekend or to relax after a long day of romantic adventure. Both of you will enjoy the experience, and it will quickly have you loosened up for your next exciting endeavor.
Romantic Dinner 
Dinner at a fancy restaurant may seem like a fairly standard date night idea, but in Las Vegas, it is anything but ordinary. A romantic dinner in Vegas is like nothing you've ever experienced before. Restaurants in downtown Las Vegas offer some of the best cuisine in the country. Hugo's Cellar at Four Queens Hotel and Casino has a throwback feel and impeccable customer service. Their menu features a vast array of fine dining options that will make this eatery your new favorite dinner destination. 
Wanting the fine dining experience with a little flair outside of the traditional fine dining cuisine options? Project BBQ outside the Golden Gate Hotel and Casino is where you want to be. Project BBQ isn't your typical restaurant. This fun and unique Las Vegas treasure is a local food truck that features a built-in "backyard" that gives the feel of a summer barbecue. You can sip cocktails while listening to live music from the surrounding stages in downtown Las Vegas and dining on a menu of simple but delectable barbecue options. 
Gondola Ride
Partake in the romance of Venice without having to leave the U.S. Snuggle in close to your date on a gondola ride in the Venetian Hotel. Surrender yourself to the romance of a singing gondolier while floating down the Grand Canal past cafes and under bridges and balconies. You'll have hearts, flowers and diamond rings on the brain before it's over.
Cheap and Fun Date Ideas in Las Vegas
Las Vegas is by no means a cheap vacation destination, but with some planning, it doesn't have to break the bank. In order to ensure you are getting the biggest bang for your buck you'll want to incorporate some fun but cheap activities to ensure a vacation packed with unique experiences for your romantic getaway. Vegas offers some great budget friendly options to choose from during your stay.
Stargazing
Raise the bar on the romance without digging down deep into your pockets. Take your special someone stargazing to Red Rock Canyon. The scenic beauty of this natural wonder invites you to immerse yourself in the romance of the great outdoors. You can enjoy an intimate evening looking up at millions of stars and engaging in meaningful conversation in a location that is second to none. This is a surefire way to reignite the flame or keep it burning for a good long while.
Fremont Street Experience Free Concert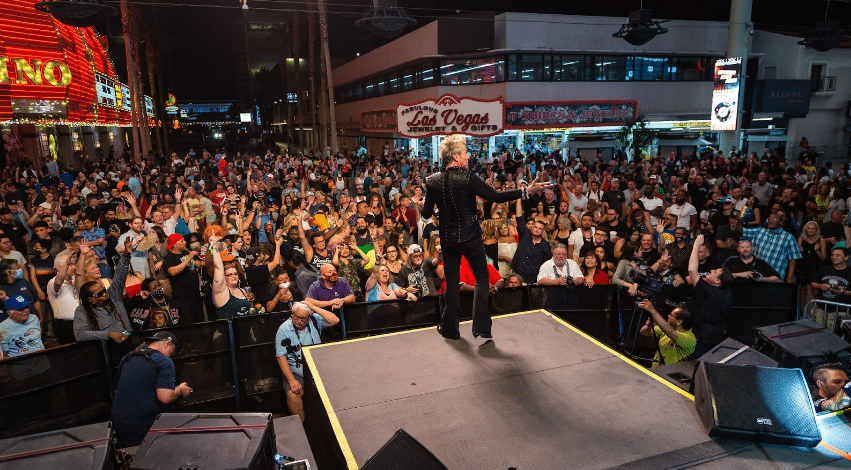 Dance and party your night away at one of the many free concerts offered at the Fremont Street Experience in downtown Las Vegas. Nothing says fun and excitement like live music, a large crowd, your significant other and endless drinks. Fremont Street Experience offers an impressive lineup of free concerts for you to see before you head home from your vacation. Make sure you don't miss out on some of the amazing talent that performs in downtown Vegas. 
Slotzilla Zipline
Slotzilla Zipline downtown is a memorable—and relatively budget-friendly—experience. While we understand a zipline isn't a traditionally romantic activity, it is, however, one that you will never forget. Fly upright 7 stories high along 2 blocks or superhero style eleven stories high for 5 blocks on this famous zipline. It will get your blood pumping and adrenaline going so you'll be ready to go for the rest of the day and potentially night. You and your romantic partner will remember this attraction fondly every time you see the free digital photos you receive at the end of your ziplining adventure together.
Casinos
Test your luck at the poker table or see how you fare at the slot machines. When in Vegas, playing at the casinos is an absolute must. It's what Sin City is known for. Check out some of the casinos that make Vegas the famed destination for visitors from around the world. You'll find a casino at just about every turn. Some notable casinos you should consider visiting are The Fremont Hotel & Casino, Binion's Gambling Hall and Circa Resort & Casino. 
Fremont Hotel & Casino
The Fremont Hotel and Casino is the heartbeat of downtown Las Vegas. Playing at the Fremont is like nothing else. With 24 table games, 1,000 slots, video poker and keno machines, you're sure to find something you love and maybe win a little in the process.
Binion's Gambling Hall
Binion's is full of excitement. You can play your favorite traditional games like blackjack with a cowgirl dealer or partake in some of Binion's specialty games. Their motto is "Good Food. Good Whiskey. Good Gamble." And they surely deliver.
Circa Resort & Casino
Circa is rooted in some of the best concepts of the past while living large in the here and now. This destination truly encompasses the original spirit of Vegas. The two-level casino is the host of 1,350 slot machines and 55 table games. You'll lose yourself in the fun and excitement of the Circa Resort and Casino.
Catch a Vegas Show
Vegas is home to shows as unique and spectacular as the city itself. When in Vegas, it isn't a question of whether or not you will see a show but which show and how many?
Cirque Du Soleil – If you want a magnificent performance that's more than worth the time and money spent, O by Cirque du Soleil is one you simply cannot miss. It centers around a pool of water where the performers create a magical experience for the audience. You can choose from a large number of performances by Cirque Du Soleil, so no matter your or your significant other's preferences, you'll find something you will both thoroughly enjoy.
Criss Angel MINDFREAK – Vegas is known for spectacular magic shows, and this is one of the most immensely popular shows to see while you're in town. Criss Angel is renowned as one of the best magicians in the world and lives up to the title seemingly effortlessly. According to the Las Vegas Sun, MINDFREAK is "The #1 Magic Show of All Time!" How can you risk missing out on that?
V The Ultimate Variety Show – Not sure exactly what kind of show you want to see? This unique experience takes care of that dilemma. It is precisely as its name implies, offering a variety of comics, contortionists, acrobats, jugglers and other top performers. The show changes each night, so you'll never have to worry about seeing the same one twice. 
The Romance of Las Vegas
There are some things that are a given when it comes to a trip to Las Vegas. You have to hit some of the greatest casinos in the country, see some infamous shows, hit up notorious bars and check out the events during your stay. These activities may not necessarily be considered romantic at first glance, but you'll be having a great time with the person you love at your side as you experience what Sin City is all about and make memories you'll never forget. What could be more romantic than that?
Las Vegas is the prime location for planning a variety of unique romantic vacation ideas. There's so much you'll want to experience that you'll be eager to start planning another vacation to this iconic and remarkable city the minute you reach home. Pack your romantic getaway with as many fun and unique experiences as possible before heading back to everyday reality.
Your romantic partner and yourself will have countless fond memories of the time you spent together in Sin City. It's an experience like no other. Whether you and your love are thrill seekers, love live music or prefer more relaxing days and nights, there's so much to see and experience in Las Vegas. Get started now to guarantee a fun, unique, eventful and unforgettable vacation for you and your better half.