Everybody loves a little free when they visit Las Vegas. Free slot pulls are a blast because: 1) They're free. Yeah, that's the whole list. Oh, and you can also win stuff.
On Fremont Street, there are a few free slot pulls, but they're not all created equal. Here's why.
At the door to Four Queens (the door closest to Casino Center Blvd.), there's a machine ready and waiting for your free pull. You have a shot at $2,500 cash money, which is the most common kind of money.
Another popular free slot pull is at Binion's casino, just across the street.
The free slot pull machine is at the Binion's entrance near the Tasti D-Lite shop. (Oh, how we love us some Tasti D-Lite.)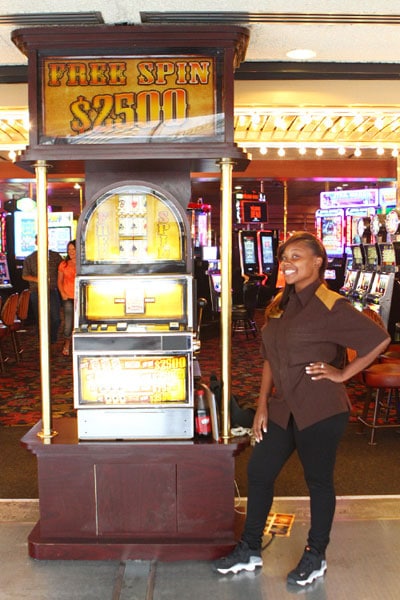 Naturally, these free slot pulls are intended to get you in the door at their respective casinos. Binion's and Four Queens are owned by the same folks, by the way.
There's no obligation to stay. You get to take your free pull, and you can continue on in or depart, it's up to you. The casinos would love you to join their loyalty club, so ask for any coupons available at the free slot.
These aren't the loosest slots in Vegas, of course, but people do win, and the casinos aren't shy about sharing when people do. A guy named Robert won $2,500 at Four Queens recently, in fact. Read more. Happens quite often.
Now, there are often other free slot pulls along Fremont Street.
These free slot pulls aren't your ordinary slot pull because they're actually run by (drum roll) timeshare salespersons. You can't just walk up and take a pull. Only couples can take part (because apparently people flying solo don't buy timeshares), and who knows if you get to do a pull without listening to a schpiel. We didn't ask.
Now, we have nothing against timesharepersons. Some visitors love a good spiel. These tend to be people who also enjoy chewing on aluminum foil, but to each their own.
We just thought it might be useful to know what you might be getting into.