If you haven't checked out the restaurant scene in downtown Las Vegas in a while, you're definitely missing out. It's time to make your way to Fremont Street for a dining refresh—especially for sushi.
Got a hankering for some sushi in downtown Las Vegas? Here are our top picks to add to your favorite Las Vegas restaurants list.
1. Red Asian Cuisine at Golden Nugget
129 E. Fremont St.
Main Floor at Golden Nugget
Las Vegas, NV 89101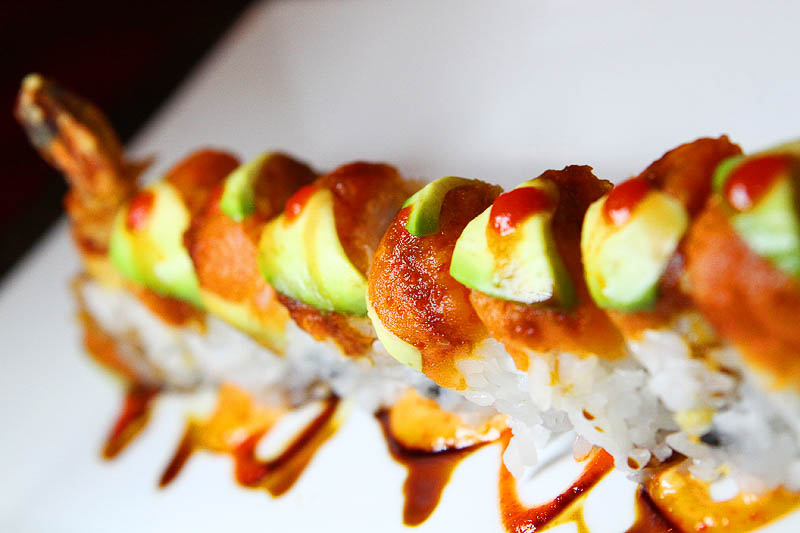 While the Golden Nugget is well known for its award-winning pool that features a 200,000 shark tank and aquarium slide, don't underestimate the dining options at this downtown casino. For example, Red Asian Cuisine is one of the best places to get fresh fish and tasty sushi rolls in Sin City. Conveniently located on the main floor of Golden Nugget, it's the perfect place to stop for a quick bite and excellent service.
Outside of some of our sushi roll favorites, including the Firecracker Roll and Hamachi Jalapeno Roll, Red also offers an epic happy hour from 4:00pm to 6:00pm every day! You can get discounts on select rolls, appetizers, beer, and sake. Then, after your amazing meal, you're just steps away from the heart of Fremont Street, where all the action happens.
Our Recommendation: Try the Red Shiso Roll and Saketini for a crisp and refreshing addition to your meal.
See the full menu for Red Asian Cuisine at Golden Nugget and make a reservation today!
2. The Pepper Club by Todd English
921 S. Main St.
Las Vegas, NV 89101
Ver esta publicación en Instagram
Internationally renowned culinary artist Todd English recently opened The English Hotel in the eclectic Las Vegas Arts District in downtown, and one of the best parts about it is The Pepper Club. The Michelin Star-winning chef features some of the best sushi and Japanese-inspired cuisine you'll find anywhere in the city at his swanky, new restaurant.
In addition to creative fried rice dishes, savory sides, and flavor-packed entrees, the star of the show at The Pepper Club is sushi. The menu is packed with everything you could possibly want when you get that craving. From nigiri to sashimi and specialty rolls to Omakase, dig in for a real downtown Las Vegas treat at The Pepper Club.
Our Recommendation: You will never regret ordering the Cover Girl roll, fresh Uni, or the fresh caviar platter.
Get to know downtown Las Vegas dining at Fremont Street Experience!
3. Sushi Ichiban
520 Fremont St.
Ste. 150
Las Vegas, NV 89101
If you really have an appetite and are looking for an all-you-can-eat sushi restaurant in downtown Las Vegas, Sushi Ichiban is your answer! Located only a few minutes away from Fremont Street Experience, you can get down and dirty on all your sushi favorites at this charming and casual restaurant.
With lively sushi chefs, a fun staff, and a relaxed crowd, you're in for a good time at Sushi Ichiban. Dine alone at the sushi bar or settle at a table with your group for a satisfying meal. And if you happen to be traveling with your family, they also offer kids' pricing for their AYCE menu!
Our Recommendation: If you're feeling adventurous, order the Japanese pizza from the baked roll menu or the Mistake Roll (don't let the name deceive you!) from the specialty roll menu.
4. YU-OR-MI Sushi Bar
100 E California St.
Las Vegas, NV 89104
Ver esta publicación en Instagram
Sushi. Whiskey. Sake. Those are the three specialties you'll find at YU-OR-MI Sushi Bar in downtown Las Vegas. Located in the Arts District, this stylish restaurant takes an artistic approach to Japanese cuisine by pairing mouth-watering dishes with premium sakes and Japanese whiskey selections.
The trendy white brick walls, black-and-white samurai-inspired portraits on the walls, and the bright flavors of the food set the tone for an intimate dining experience Las Vegas locals have come to love. And if you have selective eaters in your group, YU-OR-MI offers vegetarian, vegan, and mocktail options!
Our Recommendation: Why not indulge in fine Japanese whiskey? Pair the Little Toki Oh cocktail with the YU-OR-MI roll for a meal you can't get anywhere else.
5. Sliced Sushi at Vegas Test Kitchen
1020 Fremont St.
Ste. 120
Las Vegas, NV 89101
Ver esta publicación en Instagram
Haven't heard of the Vegas Test Kitchen? Get ready to have your culinary mind blown. The VTK bar and downtown food hall features some of the best rotating chefs and mixologists for inspired weekly menus, fantastic global cuisine, and the ideal location for any event or celebration.
Sliced Sushi is one of the resident dining options in the shared space that offers an updated menu of the freshest sushi selections every week. With chefs trying out their new concepts at VTK, you're in for a treat and the exclusive experience of sampling new plates before they hit a chef's restaurant menu.
Our Recommendation: With rotating menu options, you can't go wrong with whatever the chefs choose to feature that week. But don't forget to snag a specialty cocktail to wash it down!
Honorable Mention: Triple 7 Restaurant at Main Street Station
200 N. Main St.
Main Floor at Main Street Station
Las Vegas, NV 89101
Ver esta publicación en Instagram
Although Triple 7 at Main Street Station isn't exactly a sushi restaurant, we had to include an honorable mention for its killer poke menu options. What is poke? Poke is a Native Hawaiian dish made of diced raw fish, commonly Ahi tuna. The fish is then served over rice or with vegetables and covered in a tangy soy sauce-based marinade.
So, now that you know what poke is, let's get to their poke menu. You have your choice of spicy ahi or an ahi poke bowl for something more traditional. Otherwise, you can go with a more playful option, such as poke nachos! We promise it will be packed with the best poke flavors no matter what you decide.
Our Recommendation: We know ahi is the standard for poke, but we suggest branching out with the surimi crab poke or sesame tako (octopus) poke.
Sushi Food Trucks in Las Vegas
Outside of sushi restaurants in Vegas, there are several sushi food trucks that travel around Southern Nevada, often visiting downtown Las Vegas. Here are some to look for when you're in town:
Best Sushi Restaurants on the Strip
If you can't make it to downtown, plenty of sushi restaurants are located on the Strip. Some popular stops include:
Nobu at Caesars Palace

Morimoto at MGM Grand

SushiSamba at The Venetian

Zuma at The Cosmopolitan

Kusa Nori at Resorts World
Epic Dining at Fremont Street Experience
Las Vegas locals know the best place to dine is downtown Las Vegas. Downtown has you covered if you're looking for the best sushi restaurant for a great meal and an unforgettable Vegas experience! And when you're done, take a stroll down Fremont, check out an epic Viva Vision light show, and enjoy a night of free live music at Fremont Street Experience. Meshiagare!
See what you've been missing in downtown Las Vegas at Fremont Street Experience. Check out our lineup of FREE concerts now!