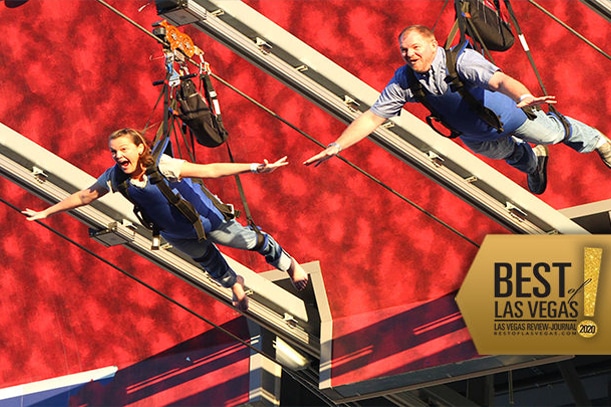 Super-Hero Zoom (Zoomline)
Ultimate
11 Stories High
Fly Super Hero Style
5 Blocks Long
$74
What's SlotZilla?
SlotZilla is a 11-story slot machine-inspired zip line attraction and is one of the best things to do in Las Vegas.
The multi-million-dollar SlotZilla is the world's largest slot machine and features Las Vegas icons such as over-sized dice, a martini glass, pink flamingo, coins, video reels, a giant arm and two showgirls.
How much is SlotZilla?
SlotZilla offers two ways to fly, the lower Zip-Zilla (Zipline) and upper Super-Hero Zoom(Zoomline).
It's $54 for the Zipline, $74 for the Zoomline.
What are the hours of operation for SlotZilla?
SUPER-HERO ZOOM (ZOOMLINE)
Monday – Wednesday 12PM – 1AM
Thursday – Sunday 12PM – 2AM
ZIP-ZILLA (ZIPLINE)
Monday – Wednesday 4PM – 1AM
Thursday – Sunday 12PM – 2AM
SlotZilla Zipline at Fremont Street Experience
Taking adventure-seekers to new heights in downtown Las Vegas.
SlotZilla is an exciting zip line thrill attraction at Fremont Street Experience. See downtown Las Vegas as you've never seen it before. Fly SlotZilla!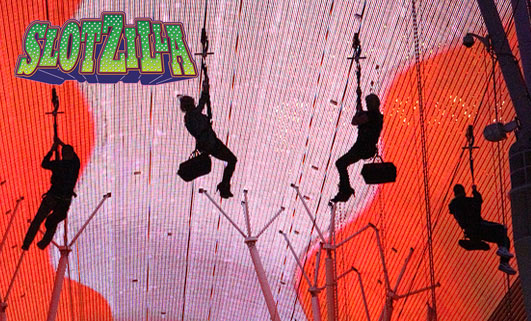 Zip-Zilla (Zipline)
The Zipline launches from a platform 77 feet in the air. Flyers will be in a seated position and land halfway down the Fremont Street Experience pedestrian promenade, between the Four Queens and Fremont casinos.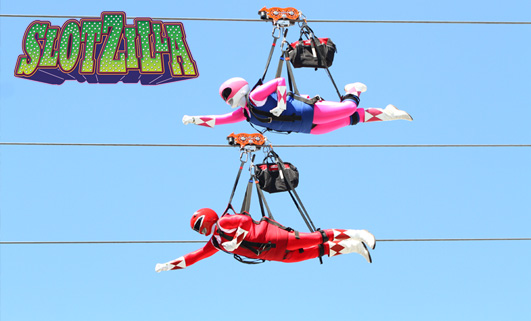 Super-Hero Zoom (Zoomline)
The Zoomline launches from a platform more than 10 stories up on in the air (114 feet) and whisks flyers 1,750 feet, all the way down the Fremont Street Experience, to a landing platform at the city's most historic casino, Golden Gate. The upper Zoomline provides even more thrills by sending flyers prone, or "superhero-style," for an unprecedented view of the party that never ends at Fremont Street Experience. We guarantee it's unlike anything you've ever done before and are unlikely to ever forget! Flyers travel down the zip lines at up to 40 miles per hour.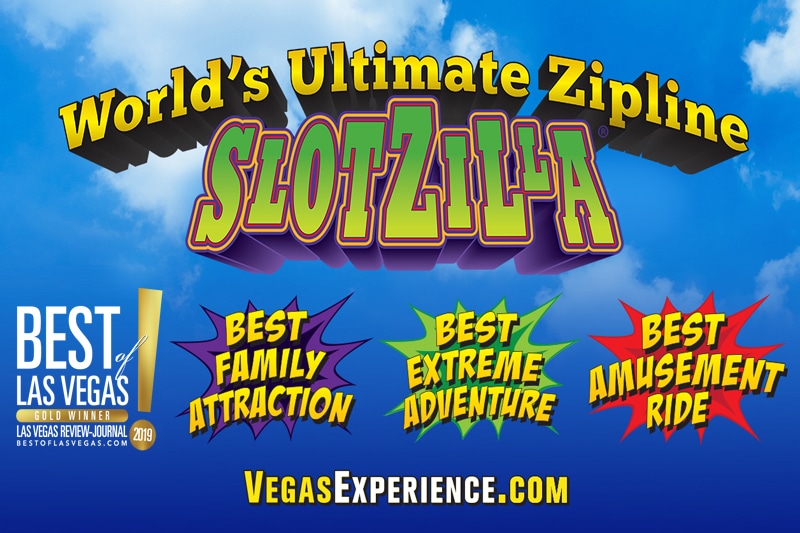 Voted Best of Las Vegas
SlotZilla is the best thrill attraction in Las Vegas, but don't take our word for it. SlotZilla has been consistently been given Gold Medals in the Las Vegas Review-Journal's Best of Las Vegas Awards.
Best Extreme Adventure
Best Amusement Ride
Best Family Attraction
and more!!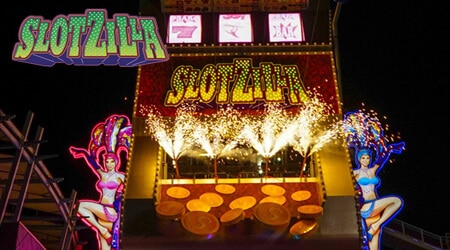 The SlotZilla Showgirls
The 35-foot-tall showgirls (actually 35 feet, 2 11/16 inch) adorning SlotZilla, one on each side, were inspired by two real-life models, the women who dressed as showgirls to accompany former Las Vegas mayor Oscar Goodman to his many public appearances. Their names are Jennifer and Porsha. SlotZilla was built in collaboration with Zip-Flyer, experts in zip line engineering and installation.
Share the Fun
Photos are available for purchase when you complete your ride. Share them in social media and use #SlotZilla.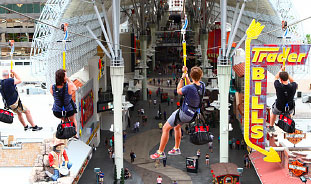 "OMG, fun, fun, fun! It was a blast! Pictures at the end were great, would do it again for sure!" ~T.J. on TripAdvisor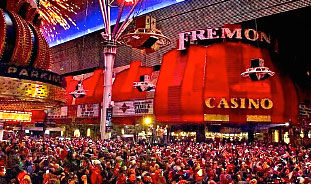 "Breathtaking. Wow, what an experience! Fly above Fremont like superman at 35 m.p.h. under the world's biggest TV. This was amazing!" ~David P. on TripAdvisor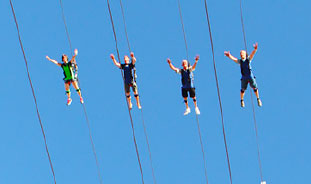 "So much fun! An absolute blast! And experience not to be missed. I sang 'Viva Las Vegas' as I zipped-wired over Fremont Street." ~Michelle C. on TripAdvisor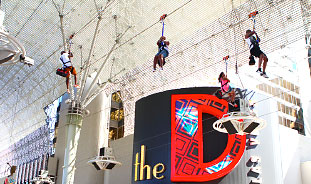 "Would totally do it again, especially for the price you pay. Worth it for the different viewpoint, soaring above the crowds of Fremont Street!" ~Deonna on TripAdvisor