Wondering where to find the best March Madness viewing parties  in Las Vegas? If you're heading to Las Vegas for March Madness weekend, you're definitely not alone. We'll show you the most happening 2019 March Madness viewing parties in Las Vegas.  The annual NCAA college basketball tournament is right around the corner, so you may be wondering just where you should go to catch all the excitement.
Downtown Las Vegas has you covered with The D Las Vegas hosting its epic March Hoops Viewing Party, multiple sports bars along Fremont Street and every downtown sports book ready to take your bets.
March Hoops at The D Las Vegas
March Hoops at The D is how you were meant to watch basketball. The D Las Vegas is transforming the Detroit Ballroom on their 12th floor into an immersive viewing party experience that will have you on the edge of your seat all opening weekend! Here's what you can expect:
March Hoops Viewing Party
March 20-24, 2019

The D Las Vegas, 12th floor Detroit Ballroom

Admission is free

Seating is first-come, first-serve

Multiple high-definition TV screens

Betting stations, food and drinks are available
With free admission and a pumped-up crowd of college basketball fans, you're in for hours of high-energy cheering and enthusiastic high fives all around.
March Hoops Man Cave Options
Looking for a more private March Madness viewing experience? The D is also offering the opportunity to upgrade to a private man cave for you and your closest sports-loving friends. Here are the details:
$175 per person man cave rental – six person minimum

Each man cave equipped with four 70-inch HD TVs with individually-controlled audio

All-you-can-eat stadium-style food and beverage service

Private cocktail server

Free in-cave high-speed Wi-Fi

Live casino sports betting, craps and blackjack just steps away

$25 table games match play per person

Six-hour rental – $220 per person

Eight-hour rental – $250 per person

10-hour rental – $275 per person

Discounted hotel room rates at The D, based on availability
If you're interested in booking a man cave for the March Hoops Viewing Party, contact The D's sales team as soon as possible to reserve your space.
Sports-Friendly Bars in Downtown Las Vegas
If you're more interested in bar-hopping around downtown Las Vegas during March Madness, there are several hot spots all within walking distance of each other you should check out.
Cadillac Mexican Kitchen & Tequila Bar at Golden Nugget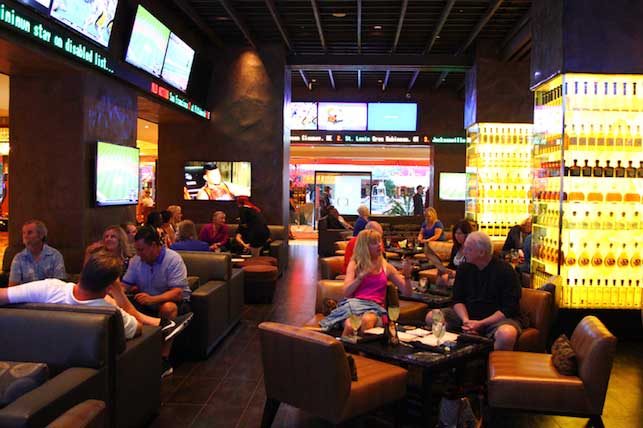 Cadillac Mexican Kitchen & Tequila Bar at Golden Nugget is one of the most popular destinations on Fremont Street.
Known for its wide selection of tequila and Mezcals, this is an excellent choice if you want to grab a margarita and tacos while watching the March Madness games. Make sure to get there early to snag a seat at the bar where you'll get a good view of the multiple TV screens.
Chicago Brewing Company at Four Queens

Chicago Brewing Company at Four Queens is home to award-winning microbrews and crave-worthy appetizers right in the heart of downtown Las Vegas. They offer large HD TVs throughout the restaurant, so it's a great option to catch a game and grab a bite.
Triple 7 Restaurant & Microbrewery at Main Street Station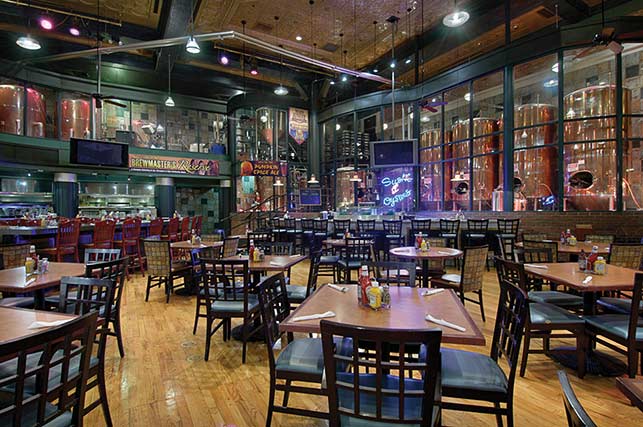 Triple 7 Restaurant & Microbrewery at Main Street Station is yet another awesome place to sample some microbrews and watch your favorite NCAA team during March Madness. Their TVs are spread out across the bar and restaurant, so there's really no bad seat in the house. Call ahead to make sure they'll be showing your favorite team before you head over.
Longbar at The D

Stretching from one end of the casino to the other, Longbar at The D offers more than 1,000-square-feet of drinking and gaming action. With huge TV screens spanning the length of the bar, most of the March Madness games will be featured front and center. Grab a seat, order a drink and enjoy the game!
Nacho Daddy
Just a block away from Fremont Street, Nacho Daddy's bar will be showing most of the NCAA tournaments over March Madness Weekend. With excellent beer and cocktail options and an impressive nacho menu you literally can't get anywhere else, you're sure to have a great time.
Claude's Bar
Claude's Bar is right in the middle of all the gambling action in the casino at Golden Nugget. You'll be able to play a few rounds of video poker or blackjack while you're catching a game. It's also a great place to take a little breather before heading over to your next destination.
With so many places to eat and drink in downtown Las Vegas, you're never far from a great restaurant or bar that will satisfy your cravings.
Downtown Las Vegas Sports Books
If sports betting's your thing, you're in the right place.
Downtown Las Vegas has multiple sports books where you can place your bets for March Madness and watch a game.
Downtown Las Vegas is where you want to be to catch all the March Madness action this year. Grab a drink, place your bets and settle in for one awesome sports weekend.
Also, if you're looking for things to do in downtown Las Vegas before or after the games, be sure to check out the SlotZilla Zip Line, Viva Vision light show and our calendar of free concerts at Fremont Street Experience.